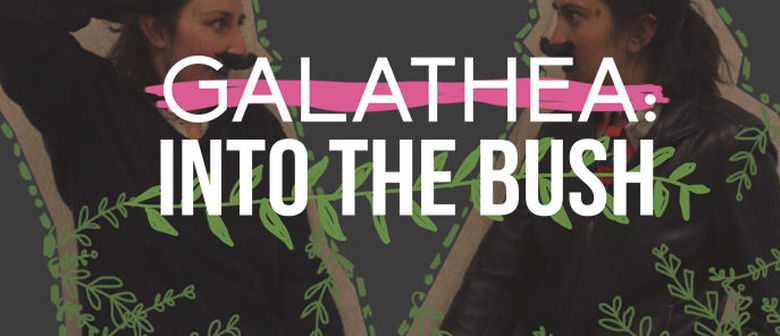 I ventured out to see Twin City Productions and director Ania Upstill's newest effort, a modern adaptation of John Lyly's 1588 play, Gallathea, in Wellington last Friday night with the expectation of the queerest-ass night out I'd had since I last went out with a pack of drag queens to a New York City gay bar, and let me tell you, it did not disappoint.
The conflict of the play centres around the old legend of Neptune (played by Daniel Emms), god of the sea, requiring the most beautiful virgin of the Greek island of Ios to be sacrificed to his sea monster in order to placate his unending fury.
We begin with the eponymous Galathea (Sarah Tuck)'s fearful father Tityrus (Liam Kelly) dreading that she may be chosen as the most beautiful virgin in the kingdom, and thus to save her from her doomed fate, instructing her that she must don boys' clothes and venture into the bush to hide. We then see hilariously over-feminised Phyllida and her mother Meleba (played to perfection by Neenah Dekkers-Reihana and Sabrina Martin, respectively) have a very similar conversation with a very similar result, and thus both girls/boys apprehensively wander into the bush, worriedly announced as the place 'where the gays go'.
Due to Wellington's unfortunate tendency towards inclement weather, we do not start at the planned meeting point of Midland Park, in favour of a drier location, however both actors and crew deal with this minor hiccup with ease and professionalism. The play itself is located in the Public Trust Building, one of Wellington's most ornate heritage buildings, a place I only know as the former location of my physiotherapist.
Upon instruction by locally renowned drag queen Stephii Onassis (playing Trivia, goddess of liminal spaces and fierce keeper of the bush), we enter through the door and 'Into the Bush'. Funnily enough, I found myself in the space where my physio once was – rendered unrecognisable, its sprawling mass of towering pillars and elaborate moldings now draped with white sheets, scattered lampshades and twirling vines. This was a truly enchanting bush, and a bang-up job from set designer Lucas Neil.
A twistedly delighted Neptune, replete with sequined blue harem pants cavorts out from a giant blue seashell (something that less imaginative beings might call a 'paddling pool'). Undeceived by the half-hearted ruse concocted by Phyllida and Galathea's respective parents, he is thrilled to play gleeful overseer of the chaos these cross-dressing girls will no doubt create.
A riotous interconnected subplot comes in the form of the femme-presenting non-binary Diana, goddess of the hunt's androgynous nymphs, who, in order to follow Diana, have devoted themselves to lives of chastity. They are shot by the love arrows of Cupid, and subsequently fall giddily in love with either of the 'boys', much to Diana's immense frustration. The nymphs are horrified by their unintentional foray into (hetero)sexuality, and this creates a gorgeous jumble of misplaced love and gender confusion.
The most undoubtedly enchanting parts of the production, though, are the interactions between Galathea and Phyllida, or Tityrus and Melebus, as they've chosen to be known in the bush. The two of course, in true Shakespearean style, fall in love with each other upon first meeting. Dekkers-Reihana and Tuck bring a deliciously awkward tenderness to their bashful exchanges, and Upstill creates genius moments of audience participation where they each go to either side of the crowd asking for support and advice as to what to say to impress the other.
I offered a distressed Phyllida/Melebus a hearty "get it, girl"; I think, a very emboldening show of encouragement. Watching each of their frustrated attempts to cryptically communicate the fact that they are both, in fact, girls to each other was a wonderful source of hilarity. Character development here is clunky and minimal, however this is generally to be expected of a comedic play taken from this era.
The play descends into a romp of charmingly gender-muddling utter confusion, but it revels in this confusion, and culminates in a beautiful scene of self-acceptance and unbridled love. Cupid is returned to his mother Venus, Neptune agrees to cease his virgin sacrifices, Galathea and Phyllida realise that they are each in fact in love with each other, as girls, and get married, and any parental objection to this parade of joy is silenced by a "bitch, please" from Diana. Trivia then gestures to the band and rouses the audience into a heartfelt rendition of Donna Lewis's '90s banger 'I Love You Always Forever'. With only four musicians, the band does a tremendous job of filling the hall with lush sound throughout the performance.
Although Into the Bush at times struggles with underdeveloped discussions around gender identity and some choppy pre-filmed scenes, it does excellently paint the maddening perplexity that is sexual and/or romantic attraction in this increasingly queer world. Like A Midsummer Night's Dream, but with more gender play and glitter beards. It's wonderful to really feel art coming from a knowingly queer perspective that doesn't attempt to play into stereotypes or make a tokenistic use of queer sexual identity, but simply allows its characters to be fluid, flawed and endearingly messy beings. I can be something of a Grinch when it comes to tales of romance, but this one made my wretched gay heart swell at least three sizes. Where the world loves to silence us or fetishise the tragedy of our experiences, here's hoping for more theatre that allows us to unapologetically and unabashedly celebrate how rad it can be to be queer.
Galathea: Into the Bush plays Wednesday 30 November to Saturday 3 December at 7 pm, at The Public Trust Building. Buy tickets from Eventfinda.