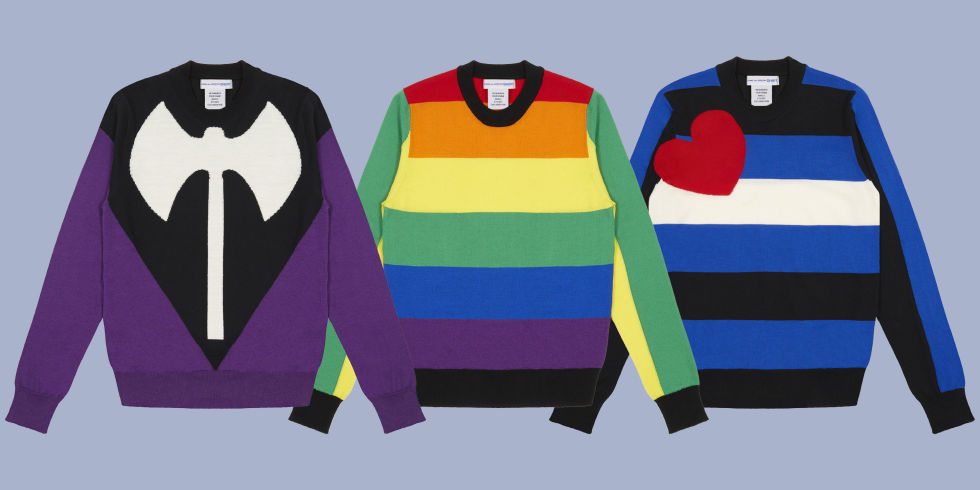 Just when you thought 2016 couldn't throw something else into the mix, Comme des Garçons and Vetements have collaborated for three holiday sweaters – each LGBT+-themed. The 'Gay, Lesbian and Fetish' sweaters each take a different part of Pride history, and the flags and symbols that have been used to portray them.
The first, a rainbow flag, is rather self-explanatory. @poorusername commented, "I love that rich straight people are gonna cop these "LGBT [sic] Sweaters"". Although it may be true, it is quite heartening to see a glimmer of hope in the face of the LGBT+ rights setbacks that have been felt around the world recently.

The second, dubbed the 'Axe Lesbian' sweater, harks back to the Lesbian Pride flag created by Sean Campbell for the Palms Springs Gay and Lesbian Times in 1999. Although it has not caught on in popular use, the double-edged axe still stands as a sign of female power and gets its showcase in the capsule collection.

The final sweater has the closely-associated heart of the Comme des Garçons PLAY line, but without the eyes and is also on the opposite side of the chest (the right-hand side instead of the usual left). In particular, this flag plays homage to the fetish and leather communities, which was created by Dr Tony DeBlase in 1989.
The sweaters aren't cheap though, retailing at US$625. There are still a few left on the Dover Street Market website, though the stores themselves are already running low on stock since the drop on 27 December. Too bad Christmas has already been and gone.