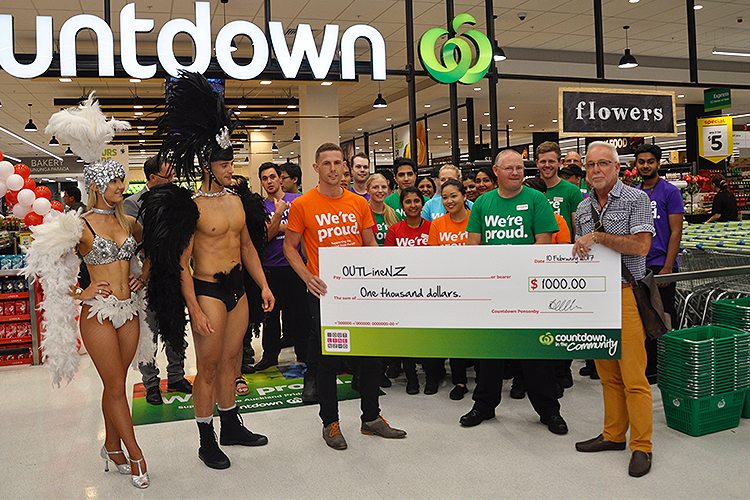 On Wednesday 8 February, express magazine was lucky enough to witness a little bit of good happening in our community.
Gathered inside Countdown Ponsonby, Jason McQuiod, store manager, presented Trevor Easton, manager of OUTLineNZ with a cheque of $1,000.
Upon receiving the cheque, Easton comments, "when they approached us [OUTLineNZ] to do this partnership, I was blown away. It is the most exciting thing to happen to us for ages. I'm just so so pleased to have Countdown on board and the support came from nowhere and it means so much to us – so so much to us."
When it came to asking why Countdown Ponsonby chose OUTLineNZ for the donation, McQuiod says, "the partnership with OUTLineNZ was really important for us. We are new to Ponsonby and new to the Pride Parade which for us, is a really important aspect of the Ponsonby community." He continues, "diversity within Countdown is really important, both for our team and our customers so it felt only right to find a good cause like OUTLineNZ which I feel is significantly underfunded for what they do. They are a really important part of the community, so to do a $1,000 donation today and support them for the rest of the month is exciting and we are extremely proud to partner with them."
As well as supporting OUTLineNZ, Countdown Ponsonby unveiled their new delivery trucks, wrapped in Pride colours, reading "We're Proud" ahead of the Pride Parade happening later this month.
To find out more about OUTLineNZ or to make a donation, visit their website.