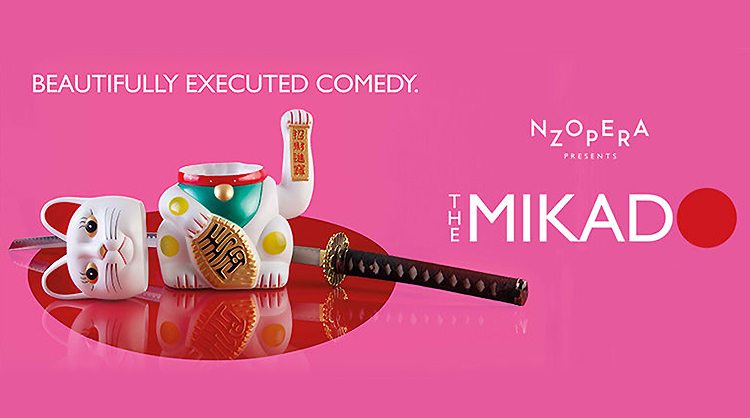 The tagline for The Mikado is "Beautifully Executed Comedy" – the reality is that director Stuart Maunder's production of Gilbert and Sullivan's ageless operatic masterpiece kills any doubt of its sway over modern audiences. Redressed in a kinky kimono of Hello Kitty baubles and anime schoolgirls, flamboyant flirtations with political and social currencies, and a philandering playfulness that is 14 shades of naughty, to have The Mikado as New Zealand Opera's first production of 2017 has truly set a commendable tone.
Auckland's glitterati were out in full swing for opening night (February 14), regaling in a debut night of tenor and talent. The Auckland Philharmonic, conducted by Australia's extremely young and exceedingly accomplished Isaac Hayward, was forefront in accentuating a symphony for this satire. Set in the town of Titipu (who said opera can't be rompish?), The Mikado follows the lovelorn journey of Nanki-Poo, heir to the throne of Japan, who flees the royal court disguised as a nomadic musician to escape his impending marriage to Katisha, a old vamp of a woman with trying features but delectable shoulder blades. In Titipu he falls in love with Yum-Yum, the beauty who is betrothed to the Lord High Executioner, Ko-Ko. And it was the character of Ko-Ko – the class act that is Byron Coll – that meandered his enduring way into the hearts of opening night's full house.
Meticulous timing (a pre-requisite for stand-out comedy) and a fetish for playing the funnyman gave Coll an explosive rhythm all his own, an unabashed embezzlement of the spotlight. Part 'humane executioner', part lover and part dealmaker, Byron Coll's updated Ko-Ko lampooned Westfield malls and mobile phone users, and conveyed a physical humour of fanciful intent. The only downside to his performance – if it can be called that – is that it was so sensational, The Mikado itself paled in comparison.
Not only has the NZ Opera started the year on a stellar note, Maunder's The Mikado has given new lease to the life of this classic production.