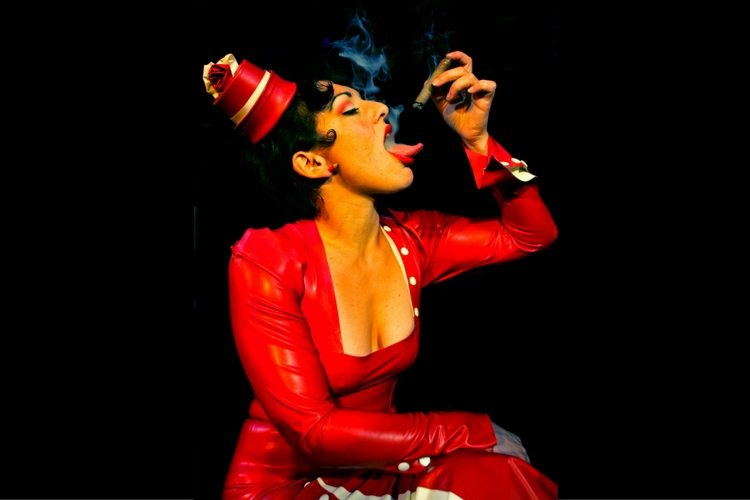 Prudes and people with weak constitutions should not come to this.
Though, let's be honest, the fact that all the publicity material comments on how it's "delicious, deviant and delirious" should be enough to deter those who prefer their acts tame and fully-clothed.
La Soirée is a variety circus-burlesque-cabaret show, which basically means you take all sorts of incredible magicians and acrobats, add a good dose of sleaze before shoving them all into an incredible spiegeltent.
The tent was packed last night, so I would suggest arriving a good 20 minutes early to secure a good spot at the front of the line – the seating is first-come, first-serve.
Prime positions would be the seats that face directly toward the curtain (you'll understand why when the show begins), and the two intimate tables on the stage, if you fancy being prodded and played with by the cast; if anything, those people looked like they had the best night out of all of us.
After the ringmaster's introduction, the tent fades to black, and from the darkness emerges Frisky (of Frisky & Mannish), in a resplendent gold-sequinned gown. If the dress doesn't dazzle you enough, her whistle-tone will surely blast your jaw to the ground.
The other acts cycle in and out throughout the rest of the show, really using the 360° nature of the space to pop up to begin the next portion.
One half of The English Gents has been recently replaced due to Denis Lock's injury, but Leon Fabini and Hamish McCann's display of strength are still a feat of wonder. McCann returns later in the night to perform his famed 'Singing in the Rain' pole dance. Besides how much strength flagpole holds are, remember that most of what he does is usually performed wearing little clothing – the skin contact with the pole helps the dancer hold the pose – he is wearing a full three-piece suit. Also, take a tip from the lady sitting in front of me and wave your hands frantically if you want him to throw his clothing at you.
Mario, Queen of the Circus, is, well, a character. My feelings toward him were up-and-down throughout his appearances, sometimes too Freddie Mercury tribute-like, but he does have his moments in his patter, especially when he tells the audience, "fuck the animals!" You really have to be there. For juggling aficionados, his skills with continuously changing his patterns are something worth watching.
Miss Behave. Well, she is somewhat of a comically grotesque character who plays the fool. Much of the humour derived from her act comes from slapstick and overtly sexual play with the audience, and that only adds to the cringes that will inevitably happen as soon as she puts some sharp object down her mouth.
Asher Treleaven is Mr Sensual because he "puts the sensual in con-sensual". From sexy diablo to a dramatic reading of a Mills and Boon novel, you won't look at a page-turn, or a creepy smile, the same way again.
Captain Frodo says he always wanted to become a rubberman, but I think his talent is most certainly comedy. At one point, he fell off the stage (I'm deliberately leaving context out here), and no one still has figured out if that was deliberate or not. Regardless, he is much fun, and he truly knows how to hit his marks by throwing his own confetti.
Ursula Martinez is simply remarkable. She may have just turned 50, but there she looks nothing like that. She brings her red hanky to the spiegeltent, and I think that may have been the tipping point for the elderly couple sitting across from me – they left at intermission, a move that Martinez told me post-show that she had never seen anyone do. Also, do try to understand the Spanish in her second act, I suspect one third of the tent figured it out, another third laughed along, and the other third just missed out on all the fun. A stalwart of the British entertainment scene, she cemented her place as one of the major drawcards of this performance last night.
It is certainly one of the best nights you'll ever experience, especially if you're into the hedonistic side of life. Keep your vocal cords lubricated – there is a bar inside the tent – because you will be either laughing or cheering all night. And "woop" at the performers when they do something difficult or awe-worthy, because it's that kind of show.
La Soirée plays at the Auckland Arts Festival in the Spiegeltent at Aotea Centre for the duration of the festival, 8 – 25 March. Tickets are available from Ticketmaster. Recommended for 18+ due to haze and nudity.