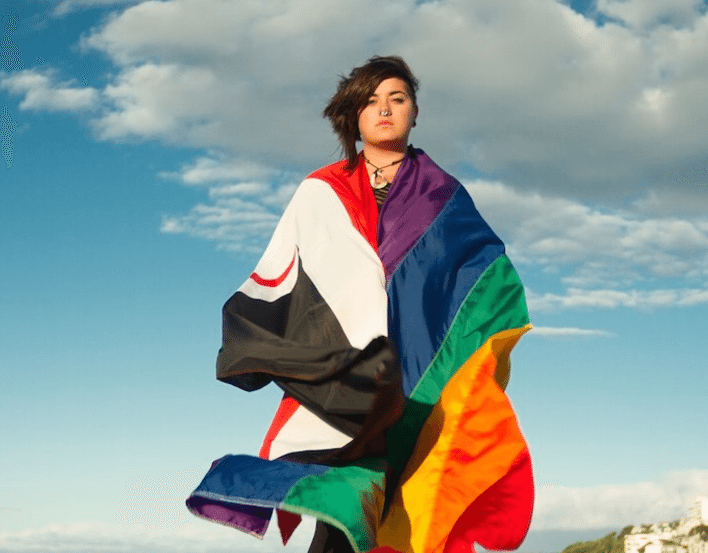 The Wellington Pride Festival is the capital's annual celebration of LGBT+ (queer and transgender) identities, and the 2017 festival is going to be the biggest in 25 years! It is a key time of celebration for this diverse community – but some stories are still not being told.
Takatāpui – LGBT+ Māori identity – is still not widely understood, even within Aotearoa. Wellington locals Kathleen Winter and Jamiee Poipoi want to use the momentum of this historic occasion to highlight and uplift this story of Takatāpui identity, in their latest venture – a documentary which follows the story of Kassie and her journey to find balance in her identity as both queer and Māori.
How will she stay true to herself in the glamorised pride parade?
This short documentary will utilise both English and Te Reo Māori to take us on a lyrical journey through Māori myth and proverb. It is an intensely personal story, but one with far-reaching themes. At its core, this film asks – how do we stay true to who we are?
Winter and Warmington recently announced that 'He Awa Mutunga Kore – A Takatāpui Journey' has been generously supported by the Loading Docs initiative, along with principal partner NZ on Air, the New Zealand Film Commission, and Te Māngai Pāho.
This means that the film will be produced to Loading Docs' high standards, and be viewed by a wide audience.
They are asking for your support to help them film this vibrant and poetic story. With have an entire parade and festival to film, studio space to hire, and rainbow poi to braid, it appears they have their work cut out for them! Winter says their $2000 target will make the film a reality, and anything that hey can raise above that will make it bigger and better. "More cameras, more crew, more elaborate costumes!"
For everyone who donates or simply spreads the word, they want to say "Thank you so much for giving your time and support – whether it be a $5 donation, a 'like' for our video, a share on Facebook or a sneaky word to your flush aunty. We'll pour all of that aroha into making the best film we can, to reflect this beautiful voice and community who deserve to be seen."
To those wishing to donate to their $4000 target before the Wellington Pride Parade (18/3), click below.