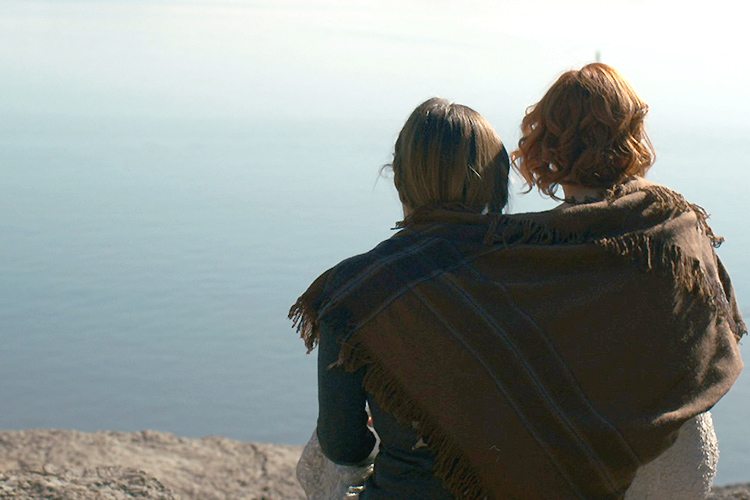 Riley Keough and Jena Malone star in So Yong Kim's delicate heartbreaker, Lovesong. The duo play best friends who are unable to verbally express their true love for one another.
And we're not just talking about any kind of love here, it's a hot deep-rooted 'I want to rip your clothes of' kind of love. From start to finish the desire and sexual tension is present, drawing us into their relationship, leaving us to question their unforeseeable future.
Keough plays Sarah, a young mother, raising her daughter, Jessie, practically alone as her husband is always away on business. Craving affection and adventure, she turns to her free-spirited best friend Mindy.
The pair embark on an epic road trip to eastern Pennsylvania, where they visit the rodeo, go to the amusement park and play drinking games. After a few too many, they pour out their confessions of naughty misdeeds and exchange kisses, each one waiting for the other to make the next move.
The road trip ends and we fast forward three years to Mindy's wedding day. A newly-single Sarah attends and the roles reverse. This time she offers a shoulder to cry on to her best friend, who is questioning why she is getting married.
After the bride has some last minute jitters, she flees into the forest, Sarah follows and it's here that we finally witness their confession of undying love for one another.
But just as you think the credits will start rolling and they would have their happily ever after it doesn't deliver the fairy tale ending that you expect, instead it flips it right on its head and leaves you questioning… what the hell just happened?!
Although I do have to applaud it's slow-burning suspense and its minimalism.
Review | Lauren Sanderson