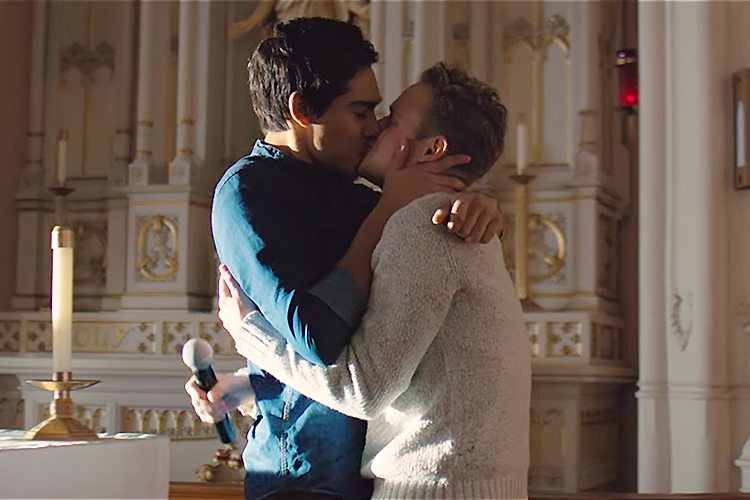 Christian Rock musician Trey Pearson's new video features two men kissing in a church.
Trey Pearson came out to fans in an emotional letter last May, causing him to be dropped by Joshua Fest, which he says would have made him the first openly gay artist ever to play a major Christian music festival. He says he has also been shunned by the anti-LGBT+ crusaders within the faith music world.
But after spending 20 years not being able to express his true self, Pearson has more important things to do than dwell on the haters — last week, the musician marked a milestone for the Christian rock and LGBT+ communities with the music video release of his first solo single, Silver Horizon.
The video features him watching a religious service from the back of the church. A young man, played by Cole Doleman, gets up to sing in front of the congregation. Eventually, another man sitting in the pews rushes to the altar and the two share a passionate kiss.
There's initially a stunned response from the parishioners, before the entire congregation, including the pastor, cheer on the two men and break out in applause. In another scene, Pearson himself is seen kissing a different man in an apartment.
Pearson, 35, talked to Out Magazine about his experience writing the song and making the video: "The song is very much about the journey I have been on this last year and a half – going from trying to hang on so hard to something I couldn't be, to finding the light on the other side of the darkness."
He continued, "I wanted the music video to be about that light and hope for the future. Coming from a systemic oppressive church culture that was brainwashing and made me feel like it wasn't okay to be my truest, best self, I wanted to shine a light on seeing that change, and the hope for a better future."
I hope it brings smiles to faces like the way it does mine, and I hope people enjoy how beautiful it is.
The musician said the video reflects his feelings about seeing more churches become "open and affirming" to LGBT+ members, "and, in all seriousness, my desire to continue to see a change. I wanted to make a video that portrays the church when it's at its best: unconditional love and joy and showing the love of Jesus."
The singer has two children with his wife Lauren, but explained in his letter that after two decades in the closet he was finally able to admit to himself and the world he is gay.
Pearson previously spoke to the panel on The View about his conservative upbringing and how it influenced his choice to remain in the closet: "I grew up in a Christian home and church, where I was taught that God hated homosexuality, and I could choose to be straight. I tried for a really long time. I don't think I was ever trying to lie to anyone, I was trying to convince myself I could be something I wasn't. I put all my faith into that, and it's scary because a lot of the church continue to teach that this is a choice. They don't realise how damaging it can be."
I thought a lot about how much I wish, when I was younger, there would've been somebody that I looked up to… Hopefully, it can help change people's hearts on how they view same-sex relationships.
The singer added that his wife had been incredibly supportive and that his conservative family has also started to embrace him: "The day that my story came out, [my dad] showed up on my porch… he knocked on the door and just hugged me for 10 minutes and told me how much he loved me."
He said he will take some time to adapt to his new reality before he starts dating.
"I hope the video changes hearts, and spreads hope to those who feel unloved or alone." https://t.co/CAn4oH6ovG

— Trey Pearson (@treypearson) April 11, 2017
As for his relationship with the church today, Pearson says: "I have a deep appreciation for the faith tradition I grew up in, and have a lot of love for Jesus, but I also recognise there are a lot of horrible things done in his name… Overall, there's a lot of the church still teaching extremely harmful theology, destroying millions of LGBT+ lives, and people around them, as well. It's not the church's first growing pains, let alone humanity's… I'm very grateful for how quickly it's changing right now, and definitely hope to see it continue to change. And celebrating more honest artistic expressions like this are a key part of that change."
express spoke with the founder of Proud to Play NZ, a charitable trust that promotes inclusive sports and ensures sports clubs/teams have zero tolerance for homophobia, Craig Watson for his thoughts on Silver Horizon.
"When I watched the video I was slightly shocked and taken back," he said. "I realised that the thought of a gay couple kissing in a church was still foreign to me. I have been out now for two years and am working to try and resolve the conflict between the gay and Christian communities."
He continued, "This video paints a picture of what I would love to see in church one day — the acceptance and affirmation of a gay couple in church. This video is a picture of hope to many of us who are still struggling in churches today."
Proud to Play NZ are currently looking for people who are interested in reshaping New Zealand's sporting community and working with our top universities and sporting bodies. With Sports Ambassadors like Robbie Manson, Blake Skjellerup, Aaron Fleming and Louisa Wall, they aim to develop sporting events for the Rainbow community.
"We are looking for people with marketing, funding, policy and communications skills to join the small team," says Watson, "You can work from anywhere in NZ and can commit as little or as much time as you would like."
If you are interested in sports and these areas, then please contact Craig on 027 448 2724 or craig@proudtoplaynz.com.