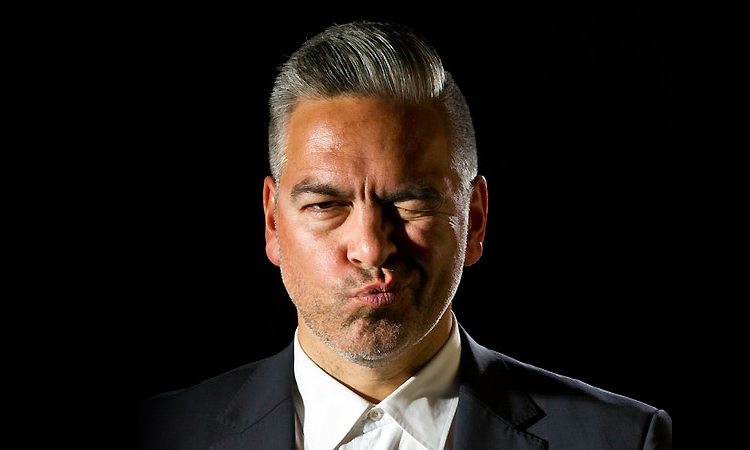 We speak with acclaimed playwright, scriptwriter and journalist Victor Rodger about F.C.C, the theatre movement he's leading, his upbringing plus his latest endeavours.
---
What was your aspiration behind creating the F.C.C theatre movement?
F.C.C stands for the Flow of energy, Creating platforms largely for Pasefika practitioners, and Connecting emerging practitioners with seasoned veterans. F.C.C has produced three plays so far: Club Paradiso, starring Robbie Magasiva, Puzzy, starring Frankie Adams, and Wild Dogs Under My Skirt which was written by my cousin, Tusiata Avia.
Alongside that, F.C.C has done regular readings of plays by diverse (i.e. non-white) playwrights. The goal with the play readings has been to expose Kiwi audiences to great works that speak to me, but which haven't yet been produced in NZ. These are works that give diverse practitioners a chance to take centre stage.
We've done plays by African-Americans, Chinese-American, British-South Asian, Filipino-Hawaiian… The readings also offer an opportunity for people who have often never worked together before to do so. We've had everybody from Rachel House, Robbie Magasiva and David Fane, through to Jennifer Ward Leland, Michael Galvin and Raymond Hawthorne come along and help out.
You recently said to The Big Idea that F.C.C was created to give people "an opportunity to deal with meaty, complex texts that they are generally not getting […] in the mainstream" — where does this passion come from?
Specifically, it was created to give Pasefika practitioners a chance to engage with well-written, complex texts since they are, by and large, not really getting that opportunity, at least not in the mainstream. There are exceptions, sure, but I am super conscious that a lot of diverse actors, whom I admire in the industry, are not often cast in roles that put them centre stage or really stretch them.
Robbie Magasiva is a great example. He has a huge range, but the spectrum of roles he plays in film and TV generally don't touch the sides of what he is capable of.
Who do you admire the most, living or dead?
I have to say my mother, Nora Williams. Not to be cheesy, but I admire her fortitude, her capacity for love and especially her capacity for forgiveness… which I totally did NOT inherit! There is an awful lot to admire.
What are you inspired by at the moment?
I am inspired by some great writing that is coming out of the States: Branden Jacobs-Jenkins is an African-American playwright whose work has yet to be produced here in NZ, but he absolutely gets me. He is smart, funny as hell, and his play An Octoroon is especially brilliant. F.C.C did a reading of it last year and I wish I had the cash money to produce it for real. It's exactly the type of work that I think mainstream NZ theatres should be producing, but haven't touched.
When did you discover that you were gay? Did you ever struggle finding your identity and/or place in the world?
I remember being five or six and watching a boy at school being mean to some girl and thinking to myself, "That boy is going to have girlfriends in the future, but I won't." I don't know if I knew enough at that stage to know that I was gay exactly, but I do remember that when I was eight I read a story about Janis Ian and she said she knew she was gay when she was 11 and I felt guilty because I already knew!
Being comfortable being gay was a struggle. I was raised as a born-again Christian, so there was that hurdle to overcome. I didn't come out to my mum for a long time because, knowing her, I knew she'd blame herself as she was a single parent.
I think the thing that really helped me feel comfortable in my own skin was falling in love when I was a student at Toi Whakaari. I was so in love, I just wanted to share what I felt with my mother. As a Christian, she was very concerned that I would go to hell and that was totally coming from a place of love. That fear she had, and still has to some degree, informed a lot of the Mama Letti character in my play Black Faggot.
What does 2017 have in store for you?
I am currently the writer in residence at Victoria University. It's exactly twenty years since I graduated from Toi Whakaari, so there's a nice kind of loop returning to Wellington on the 20th anniversary of my graduation.
I tackled fiction for the first time last year and had my first short piece published in Landfall.
One of the things I'm working on right now is a little something called Lima Sefulu which means 'Fifty' in Samoan. I did a little bit of work on it recently when I was in Honolulu to watch some productions of my plays Black Faggot and Puzzy. The song Strokin' by Clarence Carter popped into my head out of the blue – that song used to get everybody up on the dancefloor back in the late '80s – and for some reason, that memory totally propelled me to write something about that time.
F.C.C is going to be producing it's fourth play in August, The Mountaintop by Katori Hall, starring David Fane and Nicole Whippy, at Basement Theatre. I cannot wait for people to see this. It's about Martin Luther King's last day on Earth and it is incredibly moving, wonderfully surprising, and David and Nicole are going to be amazing!
Can we expect any more plays from you in the near future?
Definitely. I'm doing a reading of a new work called Uma Lava, which is based on Jean-Paul Sartre's play No Exit, on 13 May at the Dunedin Writers & Readers Festival. That's going to feature two of my favourite people, who are also two of my favourite actresses, Anapela Polataivao and Goretti Chadwick. In June I'll be workshopping a new piece during the Kia Mau Festival in Wellington, and in September I'll be presenting a cabaret I've been working on called Christ(church) Almighty as a work-in-progress as part of the Christchurch Arts Festival.
What do you consider to be your greatest achievement (so far!)?
I think maybe it was having a young kid come up to me in Palmerston North and thank me for writing Black Faggot because it was a variation of his story.
Do you have any motto(s) that you live by?
'Art should comfort the disturbed and disturb the comfortable' and 'Speak your truth'.
Anything else you'd like to tell our express readers?
Come and see The Mountaintop in August!
Victor's Black Faggot and Other Plays has just been published and is available now from www.unibooks.co.nz.