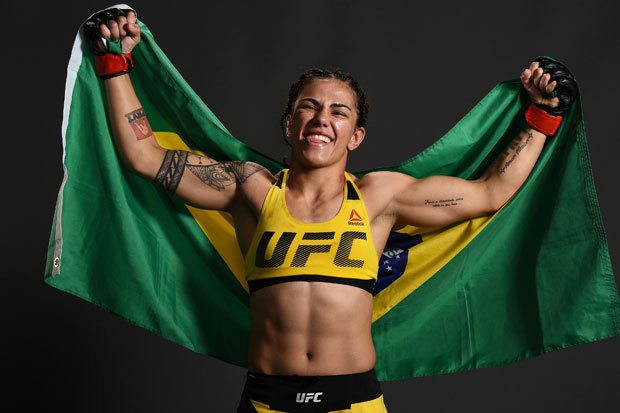 *Update: Monday 15 May
Andrade was unsuccessful in attempt to dethrone the Strawweight champion. After a hard fought five round fight the judges all ruled unanimously in her opponent's favour.
In her post fight interview commentator Joe Rogan congratulated Andrade on the heart and toughness she displayed, saying he was confident she had made a lot fans. Andrade took the opportunity to propose to her girlfriend who was in the audience, which received a roar of cheers from the capacity crowd in Dallas, Texas.
UFC comes to Auckland for fight night on 11 June at the Spark Arena. Tickets from www.ticketmaster.co.nz
Sunday 14 May will see openly gay UFC fighter Jessica Andrade challenge for the Women's Straw Weight Title taking on champion Joanna Jedrzejckyk at UFC 211 in Dallas, Texas.
---
Andrade has looked dominant in her last three fights, but Jedrejckyk will be no easy opponent as she is considered by many to be the greatest female fighter in the world.
If Andrade is successful she will be the second openly gay champion in UFC's history, reigning alongside current Women's Bantamweight Champion Amanda Nunes. Nunes won her title back in July and her partner Nina Ansaroff also competes in Andrade's Straw Weight division.
Last year UFC released a t-shirt in support of The Gay & Lesbian Centre of Southern Nevada, which had the slogan 'We Are All Fighters' printed in a rainbow of colours down its front. The t-shirt was modelled by Kiwi fight Mark Hunt at an open work outs event in promotion of UFC 200.