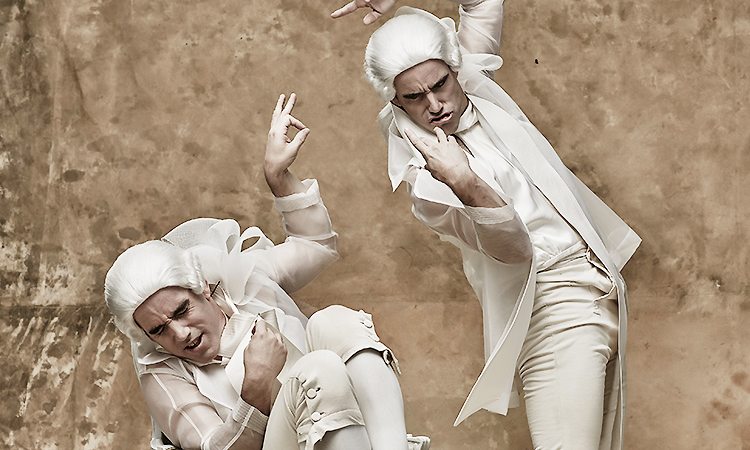 Brought to us by Peter Shaffer,
Amadeus

is a highly fictionalized account of the lives of the composers Wolfgang Amadeus Mozart and Antonio Salieri. First performed in 1979, it was inspired by a short 1830's play by Alexander Pushkin called

Mozart and Salieri

.
---
Well-known for his perceptive craft, whether acting or directing, Oliver Driver says he wanted to direct Peter Shaffer's award winning play Amadeus (Love of God) because "it's a beautiful piece… with [Mozart's] music front and centre – I mean, the musicians are actually on the stage… usually, they're shoved in a corner somewhere or down in the pit."
"And it's a cracker story – the power of jealousy bringing one musician to cause the death of another."
The play is not new to either stage or screen, but it does sound like Driver's vision will contemporise the play.
"I want to create a multi-disciplinary theatre event," continues Driver, probably thinking in much the same way that Peter Shaffer himself did in a previous play, Royal Hunt of the Sun, which was described as "total theatre, using mime, masks, makeup, magic and [of course Mozart's] music."
Several of the characters are based on real people, like Mozart himself (his middle name was Amadeus), his wife Constanza, and court musician Salieri, who sees Mozart as a direct insult to himself from God.
There is no evidence that any such interaction actually occurred between Salieri and Mozart the people — but what a great play Shaffer created with that possibility.
What the play addresses is creative jealousy – you immerse yourself in music, you're inspired, you write those musical notes down. You play it to contemporaries, all of whom murmur nice things.
Then suddenly from another room, your ears think they're hearing the most beautiful music imaginable. You feel its magic, its genius. When the thrall of that ends, you think of your own work and know its true worth.
For having felt that kind of jealousy about Mozart, Salieri's icy rage possesses him. He shouts to God: "How could you do this to me?", the universal rail against Fate, as some also call it.
Musical director, Leon Radojkovich says, "Getting to grips with the material was my biggest challenge – working out which instruments Mozart might have chosen if he had today's to choose from."
An experienced Michael Hurst is sure to make a memorable Salieri – the part has so much meat. Anticipate gorgeous costumes too, which will have a nod to the Viennese fashions of Mozart's time and maybe next season, find an echo in World or Karen or some other clever clothes-making Kiwi.
"But overall, the play is contemporary, and will look contemporary," Driver adds. "This is not a period drama. Even the music will do things like be played with electric keyboards and guitar – we have an 11-piece band right on the stage – the music is part of the play, visibly so this time."
ASB's Waterfront Theatre opens the two week season on 4 May. The glitterati opening night promises to one of autumn's top events in the Heart of the City calendar.