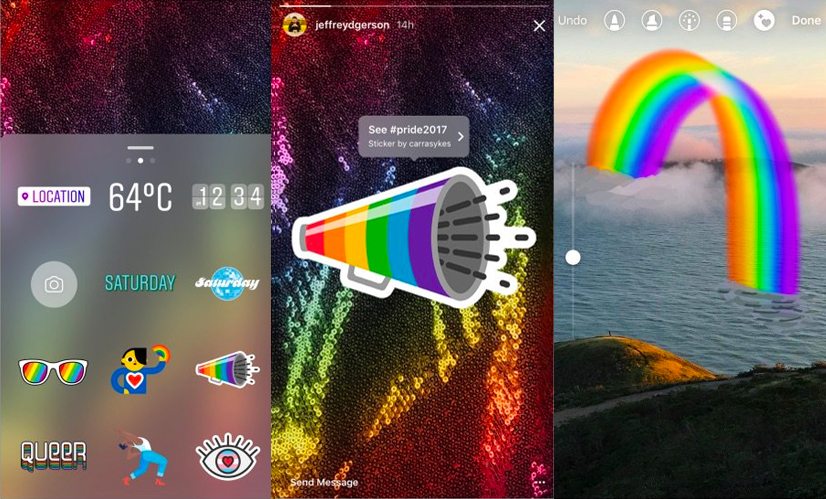 Instagram is celebrating LGBT+ Pride Month with features including new stickers for Stories, created by LGBT+ artists from the Instagram community, and a rainbow brush editing tool.
---
The stickers were created by artists Carra Sykes, Andy Simmonds, Cute Brute, José Antonio Roda, and Josh McKenna and contain an eye with the iris transformed into the trans flag to recognize the importance of transgender visibility, a pair of sunglasses with rainbow-hued lenses, a rainbow megaphone, an illustration of the word 'queer', and an animated figure holding a small rainbow.
There's also a sticker of a voguer striking a fierce pose — werk!
Once you post a sticker to your story, it becomes clickable with a pop-up link to the #Pride2017 hashtag and a little shout-out to the creator.
In addition to the colourful stickers, Instagram announced they're debuting a rainbow brush so you can show your pride and solidarity with an added pop of colour. The brush button lives next to the regular drawing tools and, predictably, creates rainbows.
Instagram said in a blog post that the brush is aimed at enabling users to bring "extra colour to your stories".
Stories that use the stickers are eligible to be featured in the #Pride2017 hashtag, and Instagram users will be able to see colourful story creations by others simply by pressing the hashtag featured in stories.
As part of their Pride campaign, Instagram will also be partnering with muralists in an international project, transforming 'Instagrammable Walls' in Los Angeles, London, Madrid, Nashville and Cleveland into selfie-friendly rainbow art projects.
Their blog post also provided details on its rainbow walls initiative:
In honour of Pride, we're kicking off a global initiative to turn walls in cities around the world into colourful beacons of support. We began today in Los Angeles by transforming the iconic Paul Smith pink wall into a rainbow. Take a photo or video in front of a rainbow wall to show your support of the LGBT+ community. You can also join the #KindComments movement on Instagram and make someone's day by leaving a supportive comment on their post.
Clothing store Paul Smith's iconic hot pink wall at their Los Angeles location has already been painted rainbow, giving a queer twist to an already sought-after backdrop for Insta pics.
Each wall will feature the hashtag #KindcCmments, Instagram's on-going campaign encouraging users to share a message of support with the LGBT+ community.