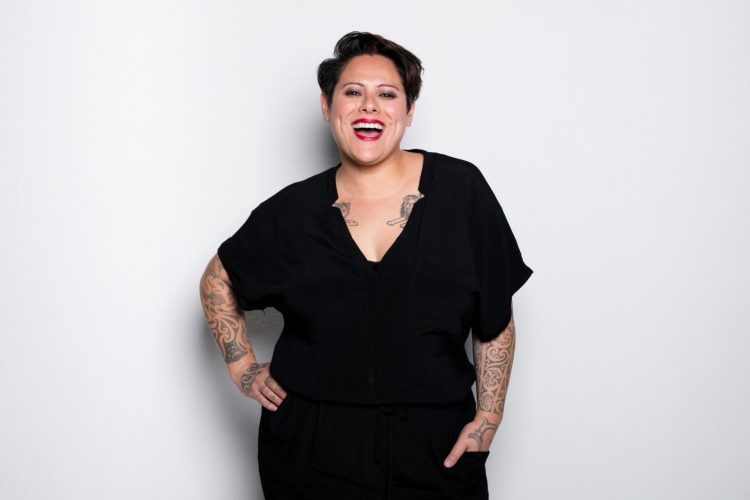 With the news of a news ringing through our ears, there was no better way to celebrate on Labour Weekend then to get your dancing shoes on and check on the plethora of live music on offer. First stop Anika Moa!
---
On Friday 20 October Anika Moa's In Swings The Tide 10th Anniversary Tour stopped on Auckland's Kings Arms. That venue gave a bitter ambiance that perfectly suits the content of that emotionally layered album. The Arms' future is currently uncertain with no gigs booked after January and rumours of a predicted apartment block to replacement. It's amazing how much you appreciate something when you know it's not going to be around for much longer. That dark and grungy interior never felt more warm and cosy.
As with all of Moa's gigs, there are two main reasons to attend – her voice (consistent and dependable in its angelic qualities) and her banter (which has led to a career revival as Maori TV's top star presenting her chat show All Talk). Both of these talents were on full display that night. The set list began dreamy and soft, with hits like Dreams In My Head, still sounding as beautiful and poignant as they did a decade ago.
In between songs Moa and collaborator Jol Mullholland exchanged dirty jokes (Mullholland's effort: My Dad went to the zoo yesterday to watch the monkeys masturbating. Then he went to see the crocodiles, still masturbating). Moa also took some time to celebrate our new government/leader pointing out that she had once dated Jacinda Ardern's partner Clark Gayford.
The show's energy amped up with a rowdy performance of If I'm So Mad Why Are You My Friend? From there the crescendos kept coming. A performance of Youthful confirmed status as one of the great New Zealand pop songs, before Moa returned to the stage for an encore cover of Nothing Compares To You – a really great party piece to pull out. The enthusiastic crowd sang along as the ballad showcased the most soulful qualities of Anika's voice.
You have one more chance to catch this cracking show as Anika Moa plays Wellington's San Fran on Saturday 28 October!