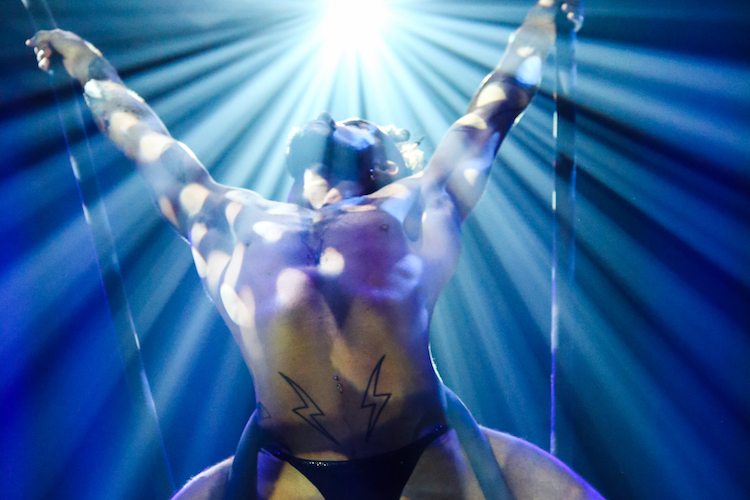 Brief's new show "Close Encounters" hits Q Theatre for an end of year knees up!
---
Hot on the (high) heels of last year's silly season smash hit, the world's hottest all-male boylesque stars BRIEFS are headed back to Auckland's Q Theatre this November, with a brand new show that promises galactic glamour, astro-athleticism and interstellar aerials.
Formed in 2008, BRIEFS transitioned from a late-night club act to an acclaimed performance ensemble and has been glitter bombing the globe since, with sell-out shows in London, Berlin, Paris, Melbourne, Perth and Adelaide.
In the company's new show, Close Encounters, the BRIEFS boys are ready to explore the third dimension, promising 'dizzying thrills that are out of this world' with a rocket-fueled blend of comedy, dance, tumbling, juggling, acro-balancing, trapeze, lip-syncing and warped speed strippers from outer space.
Shivannah returns with 2011 Las Vegas King of Burlesque, Captain Kidd, as well as one of Australia's leading aerialists and contortionists (and bearded babe), Thomas Worrell, defying gravity and literally tying himself in knots above the crowd, and loveable rogue Louis Biggs (of the aforementioned yo-yo tricks).
Q has your end of year knees-up sorted with deliciously naughty cocktails, luxury briefs-wearing ice-creams, and specially themed canapes ready to be devoured while you delight in the on-stage antics.
Seating options start from $49.50 with cabaret tables available for a super close encounter.
Restricted to ages 18 and over. Look forward to colourful language, bare bodies and grown up content.
BRIEFS Close Encounters coming to Q Theatre, Auckland, from Tuesday 21 November to Saturday 9 December. Tickets on sale now. To book, head to www.qtheatre.co.nz/briefs2017 or phone 09 309 9771.
View trailer: BriefsCloseEncountersatQTheatre2017