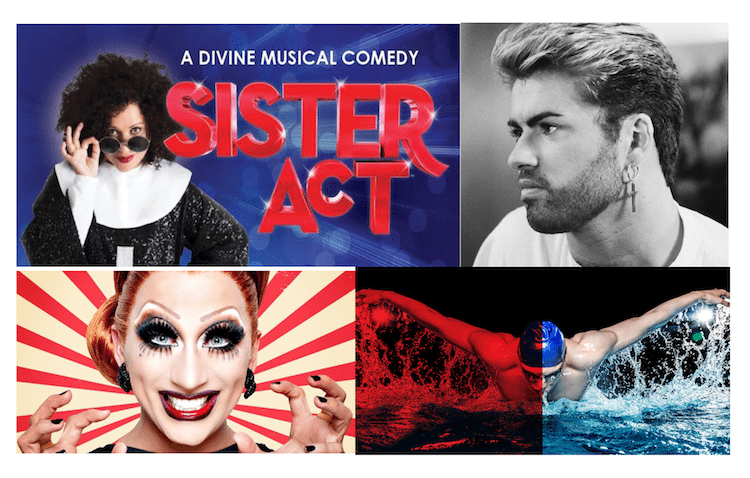 You won't believe who's coming this month!
If I told you the following names are all performing in New Zealand this month – would you believe me? There's Drake, Lorde, The Weeknd, Stevie Nicks, Bic Runga, Sean Mendes, Khalid and Take That!
---
-Drake's Boy Meets World tour which lands at Auckland's Spark Arena on Friday 3 Nov offers the chance to see a star at the peak of their popularity. Expect a 40-song-set-list and dazzling art-installation-like lighting.
-Lorde brings her Melodrama tour to Auckland's Powerstation (12-15 Nov) giving you the chance to see her own the stage in a more intimate setting. Please perform Yellow Flicker Beat! (photo:LORDE-melodrama)
-If a "Motherf**king Starboy" is more your thing The Weeknd's Starboy world tour (Spark Arena, Wednesday 29 Nov) looks like a hit-filled, futuristic thrill ride with support from French Montana.
-Bic Runga gives us plenty of reasons to turn up to The Civic on Thursday 2 Nov including: being supported by Aaradhna, performing her entire Drive album in the first half, and then a hit laden set in the second!
-Shawn Mendes has been experiencing a breakout year in his young career and is celebrating by bringing his Illuminate world tour to Spark Arena on Saturday 25 Nov; expect a guitar laden teen heart throb with angst ridden lyrics played to catchy melodies.
-Khalid's American Teen Tour takes over Spark on Sunday 12 Nov, after original venue Auckland Town Hall sold out in 10 minutes! Looks like he won't be Young, Dumb and Broke for too much longer.
-Rock legend Stevie Nicks has already sold-out one of her two Spark Arena shows, but Tuesday 21 Nov still has tickets available. The Fleetwood Mac front woman will be supported the Chrissie Hynde-led Pretenders. A celebration of Women who Rock!
-In NZ for the first time in 22 years – Take That (the UK's biggest-selling boyband) have lost a couple of members and turned into handsome men in that time. Renowned for their dazzling live shows expect a spectacular sing-a-long at the Trusts Arena on Wednesday 22 Nov.
-If none of these guys float your boat, don't despair plenty more shows have been announced for future months including Harry Styles (Sat 2 Dec), SIA (Tue 5 Dec) and next year: Mariah Carey, Pink, Katy Perry, Lionel Richie, Queen & Adam Lambert, Paul McCartney and Bruno Mars. Tickets from Ticketmaster.
Re-Making Whoopi
Musical fans, how could you go past the NZ stage debut of Sister Act? Based on the sassy, camp 90's Disney musical of the same name, which saw Whoopi Goldberg inspire Drag Queens the world over to take it to church. NZ Idol finalist Keshia Tunks will take on Goldberg's iconic role of Deloria Van Cartier when Sister Act opens as Auckland's ASB Waterfront Theatre on Sat 25 Nov. Tickets through Ticketmaster. "…follow him wherever he may go…"
A Dangerous Drama!
Red Speedo looks set to be one of Auckland Theatre Company's edgiest productions of the year as they tackle writer Lucas Hnath tense script that dives into the dark side of professional sports. The twists and turns will be directed by Ben Henson who has previously proven his skills with the macabre Not Psycho and the jaunty Earnest. Red Speedo is on now at Auckland's ASB Waterfront Theatre. Tickets from www.atc.co.nz
George's Remastered Return
George Michael's documentary Freedom was screened on Prime over Labour Weekend and can now be found online. Featuring footage shot as recently as the month of Michael's death it focused on the biggest moments that defined George's career and in turn his status as an iconic singer songwriter. To coincide with the documentary's release his classic sophomore solo album Listen Without Prejudice Vol. 1 has been remastered and reissued as a double disc combined with his MTV Unplugged concert. A deluxe version also features additional remixes and the previously unreleased 'Fantasy' featuring Nile Rodgers.
The Bitch is Back
Bianca Del Rio's Blame It On comedy tour roles into Auckland's Aotea Centre on Monday 6 Nov. The Ru Paul's Drag Race Alumni and self confessed 'clown in a gown' promises her to be filled with "filthy, nasty, hateful humour!" Kitty got claws! Tickets through Ticketmaster.
Oliver Hall runs through upcoming events and shows not already highlighted in express for this month.