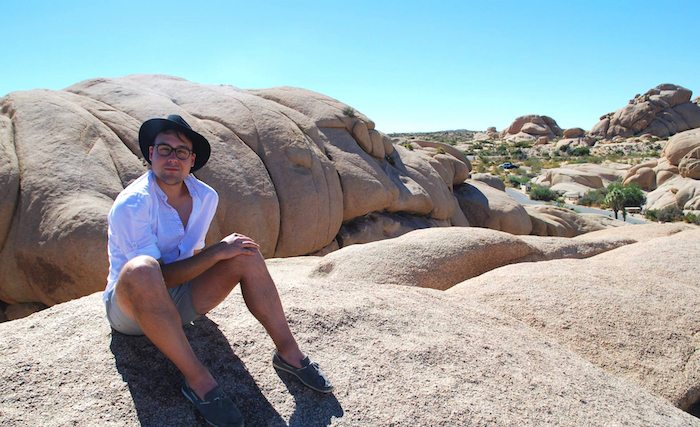 We chat to artist and filmmaker Alex Plumb about his latest film project and exploring themes of desire.
Hi Alex, your debut film The Luring has been shown around the world, congrats! What has that been like for you?
It has been amazing. It's a film that really represents my aesthetic and who I am as a Director so being able to share that across the world has been really exciting.
I'm about to travel to the UK for the Aesthetica Film Festival. It's funny because I've been carrying around their magazine for years – pulling out pages for look books and mood boards. They are known for showcasing artists and filmmakers with a strong visual aesthetic so it's an honour to be a part of that conversation and get to show The Luring.
The Luring has also screened at the Barcelona International Film Festival (Finalist), The Hamburg International Queer Film Festival (In Competition) and The Auckland International Film Festival (Best Experimental Film).
I have been making video art for a number of years now, in a way I feel like it has allowed me to look through the lens in a very different way and has taught me how to build images in a more creative and ambiguous manner. Now that I am creating film and works that are part of much larger narratives, I'm excited to continue working in this way and develop my own unique voice as a filmmaker.
What projects are you currently working on?
I'm currently in pre-production for my next short film Golden Boy. It will be shot in New Zealand over the summer. It's a dark, coming of age tale about desire and transformation.
I'm excited and nervous as I've really pushed myself as a writer – which I don't really consider myself to be but I decided recently that until I find the right story, I'm just going to have to write my own stuff!
Who, or what inspires you creatively?
Oh, so many people. I often explore the crossroads where the ordinary meets the extraordinary in my work so naturally, I'm drawn to artists and makers who create in a very stylised way – work that is often very intense, psychologically yet also beautiful. Other filmmakers such as Todd Haynes, Nicolas Winding Refn and Darren Aronofsky are a huge inspiration to me and of course, Gregory Crewdson – his photography has probably been the most influential in terms of my own work. I was lucky enough to see his work in Wellington a few years ago – I was literally there for hours staring at his photographs!
I'm also really inspired by fashion. So, I really respect creatives who are able to funnel that sort of inspiration into film, like Tom Ford. Since I was really young, I would look at high fashion narratives and lose myself in the fantasies. To this day, when I'm feeling a little lost before a shoot I bring out all my favourite art & fashion magazines and just flick through for hours until a particular image speaks to me. I guess what I'm drawn to with fashion imagery is that it's so stylised and so performative that in a way it's also quite self-conscious and fragile – this tension makes it really interesting when talking about gender or sexuality.
Your work often deals with queer themes, what drives you to explore these creatively?
My works often deal with notions of desire within the every day and I guess one of the things that has been present in most of my work is this conversation around masculinity. As a gay man, I've always felt I've been on the outside looking in – looking at gestures, behaviours, appearances, my own included. So I'm interested in the way in which we become all of these things and in particular when we exercise them in obsessive or exaggerated ways.