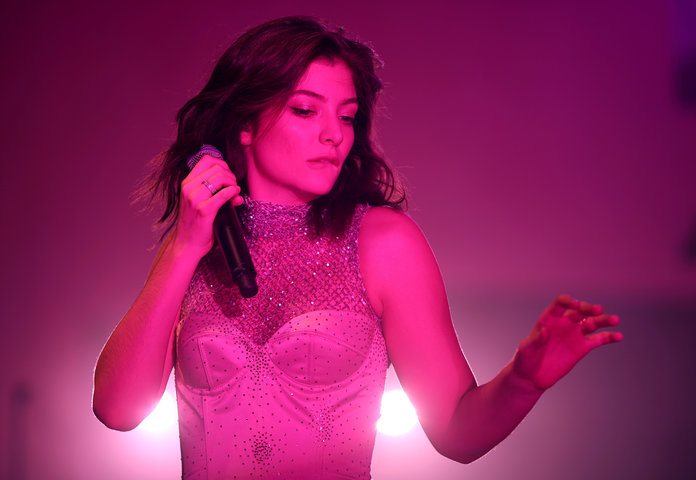 Good Lorde! NZ's Pop Princess uses an intimate venue to show fans how her live talents have blossomed.
---
Like a true pro, Lorde appeared on the Powerstation's stage within moments of the clock hitting 9.30pm. David Dallas had warmed up the crowd – he was one of a rotating cast of kiwi support acts who had each been selected to open one night of the tour. He proved to be the perfect hype man!
Lorde instantly made her presence felt, filling the stage with her head banging, hair whipping and signature industrial dance moves while cranking out: latest single Homemade Dynamite, Disclosure collaboration Magnets and party starter Tennis Court.
Clad in a dramatic black ensemble, that felt like a tasteful gothic prom dress; her look, combined with her vocal skills and stage presence highlighted that she truly has become the complete pop package. So much so the two dancers that join her a few songs in, were rendered inconsequential, as Lorde never gave her audience a reason to take their eyes off her star power.
The concert was performed in three acts, with a costume change and a rotation of neon-light staging signifying the beginning and conclusion of each. An effervescent first set lit by a giant jandal clad spaceman, gave way to a cooled down middle, where Lorde showed off her vocal chops with: a touching rendition of ballad Liability, seldom performed original cut Bravado (from her Love Club EP) and an emotional cover of The 1975's Somebody Else; all while pointedly wearing a sparkling white wedding-like gown under the light of neon stars.
The final act that played out under an arch of neon flowers, saw Lorde don a transparent body suit to perform a parade of hits including: Royals, Perfect Places and Team; before closing with an energetic rendition of Green Light enhanced with confetti canons. She returned to the stage for a final encore at first hushing the crowd to give them an accapella performance of Writer In The Dark, before encouraging everyone to sing along to Loveless – highlighting in the process that she was holding everyone in the palm of her hand.
This was one of those really special gigs that make Auckland such a unique and wonderful city. It reminded of the thrill I got seeing the likes of Kanya West and the Pet Shop Boys perform at The St James and the feeling of not believing you could get to see such a high calibre artist in such an intimate setting.
… And this tour highlights that Lorde's career is only just beginning!
Lorde performs tonight at the Vodafone New Zealand Music Awards.