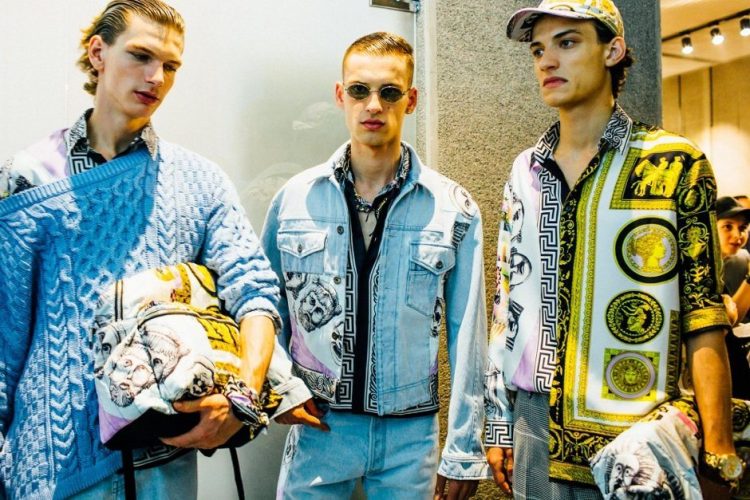 As men's fashion continues to progress through the eras, the high fashion man of 2017 becomes a hybrid of grunge elements, graphic prints, and over the top tailoring swimming in a sea of pastels. Paris and Milan's biggest weeks of the year saw a monumental revival of 90's streetwear as we enter the world of the millennial.
---
Here's what the spring/summer 2018 collections mean for your aesthetic as we summarise key trends that just showed in Paris and Milan along with designers and looks driving the men's fashion renaissance.
The nineties and naughties
The distinctive grungy flavour of the nineties is reborn to a luxury fashion mother bringing polished punk realness. The decade has captured the imagination of the biggest names in fashion including, Versace, Gucci, and Prada paying homage to fashions biggest market of today, the millennial customer.
As a result, it is no surprise the fanny pack was the number one bag seen at fashion week. As the era makes a comeback embracing every trend from that decade is a must for the street style mogul.
Notably Versace showcased the best of the decade with prints, cargo pants, and pinstripe tailoring.
After the nineties comes the naughties and over the past few seasons of nineties resurgence it's no shock that that menswear is moving on to the naughties. It might only just be bubbling under the surface, but a few early signs are there: baggy cargo trousers, matching double denim, long belts that meet the thigh and sweater-vests were all spotted on the runways of the various capitals. Expect this trend to only grow as the season continues to progress.
Pink
Millennial pink, that warm, blush rose colour every designer couldn't resist is set to grow next season – and is expanding into a growing range of hues.
Charged with energy and optimism, softer shades blend together into a range of pastels. Some of the sleekest, most established labels on the market are the ones pitching it as the seasonal go to Ermenegildo Zegna, Berluti, Fendi and Valentino all placed millennial pink atop of their pedestal. Ami, Comme des Garcons and Billionaire unapologetically featured eye popping bursts of hot pink.
Global front runner Gucci artfully demonstrated bohemian lethargy with deep hues in addition to floral prints and silk shirting that fell off the shoulder and fluttered along the runway; this collection was romantic, pushed the envelope and more than enough to fall helplessly in love.
Our pink picks:
Graphic prints
Paris mourned the death of subtlety and taught us that by spring, we're going to be adding a hefty sprinkling of visual texture to our wardrobes. It seems designers are increasingly taking hold of the irony of our visually saturated environment in fashion. A play on the chaos of the world of advertising and visual stimuli exploded onto colourful pallets designed to leave an impactful stamp in our minds eye. This trend heavily influenced by the resurgence of nineties and naughties fashion in keeping with the key trends of spring summer 2018.
Formal wear breaks away from the mould
Unstructured tailoring mixed with sportswear is setting the scene for a complete re- think of formal wear.
Tom Ford has again changed the game and taken formal wear from a restrictive and restrained aesthetic to something more playful and avant-garde.
Tom Ford recently presented its 2018 spring/summer line-up at Milan fashion week and as to be expected expertly crafted suiting options paired with sharply cut and slim fitting formal wear options graced the runway. Rather more unexpectedly peak lapelled blazers in an extensive range of colours teamed up with wide neckties, while graphic printed tux jackets caught the eye when styled alongside more traditional formalwear elements. Upscale casual staples also surfaced throughout as denim jeans, chino trousers and loafers paired with Henley-style tops and lightweight outerwear.
Prada seemingly took Tom's direction and continued the men's tailoring renaissance overall. Their looks evoked equal parts greaser and fine Italian tailoring; all with a modern, futuristic take on formalwear. They appeared seamless, with sleeves rolled up and with matching tops and trousers neatly tucked. This was one of the most highly acclaimed shows of Milan Fashion Week, if not the entire Spring/Summer 2018 season if not for Gucci.
Other Key trends in the formal wear realm included, oversized blazers and baggier trousers in fit and length. Hem's consistently dragged along the runway floor as sportswear paired with 90's influence married formal wear pairing suits blazers and tailored trousers with track bottoms, hoodies, bomber jackets, and graphic prints.
Formal wear it seems is bound by no formality at all as designers continue to recreate the mould into the coming season.
express designer of the year
Gucci
Gucci has turned men's fashion on its head and is propelling men's style away from a minimalistic approach we've been so accustomed to in favour of a maximalist one. With Alessandro Michele at the helm he has revived this label as a powerhouse with global reach.
Gucci's recent collection stole the show and captured the imagination of the luxury world.
Gucci summarised the key trends while bringing their own distinct flavour which from rainbow brights to ensemble dressing and patchwork denim embodied so many of the trends we are embracing at the moment.
Runway looks were diverse and exciting as ever with influences from oriental looks as well as biker jackets laced with bright neon colours. The Gucci look of now is eclectic, romantic and very optimistic. Colour and print are used unexpectedly, inspiring us to be more daring.
---
So what do New Zealand designers make of current men's fashion trends? express's Ash sat down with renowned kiwi designer Jason Lingard whose recent show 'chaos' stole the show at New Zealand fashion week.
How do you think NZ fashion is influenced by luxury labels?
Luxury brands are definitely losing their influence. The idea of a "luxury" brand is one that is kind of out-dated and actually pretty uncool. Our style here is more to subvert "branding" and take the piss out of the idea of "luxury", in quite an anti-fashion kind of way.
What's your take on the 90's revival?
The 90s revival is a great trend, the 90s was an amazing time for fashion. As an actual teenager of the 90s at first I was a bit annoyed at "Millennials" stealing our fashion! Like Justin Bieber wearing Nirvana and Marilyn Manson tees. But then I just had to let it go, as I had done the exact same thing when I was younger.
Where do you see the future of men's fashion heading?
More fun and less boundaries. Right now things are quite anti-fashion and pretty street, but at the same time men are more open to taking risks, so I'm hoping things actually get a bit more avant-garde like they were in the 90s, as opposed to being a watered-down trend!
What are your top men's fashion tips?
Be true to yourself with your style. That's the coolest thing you can do.