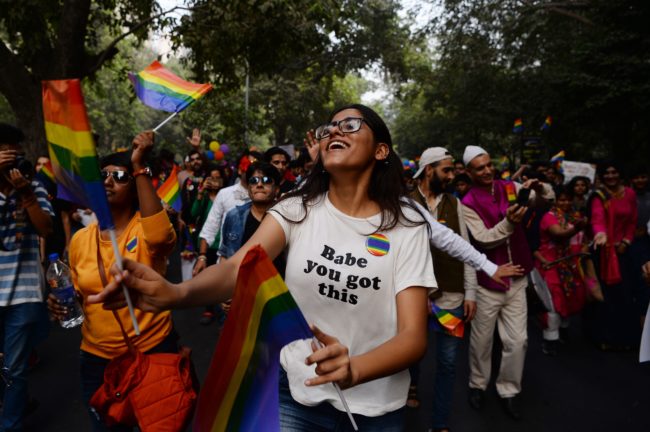 As the city experiences hazardous smog levels, hundreds of people filled the streets of New Delhi not only to celebrate their identity and communities but as a form of activism, protesting the criminalisation of homosexuality and demanding social responsibility for discrimination.
Organisers of the 10th annual Queer Pride parade said in a statement "We march against the oppressive attacks and varied forms of discrimination visited upon hijras, kothis, transwomen, transmen, lesbian, gay, intersex and sexually nonconforming, bisexual, multisexual, pansexual, asexual people and our allies in public and private spaces."
"I don't understand why they criminalised love. Duh. They are jerks," parade goer Tish Anand told The Wire.
In August, the Supreme Court ruled that the right to privacy is a fundamental right under Article 21 of the constitution.
The list of demands from protesters was:
Hate crime legislation that conceptualises all forms of anti-minority violence as specifically punishable offenses.
Comprehensive anti-discrimination legislation and social accountability for discrimination on the basis of gender, class, caste, religion, ability, race, tribe, sexual orientation, and ethnicity.
Effective implementation of the provisions of the Supreme Court judgment in NALSA vs Union of India and serious revisions to the currently draconian form of the trans rights bill according to inputs and suggestions by the community.
Read down Section 377 of the Indian Penal Code, repeal Karnataka Police Act 36 A and Hyderabad Eunuch Act, anti-beggary, anti-Hijra laws, sedition laws, UAPA and AFSPA, and remove the marital rape exception from rape laws which should offer redressal to all victims/survivors of sexual assault irrespective of gender.
Despite anti- LGBT+ laws, Pride is held in over 15 cities across India.