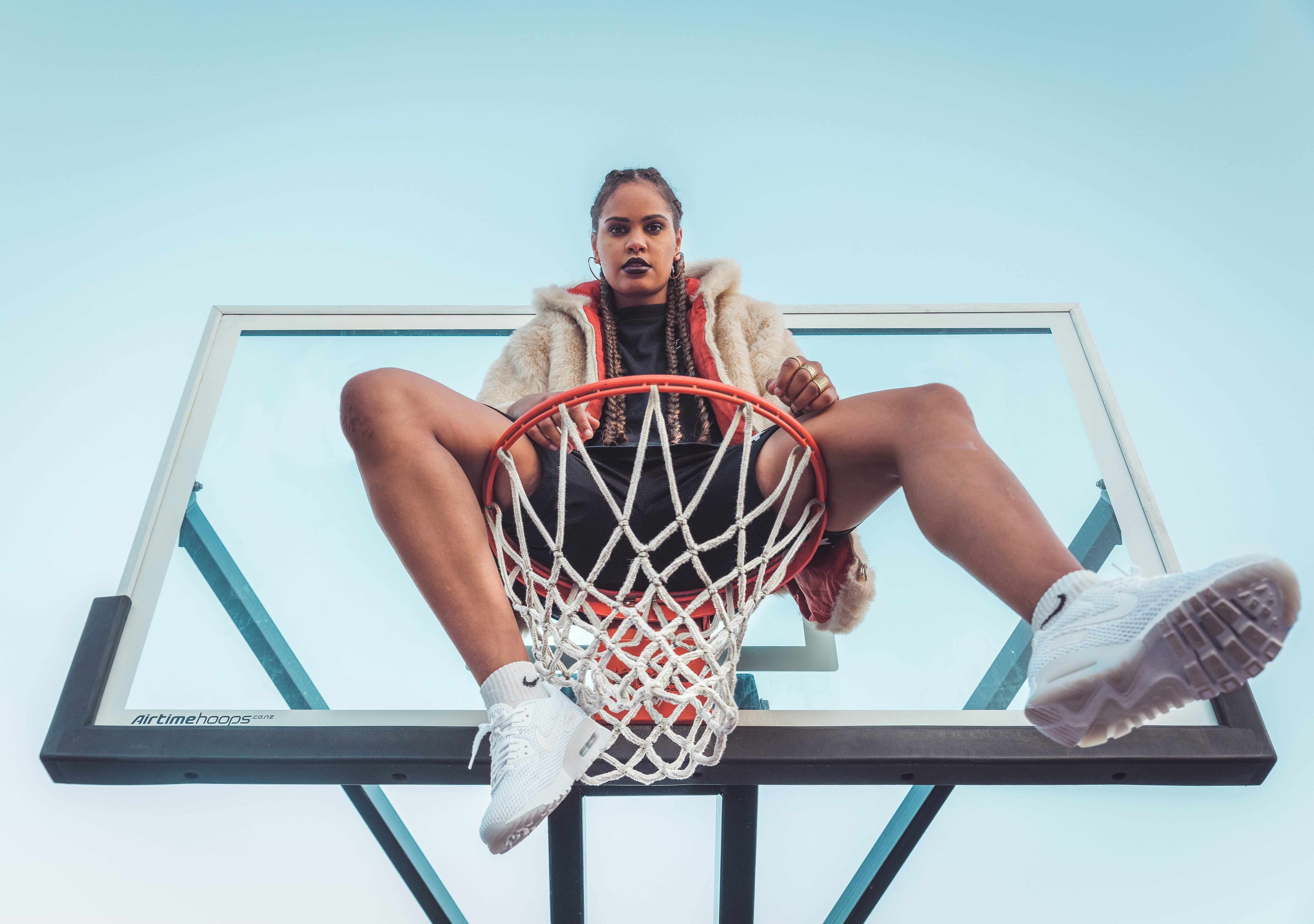 Unofficially the best female rapper in Aotearoa, officially JessB is making waves in the music industry. She's coming through, she's bringing her girls with her and just like her, they're fierce and they know what they want.
Jess first started listening to hip-hop and rap when she was just a young one. She began writing raps in high school but it wasn't until she uploaded her music to Soundcloud – when she was around 17 – that she started to think more seriously about it.
Waking up one morning and realising that P Money had begun to follow her was the turning point and she's been rising up the ranks ever since.
Listen closely and you'll quickly realise that Jess doesn't mess around, her raps are sharp – calling out the dudes in the suits and the boy scouts, she'll raise you up and she's unpacking identity politics while she's at it. She's trying to change your worldview and there's no holding her back.
"Identity is such a huge part of who we are. It took me a long time to really be proud of my identity, and all the things that make up who I am," she says.
"Being different for me was something I saw as a burden while I was growing up. There were times that I felt isolated and like no one could understand all the things I was struggling with. This is both my cultural identity as a mixed-race child growing up in New Zealand and my sexuality, in terms of accepting myself and then choosing how to identify with that.
"The more I have come into myself, the more I feel solid and happy in my own skin."
It's really important to Jess that she shares parts of her story and there will be no shortage of people who can relate.
"There will always be people who don't like parts of who I am. Despite this, if I can make young people, particularly Women Of Colour and those in the LGBT+ community (or anyone for that matter) feel slightly less alone in their own identity journeys, I would be stoked."
Jess doesn't hold back, her track U Mad is the ultimate anthem of female empowerment – particularly, claiming her place in what is typically a male-dominated music industry.
"Uplifting and empowering our women is something that is extremely important to me, and will be for the rest of my life whether this on my own musical journey or another path that comes along.
"As a female, being strong in myself, my message and who I am is one of the most important things to me in my music."
Jess believes that in some ways you are a reflection of the people you surround yourself with.
"The women that I hold close are all strong and empowered in their own ways. I think that being "empowered" or "strong" is not limited to the way you hold yourself to the outside world, but it is also in the mahi that you are doing quietly for yourself in your own journey, or for the greater good."
It was around a year ago that Jess got to a place where she decided she didn't want to conform to anything that wasn't authentically her. You can hear it in her single, Soul Free.
"I think that the type of artist I want to continue working to be, as it is an area of constant growth like any other, is one that is inclusive, honest, and always trying to push boundaries.
It isn't always just about creating songs that contain deep or thought-provoking lyrics, Jess says it's about creating connection too.
"I want to make songs to groove to as much as I want to make songs that create a discussion because both are important in life and both represent different sides of who I am."
Being herself unapologetically has allowed her to bring her own uniqueness to the music scene in Auckland.
"There are not many Female MCs in the scene at the moment and I think it was time for us to start creating space for each other, so it feels organic.
"I also think it is important to be respectful of everyone creating art in their own ways and expressing themselves. Not just in music. Everyone deserves a space to be safe and heard, especially our queer communities and amongst Women Of Colour who are amazing creatives in all ways.
"Carving out space for us all to shine will always be a priority to me!"
Take note, JessB is here to stay. Those at the top better get ready for her.
You can Catch JessB playing as part of Auckland City Limits this March, tickets are on sale now at Ticketmaster.