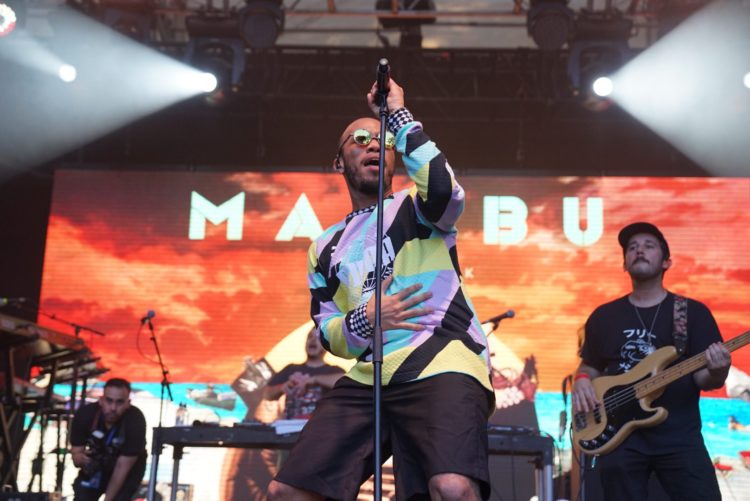 Oliver Hall visits Auckland's Laneway Festival.
It's no wonder the Big Day Out's resurrection crumbled quickly after the Laneway festival was formed. Sure the festivals catered to different tastes, but Laneway set the bar in what a festival could offer from a line up that presented female artists as something more than a token gesture, gourmet food options galore and a truly inclusive atmosphere devoid of aggressive behaviour – even the porter loos were nice!
The only issue that held Laneway back was the truly terrible choice of venue. Silo Park on the surface looked cool, but offered no grass and little shade, but lots of concrete to reflect the Sun's heat back at you. It's worst crime of all was providing no optimal spaces for the stages so the audience would often find themselves crammed in at the front or experiencing an obscured views at the back. But last year all that changed Laneway moved to the city's true centre – Albert Park. Sadly I didn't attend in 2017 – but this year I got to experience the what an incredible upgrade this leafy new location is.
And what a way to start the celebration with local LGBTQI* talent Polyester open the show on the Fountain Stage. Their indie pop sounds were an ethereal delight particularly when performing their last single 'Different for a Boy', a song about their songwriter Amelia coming out as a trans woman.
Polyester weren't the only act waiving the rainbow flag. A few hours later The Internet (one of the festival's big name acts) drew massive crowds to watch them light up the Rotunda stage with a varied set of cuts from their Grammy nominated Ego Death album as well as covers and music from solo projects. I had to leave their set early to catch gay urban music progressive Noah Slee at the Thunderdome with a set full lyrics about coming out, orchestrated to R&B, funk and soul flavours.
As I queued at one of the many Vegan food van options, I exchanged with those typical festival messages with friends, the kind that informs each other exactly where you are standing, but that you only see 20 minutes after they've sent it and will now be elsewhere. And just after I gave up trying to find any of them I had that typical festival experience of bumping into everyone all at once.
They dragged me off Anderson .Paak's set, where he fused underground hip hop and indie R&B until he picked up drum sticks and sang soulfully while banging. As much as I admired his talent and intensity I wasn't going to miss the chance to swoon at Father John Misty as he crooned. Part Bowie, part Dylan, part Rice, Misty had been tapped by Lady Gaga and Beyonce for features, and on the Laneway stage looks tall, handsome and Christ-like with a seductive voice and atheist, feminist lyrics – like Gaga and Yonce – I'm sold!
So that was my Laneway experience and yes just like you I'd barely heard of any of the bands before I went, but I'll be spotifying them all week! And as I took one last look at the crowd and realised how far music festivals have come, I feel like the world gets a little better with every passing day. That's the beauty of Laneway it gives you the chance to discover something new.