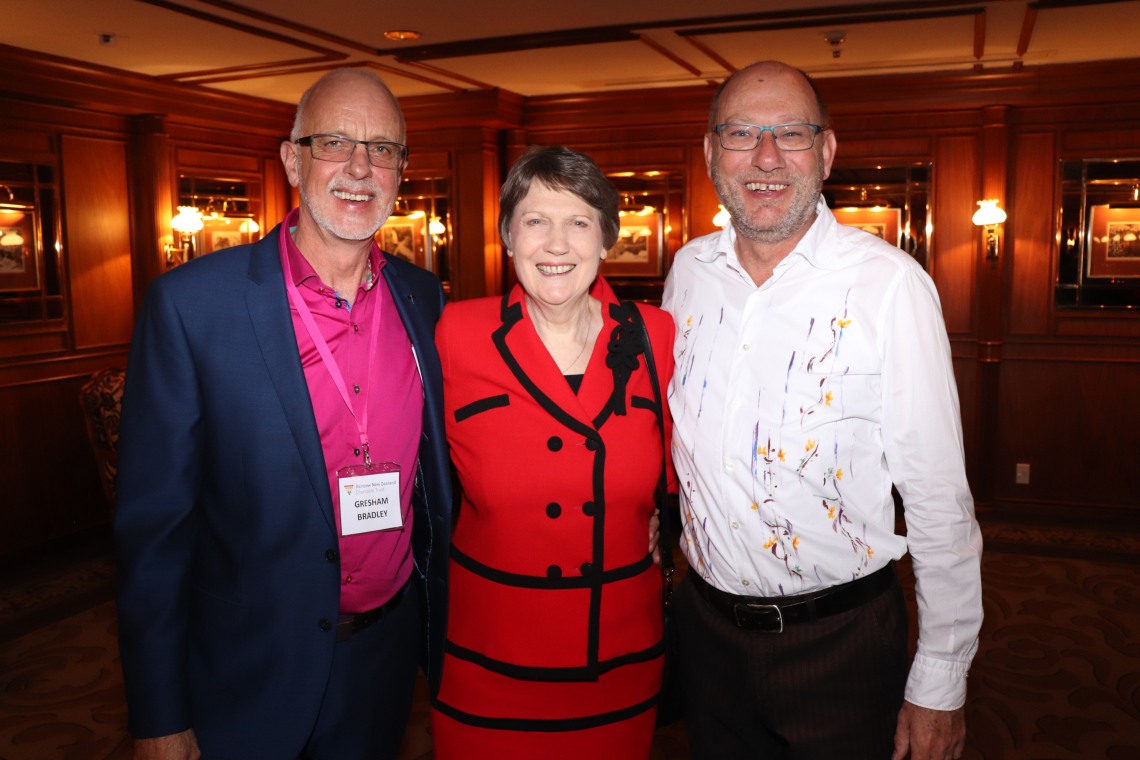 Helen Clark sits down with Oliver Hall to discuss why she keeps fighting for the LGBTI community.
Long before Helen Clark became our 37th Prime Minister, she actively advocated Fran Wilde's Homosexual Law Reform Bill. During her tenure as PM from 1999 to 2008, she frequently attended the Big Gay Out and passed same-sex Civil Unions into law. After leaving NZ politics, she continued to champion LGBTI rights as United Nations Development Program Administrator.
This year Clark attended the Auckland Pride Gala and served as Guest Speaker for the Rainbow NZ Charitable Trust's Dinner and Auction last Sunday, to show her, "continuing support for the community and for LGBTI human rights."
You received a starting ovation when you took a front row seat at this year's Pride Gala, how did that feel?
I was honoured and touched by the very warm reaction to my being at the Pride Gala evening.
What do you believe the LGBTI community in New Zealand still has to fight for?
Not everyone in NZ has yet got the message that LGBTI rights are human rights which must be upheld. We must continue to work for universal support for that. Where there are remaining areas of less than equal treatment, they must be addressed.
How concerned should LGBTI kiwis be about alt-right movements happening overseas including further marginalisation of LGBTI communities in the likes of Russia?
All New Zealanders should be very concerned about the major human rights abuses against LGBTI occurring in a significant number of countries, which can include in the worst cases targeted killings and in others imprisonment and other forms of serious harassment and denial of access to services.
Does the UN do enough to advocate for the rights of LGBTI people worldwide?
A number of UN agencies, including the Office of the High Commissioner for Human Rights, UNDP, and UNAIDS, advocate very hard for LGBTI rights. In my time at the UN serving under Secretary-General Ban Ki-moon, I also was witness to his efforts to advance LGBTI rights.
From your time as NZ Prime Minister, what achievement are you proudest of?
There were many achievements across all areas of public policy, and overall I believe I helped set the tone and direction for an inclusive New Zealand which honours the human rights of all. I am proud of the Civil Unions Act of 2004 which paved the way for full marriage equality in 2013.
What about your time at the UN?
One of the initiatives of which I am proudest was the Global Commission on HIV and the Law which made major recommendations in 2012 on law changes which were conducive to ending HIV. UNDP established and supported this Commission.
Is there anything left that you would still like to achieve?
Plenty! Around our world, there is much injustice for many and also many other threats to our common future. These days I continue to advocate for sustainable development, the right to the inclusion of all, and on a range of health and other issues.
What projects are you involved with at the moment that express readers can get excited about?
One is the Global Commission on Drug Policy of which I am a member. It advocates for evidence-informed drug policy and against the counterproductive "war on drugs" approach, which has been so abusive of the human rights of many. New Zealand is one of many countries which needs enlightened drug policy reform.
You have become a frequent tweeter. With questions being asked about the effect social media has on society and the legality of how information is shared, how do you see the future of social media looking?
Social media is a powerful advocacy and mobilization tool, but it also has a sinister dimension as has been exposed by its use by authoritarian regimes against their own citizens and against other countries. It is important to build digital media literacy so that people can detect those malign forces.