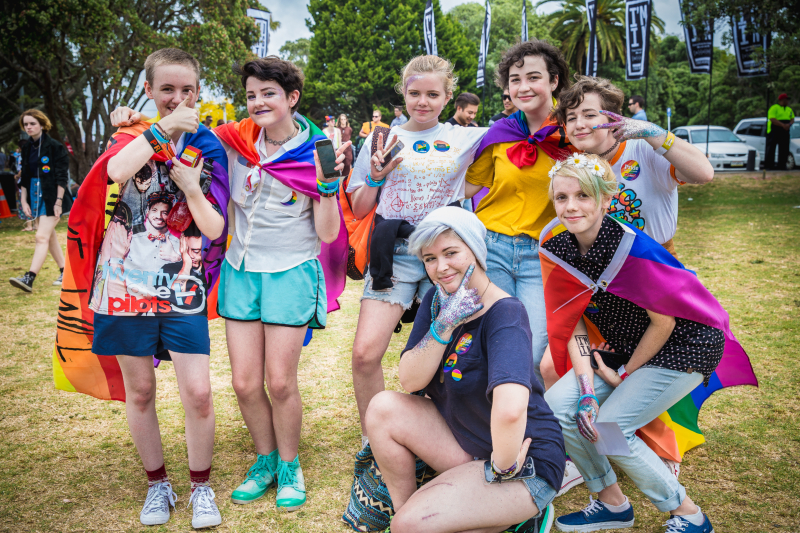 10 February 2019 will mark the twentieth anniversary of the Ending HIV Big Gay Out (BGO). Express spoke to the organisers of this year's event to find out all you need to know.
What have been some of your top highlights from over the BGO's twenty-year history?
So many! Celebrating marriage law reform together and increasing attendees testing for HIV with the Burnett Centre – just to name a couple.
We've also loved having all the amazing performers on the Durex main stage including international artists like Parson James, Samantha Jade and NZ artists Annie Crummer, Lavina Williams, as well as talented many artists from within New Zealand LGBTIQ+ community.
2019 is set to be bigger (and gayer) than ever – what can we expect from this year's event?
There's going to be tons to do this year. We're going to have a super gay interactive game activation, over 120 market stalls, a brand-new café and bar experience, and a rainbow machine!
Who will be taking the stage this year and what we can expect from them?
Headlining will be some of our favourite NZ musicians: Openside, who bring high energy with their upbeat pop-punk bangers. Wellington-based artist Jon Lemmon hits the BGO stage for the first time with his positive messages and inspiring music. If you want a nostalgic throwback with a modern twist you won't want to miss Auckland's own blues-rock band The Miltones. You'll also be treated to a Trio from the Auckland Philharmonia Orchestra, Iris G and The Buruindian Drummers. The full line-up will be released the week of the event on www.biggayout.co.nz
What are your top BGO survival tips?
The event kicks off at midday, so there's plenty of time to get ready and make your way down to Coyle Park. There's a new layout this year so once you arrive, have a wander to orient yourself, then find a spot and enjoy the day.
We know most people are there for 4-5 hours so come prepared by bringing sunscreen and water. We're a zero-waste event so come prepared with your KeepCup! The headliners hit the stage from 4 pm, so check out the Big Gay Market Place and Ending HIV Zone earlier in the day so you don't miss anything!
We also suggest taking public transport to the park and shuttling to Family Bar for the after party. 😉
Being a family event is there anything special lined up for kids this year?
We're expecting the Glitz Queen Face painting stall in the Big Gay Market Place to be a hit!
If any express readers would like to get involved what is the best way to do this and what roles might be available for them?
There are amazing volunteers who help put on the Ending HIV Big Gay Out in various roles. Everything from ushers, market stall loaders, donation collectors, backstage assistants, zone assistants to roaming the event handing out our FREE Ending HIV condom packs. If you're wanting to volunteer to help at this year's Ending HIV Big Gay Out please email volunteer@nzaf.org.nz.
Over the past two decades have the goals the BGO sets out to achieve changed at all?
The Big Gay Out has always been a chance to celebrate our LGBTIQ+ community and provide a safe space to have heaps of fun and raise awareness of HIV.
It's our biggest and most fabulous opportunity to share the latest prevention messaging, offer free HIV testing and support people living with HIV. We've seen a 20% decrease in HIV transmissions last year but need to keep the work to reach our goal of ending all new locally acquired HIV transmissions by 2025!
The Big Gay Out will take place on Sunday 10 February from noon till 7 pm, (with a rain date of Sunday 24 February) at Coyle Park, Pt Chevalier, Auckland. The official after party takes place at Family Bar & Nightclub.