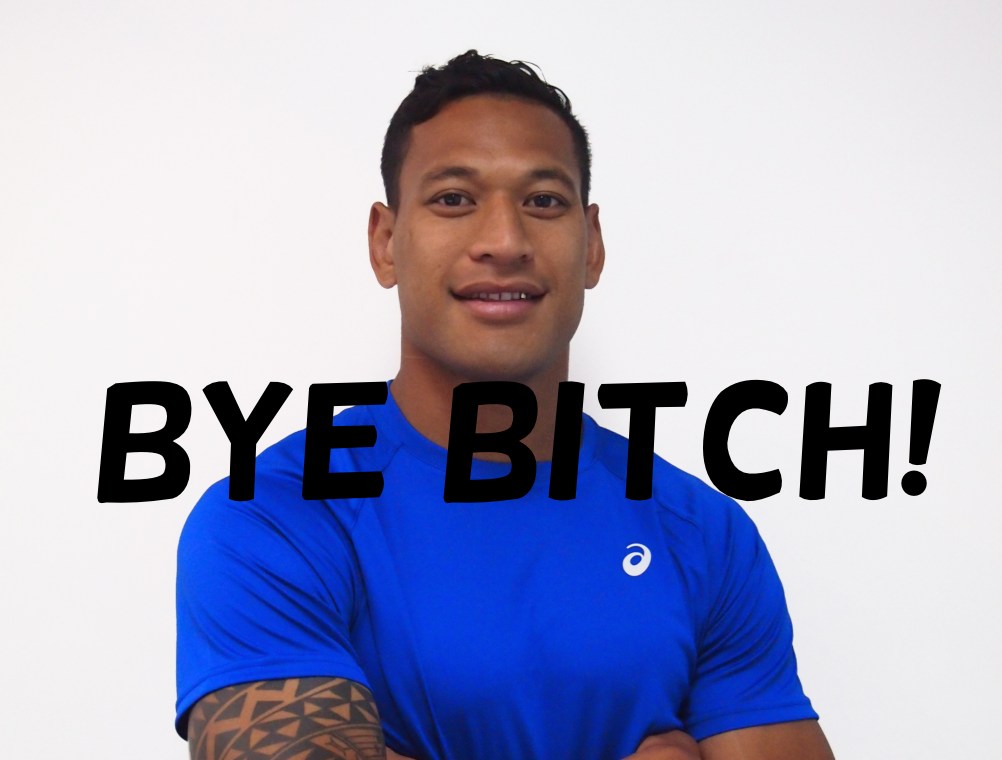 Rugby Australia will cut Israel Folau loose after his latest homophobic outburst.
Israel Folau is set to lose his contract with Rugby Australia.
The organisation issued a statement tonight that they were on the verge of terminating Folau's contract despite being unable to contact the controversial Wallabies fullback.
"Rugby Australia and the New South Wales Rugby Union have made repeated attempts to contact Israel both directly and via his representatives since 6.30pm on Wednesday, and at this point, he has failed to communicate directly with either organisation," Rugby Australia's statement read.
"Whilst Israel is entitled to his religious beliefs, the way in which he has expressed these beliefs is inconsistent with the values of the sport."
"Israel has failed to understand that the expectation of him as a Rugby Australia and NSW Waratahs employee is that he cannot share material on social media that condemns, vilifies or discriminates against people on the basis of their sexuality."
The controversy first erupted when Folau took to Instagram last night to post an anti-gay post which read: "WARNING Drunks Homosexuals Adulterers Liars Fornicators Thieves Atheists Idolaters, HELL AWAITS YOU. REPENT! ONLY JESUS SAVES," before adding a bible verse from Galatians.
The Instagram post was accompanied by a comment from Folau which read, "Those who are living in sin will end up in Hell unless you repent. Jesus Christ loves you and is giving you time to turn away from your sin and come to him."
The Waratahs fullback didn't stop there. Over on his twitter, Folau expressed his disdain for Tasmania's new gender recognition laws, which removes the requirement for birth certificates to list gender or for Trans people to need surgery before changing their gender.
Prime Minister Jacinda Ardern was earlier among those speaking out against Israel Folau's latest anti-gay outburst.
When asked at a press conference about her thoughts on the posts, Prime Minister Jacinda Ardern slammed them as 'damaging.'
Ardern noted Folau's high profile and the role model is for many rugby fans.
"I am very mindful of the fact that for many, he is a role model – he is a person in a position of influence," she said.
"I think with that comes responsibility. I totally disagree with what he said and how he is using his platform."
Arden cited the 'vulnerability' of some members of the rainbow community. "There is a lot of vulnerability there," she said.
Inclusive rugby team The NZ Falcons have also issued a public comment condemning Folau saying they were 'disgusted' with the Wallabies player.
Like Ardern, they noted Folau's influence saying, "we condemn his choice, yet again, to use his platform in this way."
"As a public figure he has a captive audience and after making similar comments six months ago, he is brazenly aware of the implications of his actions, yet is willing to offend repeatedly without regard to how it affects our community."
While social media reaction in New Zealand has been overwhelmingly critical of the Wallabies fullback, he is not without his supporters.
Most notably, All Blacks flanker Vaea Fifita who was reportedly among the first to 'like' Folau's Instagram post. The revelation prompted a quick media statement from New Zealand Rugby (NZR) who said "New Zealand Rugby does not share the views expressed by Israel Folau, as they do not represent the values of rugby," said its statement.
The post was also 'liked' by Folau's Wallabies teammates Samu Kerevi and Allan Alaalatoa, adding to Rugby Australia's problems.
Despite the outrage, the posts did not meet Instagram's definition of hate speech and still remain.
Folau is married to New Zealand Silver Fern Maria Folau who is yet to make any public comment on her husband's latest outburst. She did, however, say she supported and agreed with him after being asked about his 2018 rant against homosexuality.
The NRL has since also confirmed that Folau will not be welcome within their code, should he wish to return to Rugby League from Rugby Union.