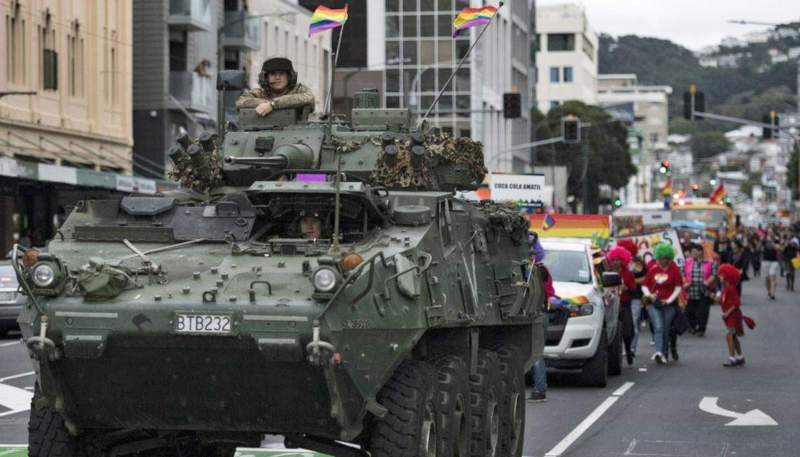 The rescheduled Wellington Pride parade took place yesterday with police and defence force personal both taking part.
Wellington's LGBTI community celebrated its pride yesterday afternoon, with over 30 organisations taking part, including a large LGBTI police presence.
The event was initially scheduled to be held on Saturday, March 16, with Prime Minister Jacinda Ardern attending, however, the date was rescheduled in the wake of the Christchurch terror attacks.
Unlike the Auckland Pride parade, which was later replaced by a smaller scale march between two parks, the Wellington Pride Parade welcomed the inclusion of the New Zealand police.
Police Commissioner Mike Bush said it was a proud moment for a number of LGBTI officers to be able to be welcomed to participate.
"We're really happy to be here in uniform, the reason being we value diversity and we stand for diversity."
The Defence Force also made an unprecedented move, with chiefs marching in a Pride Parade to celebrate 25 years of LGBTI inclusion in the armed forces.
Air Marshal Kevin Short, Chief of Army Maj Gen John Boswell, Chief of Air Force Air Vice-Marshal Andrew Clark and Commander of Joint Forces Rear Adm James Gilmour all marched in the parade.
"Knowing we have the support from the very top is encouraging and empowering and sets the tone for an organisation that values all of its people, no matter what point of difference might exist," said Squadron Leader Stu Pearce, leader of the Defence Force's LGBTQ peer group OverWatch.