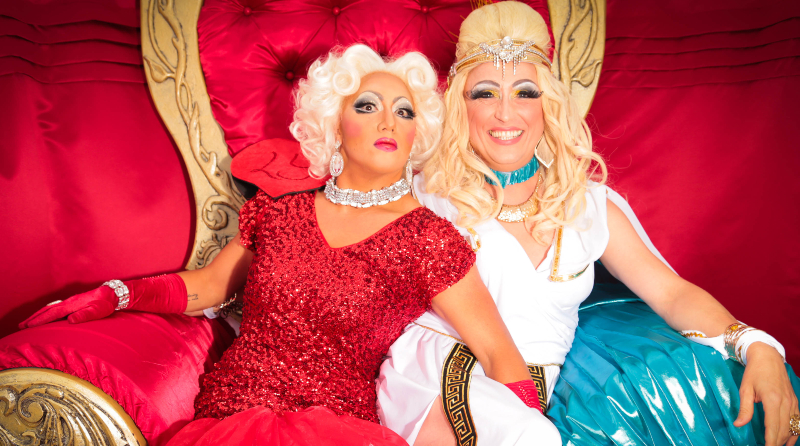 When express was fishing around to see who would be the best people to write columns about rainbow life in Wellington and Christchurch, the names of these two old trouts kept swimming to the surface. Lilly Loudmouth and Little Miss Cinnamon are institutions in their respective cities and from next issue onwards will be keeping us abreast of all the tea from Welly and ChCh. This issue, they introduce themselves to you, by interviewing each other.
Lilly on Cinnamon:
I've known this little rocket of a queen for over 8 years now, just at the start of the NZAF's infamous Love Your Condom (LYC) Campaign was launched, our sisterhood is still as dodgy as ever! I have to take my wig off to my dearest sister for inspiring me to keep up with the world of drag and making the most of my unforgettable memories in life. From Skiing in wigs at Gay Ski Week to presenting our outrageous 'ass class' across Aotearoa you could always rely on the Whangai sisters to deliver a very entertaining event. Cinnamon (which according to her reputation should be Sin O Men) is loved strongly by her community for going above and beyond to make safe spaces and events for her LGBTQIA community in Christchurch.
Lilly asks Cinnamon:
What do you love about your city? That its an Island away from Lilly Loudmouth, but seriously Otautahi is an exciting place to be, with lots of new bars, restaurants, shops and facilities opening up; it's becoming a wee hub of innovation.
What does community mean to you? It is a safe and supportive space where people can be themselves, learn and support each other and celebrate their diversity.
Describe the Christchurch Community in one word: Resilient.
Why are you actively involved in your community? I grew up in a community-based family, my father was a community constable and my mother was a nurse, it's in my blood! The LGBTQIA community is where I feel safe and accepted, many of the community I class as family.
What is your most memorable moment working within our community? Being part of the Chch Pride Committee I met an Egyptian couple who had just moved to Christchurch. Back home the two guys had never held hands or danced together in public, it wasn't until they came to a pride event that they could do that safely and openly. It always warms my heart when I see them out at events together being part of a safe and welcoming community.
What is the next exciting event you are looking forward to? Christchurch Pride's annual 'So You Think You Can Drag?!' competition at Queens Birthday Weekend. This sells out every year and we already have 15 contestants. It is also MC'd by none other than Lilly Loudmouth herself!
Describe your sister Lilly Loudmouth in five words: Rotten, loud, old, foul-mouthed, hilarious.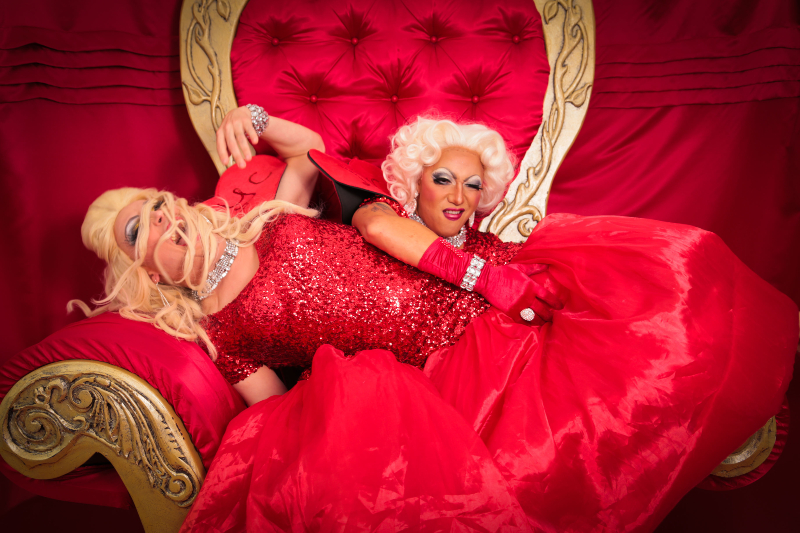 Cinnamon on Lilly:
What can I say about the one and only Lilly Loudmouth, well for one, you'll hear her before you see her and once you've seen her you wish you hadn't! I've known Lilly for over 8 years now and we have been sisters through thick and thin, and that's just our hip pads!
I remember the first time I met her, I was warned she was loud… that was an understatement and ever since then, I've never been able to get the ringing out of my ears. She is one of the most passionate and devoted Queens who is loved and respected by her peers. Wellington is very lucky to have her. There are not many Queens who can own a stage like her, Lilly is a seasoned pro on the mic and has that rare talent of making your sides sore from laughing. Her heart and sense of humour are as big as her weaves and it has been a pleasure (mostly) to have worked alongside her spreading the safe sex message to help keep our community protected and reach the goal of ending HIV in NZ by 2025.
Cinnamon asks Lilly:
What do you love about your city? Wellington has a heart! It is a diverse melting pot of cultures and the smallness of the city brings community members closer together. The people in Wellington make it feel safe and very open-minded. It's a privileged call it home.
What does community mean to you? Community means whanau to me. Being Manuhiri from the old country and then being part of a strong caring community made me fall in love with Wellington and gave me a sense of identity.
Describe the Wellington Community in one word: Passionate!
Why are you actively involved in your community? My role as a Community Engagement Coordinator promoting sexual health within our rainbow community certainly makes me active, having friends and family affected and infected with HIV made me want to inform others at risk about making the right choice of prevention, to be safe and destigmatize HIV within our community,
What is your most memorable moment working within our community? Being invited to a fisting event to basically interview fisters and fistees and view their work. It's moments like this you realize that your job is a one in a million and you don't know what is coming round the corner!
What is the next exciting event you are looking forward to? I am creaming my draws to be on stage again! We have our annual Mx Capital Drag competition on the Queens Birthday Weekend, also Christchurch's So You Think You Can Drag. I love hosting these events, it's a reunion for our performing art community and seeing what new talents we have.
Describe your sister Little Miss Cinnamon in five words: Short, Mute, Blind, Stunning, Talented.