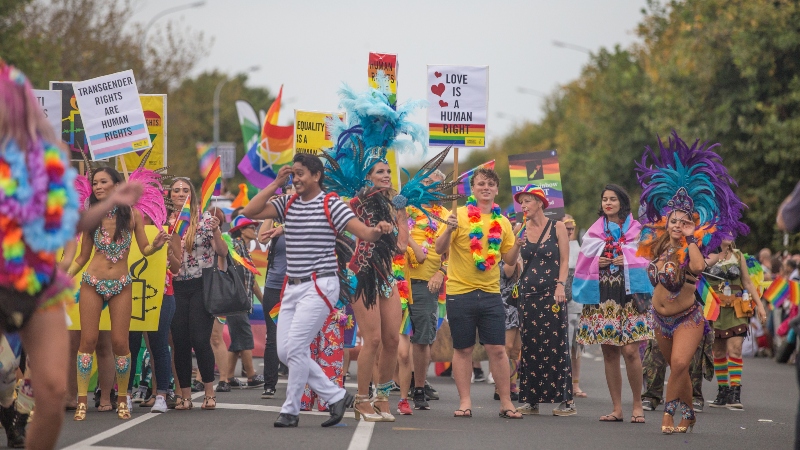 Auckland's two separate Pride organisations will each produce a Pride Festival; giving us a full month of Pride celebrations in February but no full-scale parade.
Auckland Pride has announced key dates for their festival including the return of the Pride Gala (1 Feb) and OurMarch (8 Feb) which will be followed by OurParty, "a free outdoor, accessible and family-friendly party," Director of Pride Max Tweedie tells express.
These will be followed by the Ending HIV Big Gay Out (9 Feb) and Same Same but Different Writers' Festival (14-15 Feb) and Tweedie tells us, "Auckland Pride Festival has secured $25,000 in funding from Auckland Council."
OurMarch rose from the ashes of the Auckland Pride Parade, an event that disintegrated after the Auckland Pride Board told the Police they could not march in uniform.
Tweedie says board members met with NZ Police in March to discuss a way forward but the conversation was put on the back burner following the Christchurch Terror attacks which happened just days later. He says Auckland Pride reached out to NZ Police a couple of months ago and have not yet heard back. "It's a conversation we want to continue, but we don't want to speculate on why they may not have gotten back to us."
So, will uniformed LGBTI Police be able to march in OurMarch 2020?
"That is part of the discussion that will need to be agreed on," says Tweedie. "We want to continue to advocate for change to be made within NZ Police… The police's participation and level of participation is based on Auckland Pride being satisfied with their progress."
When NZ Police pulled out of last year's parade a large number of corporates followed. Tweedie tells us he hopes corporates will march with them in 2020. "There are no floats, so it will be about organisations supporting and empowering their queer staff. I think it changes the purpose of corporates from being a marketing strategy to an HR lead exercise."
Tweedie hopes the estimated 3000 attendees of OurMarch 2019 will over double next year, citing Auckland Pride having more time to organise and market the event.
Auckland Pride, however, is not sure of the route the march will take. "We are looking at a range of options of central Auckland routes," Tweedie says, noting that repeating last year's graduate route from Albert Park to Myers Park is an option. "We haven't ruled it out or in."
ATEED will not be funding Rainbow Pride Auckland's (RPA) proposed parade next year.
RPA have struggled to find a route for their proposed return of a full-scale Pride Parade and in a statement, told express, "plans have now shifted to a multi-faceted walking parade," with a proposed date of Saturday 22 February.
Auckland Tourism Events and Economic Development's Steve Armitage has told express, "the revised scale of the event means it no longer meets the criteria for funding."
RPA was established earlier this year to bring back a pride parade, however, that prospect now appears to be very unlikely. RPA tells express they will still put on a 'range of rainbow celebrations' from 16-29 February 2020, which will run directly after Auckland Pride's festival (1-16 February), giving us a full month of Pride events.
Why Not Ponsonby Road?

Many community members have asked express why a full-scale Pride Parade could not return to Ponsonby Rd. Viv Rosenberg of the Ponsonby Business Association told express, "To date, the PBA has not received any proposal from either Pride organisation relating to the return of the Auckland Pride Parade to Ponsonby Rd."
"Ponsonby has always welcomed Hero and Pride Parades to our community, however, the PBA (and many of its members) have noted comments from the two Auckland Pride organisations in recent months." She points to comments made by Auckland Pride's Zakk D'Larté to Stuff.co.nz and ex-RPA Guardianship Member James Laverty to express, both of which suggested they had preferred locations for their events.
Rosenberg also reveals that our Pride month will be even busier with the business association offering their own inclusive event. "The PBA is hosting an all-inclusive festival event on Ponsonby Rd in February 2020, which will see part of the road closed."