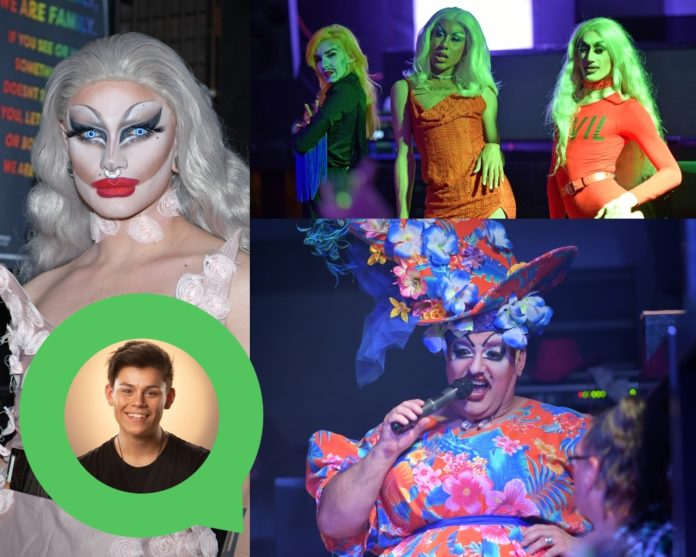 What a year 2019 has been! With the rise of RuPaul's Drag Race, this has truly been the decade of drag! Don't be sad that it's over, who knows what the two-twenties will bring. Here is your December drag line-up.
---
Auckland
Every Friday in December, that ho, ho, ho Miss Kita Mean is bringing festive Christmas themed shows to Friday nights at Family Bar, while the Outrageous Miss Ribena and guests lip-sync for their lives on Saturdays.
At G.A.Y bar, Avante Garde drag shows take over 6 December with Bionica, Feta, Leidy Lei and Vanessa Laroux. Over Christmas? Celebrate your inner grinch with Anti-Christmas shows on Friday 13! G.A.Y offers intimate drag shows every Friday and Saturday at 1.30 am.
At Staircase nightclub: make sure to get your facts right when you take the challenge of Monty Montgomery's It's a Read Trivia Show on 5 and 19 December; every Friday night is Anita's Antics. A 'gayme' show with a twist hosted by Anita Wigl'it! And on 21 December, Spice Up Your Night, with a Spice Girls Xmas party with a full drag ensemble show and 90s music all night!
---
Wellington
At Ivy Bar, your Pokémon journey is about to begin! Your journey starts on 7 December, in Drag League: Pokemon Master Show will reunite you with your childhood heroes Ash, Misty and Brock, like you've never seen before. Staring Kelly Fornia, Willy SmacknTush and Bunny Holiday, it's bound to be a Poke-Ball!
At Fringe Bar, delight your young ones to the sleighing spectacular full of holly and heels with a one night only Kid-Friendly Christmas Drag Show, hosted by Hugo Grrrl on 21 December!
---
Christchurch
'Twas the night before Christmas, and all through the house, not a creature was stirring… obviously, they were all at The Big Gay Christmas Variety Show! Taking over a Colombo St venue, A Rolling Stone on 6 and 7 December. It's going to be unbe-wreath-able.