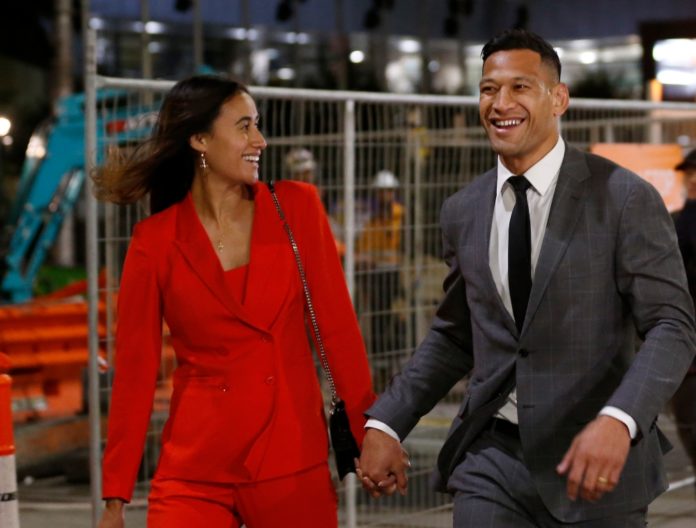 Former Siler Fern, Maria Folau is standing by husband after a legal battle with Rugby Australia over homophobic social media posts.
Maria Folau's coach has lifted the lid on the star netballer's shock retirement.
Noeline Taurua says the former Silver Fern wishes to focus on her marriage to controversial former Wallaby Israel Folau.
Speaking to Radio Sport, Silver Ferns head coach Taurua revealed Folau had to be pushed for permission to announce the retirement publicly.
"I think over the last couple of years she has gone quiet in regards to the whole social media thing and what's been happening privately," Taurua said. "She has really shied away in media not only when she's been away from the Silver Ferns but also within the mix as well.
"We've respected her for that, I'm really glad that she's actually done a media release, it's actually a positive because if she had her own way, she'll just go off into the sunset. That's a start and hopefully, we can get her back in and pay tribute to her in the near future."
Taurua said the impact of the controversy had an impact on Folau's preparation for the recent Netball World Cup but that she handled the situation in a way that benefited the team.
"It got a wee bit dicey especially as we headed into the Netball World Cup and there's been a lot going on," Taurua said. "I think the professionalism from not only of her but also the Silver Ferns squad to be able to back her."
"She's heading into new realms in her own life and we're really happy for her. She's in love and everything is so positive for her at the moment."
Many however are calling into question the timing of Folau's retirement, given the undisclosed settlement that Folau's husband reached with Rugby Australia following a settlement after his contract was terminated following a series of homophobic social media posts made by the former Wallaby.
Newstalk ZB host Martin Devlin was among those questioning the retirement. In an article for the NZ Herald, today, Devlin suggested the reason the former Silver Fern is leaving netball was because of her husband's views on homosexuality.
"Folau's outbursts are the reason Maria is staying silent. And why? Because at some stage the question will be asked: "Do you also believe in what he says he does?" Devlin writes.
"And the answer to that question could and probably would determine her image, standing and reputation from that point on until eventually when we all meet our maker."