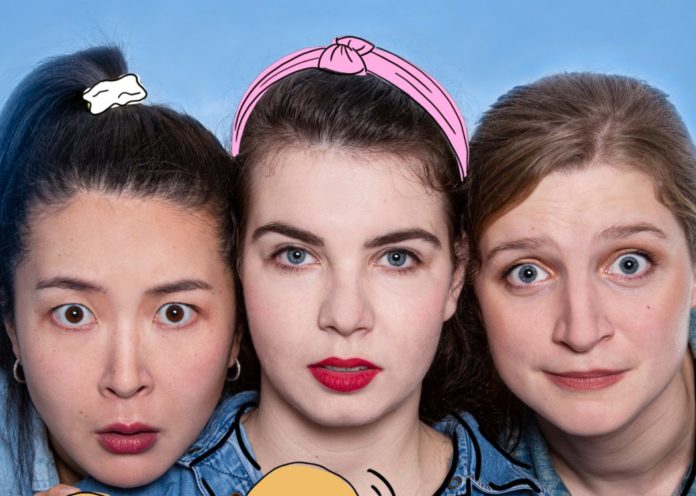 Game Face is a joyfully anarchic, theatrical critique of oppressive beauty ideals and the effort it takes to keep resisting them. Performers and creators Lexi Clare, Katie Paterson and Lucy Park, talk to Express about how being queer impacts their work.
"There was a viral Tweet recently about how queer people grow up performing their identities and have to grow up again by shedding that performance and accepting themselves," says British performer Katie, who identifies as bisexual. "I think that's quite a useful approach to beauty."
Alongside Katie is London-based queer kiwi theatre producer Lexi, who thinks the biggest beauty 'myth' that is still floating around is how your worth or intelligence should be assessed by appearance.
"So many of the judgments that people make about your value are impacted by how well you conform to expectations of beauty," Lexi exclaims. Through their show, they are aiming to critique and fight back against this myth.
Lexi started a festival in London called Maiden Speech, giving a platform for early-career artists whose work offers fresh perspectives on themes of gender, sexuality and identity. The trio met through the 2018 iteration of the festival and came together to create Game Face. The initial idea behind the show stemmed out of Lexi's personal experiences of developing an eating disorder as a teenager and her frustration at how much time she still spends thinking about her body and living up to impossible standards.
Drawing on their own personal experiences of eating disorders, depression, queerness and their cultural identities, they aim to mock the nonsensical nature of beauty myths and ideals through a series of games, songs, dance and spoken word in a way that is both funny and poignant.
"Autobiographical content is woven throughout the show," Lexi says, going on to explain how she engages with her identity as a queer woman in the show. "For example, I wrote a little section on the complexities of being around naked women in changing rooms. I remember Katie reading it for the first time and saying that it resonated with her too, which was a really nice moment."
Both Lexi and Katie agree that the pressure to conform to beauty standards is universal for women, regardless of sexual identity. "Much of the pressure is universal; to be thin and pretty and well-presented is the expectation, and women of all orientations conform or resist in their own individual ways. You'd hope that if you're only attracted to women the pressure of the male gaze might relent, but I don't think that's the case." Katie says.
Aiming to tackle just how ridiculous beauty ideals in modern culture are, they want audiences to have a laugh at the absurdity of it all, while also allowing people to acknowledge just how difficult it can be to exist in your own body by sharing their own stories and experiences.
Game Face plays at Q Theatre 25 – 29 February as part of Auckland Fringe. Tickets from qtheatre.co.nz.