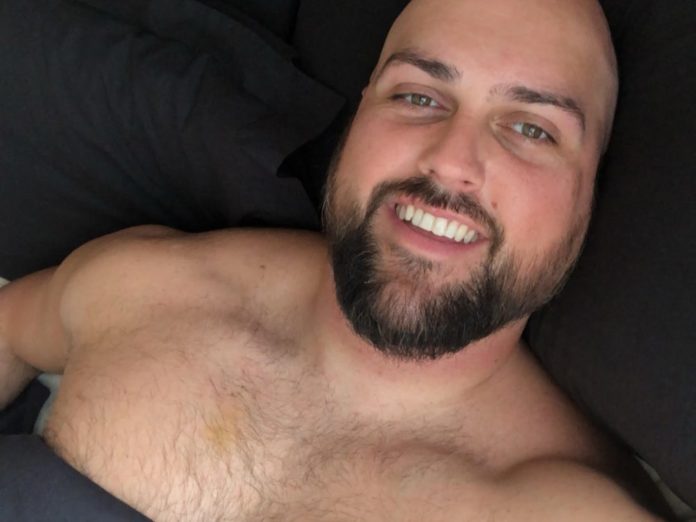 TV personality, MC and all-round thirst trap 'The Bird Man' Luke Bird is missing sex but learning to love himself in lockdown. Here are his tips for getting to know 'you'!
Tell us about your Level 4 Lockdown – where are you? Who's in your bubble? And what are you doing to keep your mental health in check?
My level 4 lockdown is actually pretty fun, to be honest, it is what it is so the best thing to do is be with people inside your bubble who first and foremost 'GET YOU' 'KNOW YOU' 'UNDERSTAND YOU' & 'LOVE YOU'
When it was announced NZ was locking down I decided to drive north from Auckland to Whangarei to be at the BIRDnest – my family home with my MammaBIRD & the Princess Royal – my Mum and Aunty. Some might say 'HOLY HECK that would drive me nuts' but to be fair these 2 STUNNING humans are people who keep me grounded and at a time like this when everything can be a bit all over the place you definitely need that kind of Whanau support to bring you back in line (and also because you CAN NOT beat a home-cooked meal!
What are your top tips for express readers who are struggling with self-isolation? Oh FARK!! get a lawyer…you've probably broken the rules by now JOKES!! I've thought about how I'm to keep myself busy and if you know me or seen me you'd know I'm definitely a social guy and ALWAYS flapping around at events or hosting them so during a time of isolation I've had to think of the how what, who & where but…it gives everything you do now more purpose and reason to make it happen. Be ACTIVE – in mind, body and purpose…everything you do, make it ACTIVE & FUN!! Dance like no one is around and watching…because they're not!
What is the most positive aspect of self-isolation you've experienced so far? Watching my toenails grow lol! Ok so most people don't know this about me but I trained/studied as a Chef for 2 years out of high school and I used to create dinner party experiences so I'm rediscovering my flare to cook…I'm LOVING IT!! My nest is FLAPPING!! you can watch my Instagram highlights and check it out x
What plans do you have between now and day 28 of lockdown? Are you trying to rub salt in the wounds? We're in LOCKDOWN…so NOTHING!! all jokes aside…I'm working out 7 days a week (my trainer is on me harder than in real life) so the plan is to be an, even, better version of me. But I was meant to be hosting a few events around the country so I guess I'll just sing and host myself!
What are you missing most about 'normal life'? SEX! Whoops, I mean socialising in person, my friends, eating out, dressing up for an event, perving and being perved at the gym. To be very honest with you lockdown teaches us a very firm lesson that everyone is equal…and you really do appreciate what is essential and what's not…so it's actually good at showing what counts and what's a waste of your energy.
What will be the first thing that you can't wait to do when regular life resumes? SEX!!! Dammit, I did it again! other than sex…definitely going out with my Mum & the Goose pack (friends) for the BEST MotherF@&#ing Espresso Martini and laughing so LOUD people want to move tables away from us!! Total bliss!
Moving forward is there anything you think you will change about your life following self-isolation? ABSOFARKINGLUTELY YES!! Don't sweat the small stuff…materialistic BS isn't worth it when it can be stripped away. Check-in with my friends and family more. This has affected every single person no matter what your status so genuinely being kinder and more compassionate is something I'll do more of. It costs NOTHING to be kind.
Is there a closing message you would like to share with our gorgeous LGBTI+ community? Sounds cliche but we're looked at as the most accepting group of people in the world but in all fairness, we can't even accept our own…she's too this or he's too that..so literally, purposefully and wholeheartedly BE KIND to each other, it costs NOTHING to be kind but it can cost a lot more being a C&#NT!! WE'VE GOT THIS…you never know who is watching or who is looking up to you for guidance or inspiration…showcase YOUR beauty, YOUR colour and YOUR love…because we are who we are and at a time like this we MUST look out for each other, we're family!
Follow Luke Bird on Instagram.