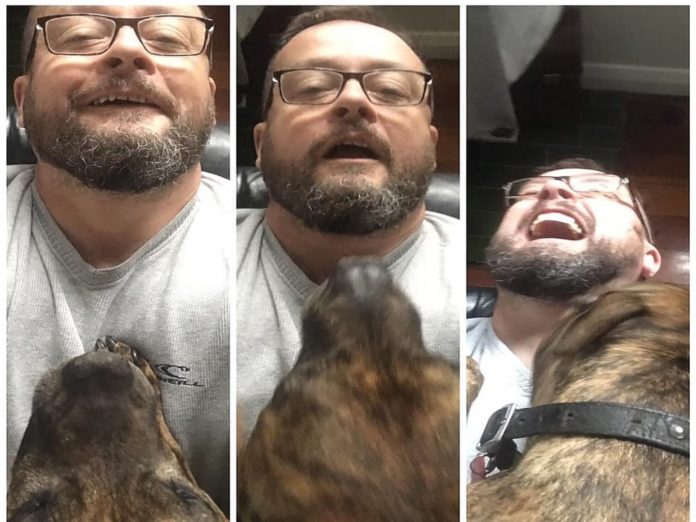 Alan Granville is one-half of Urge Events and a journalist for Stuff.co.nz. Lockdown is turning this Wellington bear-about-town into a domestic Goddess – his cutlery draws are cleaner than yours!
Tell us about your Level 4 Lockdown – where are you? Who's in your bubble? And what are you doing to keep your mental health in check?
I am in sunny Lyall Bay, Wellington, with my future hubby Mick and our dog as the bubble. As I am a journalist by trade, I am working through the lockdown at home. Thankfully the work is keeping me busy and focused during the week, but even on the days off, I am still trying to fit more into my day to stop me just slumping on the sofa in front of Netflix. It has led me to clean the likes of the cutlery drawer and the linen closet, so it's a pretty frantic rock'n'roll lifestyle at the moment!
What are your top tips for express readers who are struggling with self-isolation?
I'd say reach out to friends and family. We truly are all in this together. I don't think any event has united the world quite like this. It could just be a simple Facebook message, a video chat, or even just a chat over the neighbour's fence. You're not alone in this. But I'd also say you need a break from the relentless news cycle and take some time out of your day for yourself. Stop the endless scrolling on your phone or watching of news bulletins. You'll end up getting swamped by virus news. Watch a crap movie, do a puzzle, learn a language, anything that's not Covid-related.
What is the most positive aspect of self-isolation you've experienced so far?
In some aspects, I have been much more active then I would normally. The fella and I do daily exercise and yoga online classes, and I had started a course to learn some Māori before the world went tits up, so working my way through that. Mind you; I would not regard myself as some new-age isolation guru. A lot of time is still watching the TV in my trackie bottoms with a glass of Pinot nearby, so not much change from usual!
What are you missing most about 'normal life'?I've been in lockdown just a bit longer than the 'official' start as I have an underlying medical condition, so it seems like ages since I went to the shops. Grabbing a beer down the bowls club, or catching up with mates for a night out; I just took it all for granted – I don't now!
What is the first thing you can't wait to do when regular life resumes?
Certainly, the fitness classes again at Wellington Boxing Gym (shout out!), and then just hitting the road. I am a Travel Reporter, and I have been lucky to get some gigs here in NZ and abroad, so I reckon there will be a lot of travelling domestically after this to help promote the local tourism economy. Further down the road, it will be planning our postponed wedding and honeymoon. We had it all scheduled for this July in Ireland, but… stupid virus.
Is there a closing message you would like to share with our gorgeous LGBTI+ community?
I really hope we can all come together as a community once this all finishes. We can be amazing when we all work together, and we can be our own worst enemies when we don't. We are a big, glorious, fabulous, rainbow-strewn, dysfunctional, alphabetic family. Let this bring out the best in us.