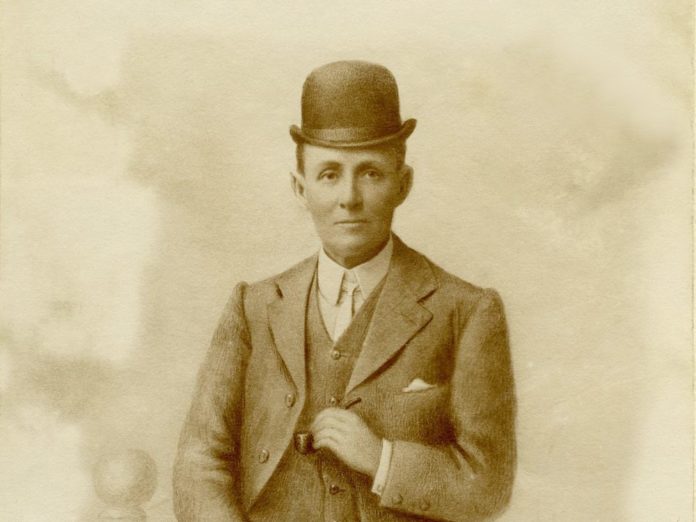 Historian Gareth Watkins examines significant June dates in the history of Aotearoa's rainbow community.
17 June 1909
Anges Ottaway applied to get her marriage to Percival Redwood annulled. Redwood, a.k.a. Amy Bock (pictured) had moved to New Zealand from Australia in the mid-1880s. Described by author Fiona Farrell as "New Zealand's most celebrated and energetic confidence trickster", Bock amassed a string of convictions over the next four decades. The most prominent was a "heartless trick" which took place in 1909. While holidaying in South Otago, Bock posing as wealthy farmer Percival Redwood met Agnes Ottaway. Within a few weeks, the couple were engaged and an elaborate wedding followed. However, four days later Bock was arrested and charged with forgery and two counts of false pretences. The widely reported scandal saw Bock jailed and inspired the production of commercial postcards featuring Bock and the wedding cake.
28 June 1981
Possibly the first community-initiated gay radio broadcast occurred in New Zealand. The show was produced as part of Gay Pride Week and aired on the newly established Wellington Access Radio, a station that encouraged anyone to make radio for and about their own communities. Access Radio's first broadcast in April 1981 also featured Leave Your Dishes In the Sink, a programme produced by a feminist collective including some lesbians. There are earlier examples of rainbow voices on mainstream radio, for example, "Gary" talked to host Ian Fraser on the National Programme in 1970 about having to leave his teaching job because he was gay. And in June 1979, Radio New Zealand's 2ZN station interviewed members of the Nelson Gay Welfare Group.
1 June 1985
AIDS activist and educator Bruce Burnett died aged 30. Originally from Auckland, Burnett had been living in Europe before moving to California in 1982 (just a year after AIDS was first identified). He became a volunteer for the Shanti Project, a community-based organisation that provided emotional and practical support to people living with life-threatening illnesses. Feeling unwell himself, he returned to New Zealand in late 1983 where he launched himself into AIDS prevention and support work. Burnett undertook a one-man tour of the country, a "roadshow" attempting to educate at-risk communities about AIDS. He was also instrumental in establishing the national AIDS Support Network – a community-led initiative that would later become the New Zealand AIDS Foundation. In memory of Burnett's tireless work, the first HIV/AIDS clinic in New Zealand was named after him, opening in Auckland in July 1986.
June 1992
The first issue of the underground newsletter Bog Spy was produced in Auckland. It rated and profiled public toilets and parodied police activities. According to academic Welby Ings, the concept of reviewing bogs in New Zealand wasn't new but "traditionally messages naming 'active' bogs were written on toilet walls." The newsletter was left in public toilets and gay venues. However, the publication only lasted a couple of months after it received negative media attention. In a 2010 PrideNZ.com interview, a community member highlighted how active the bogs were in the 1970s because "there weren't many other places to go." This, in turn, led to attention from the police. They made use of entrapment, usually sending in "hunky men" to obtain a prosecution. But often "they just didn't know how to behave … you know, they'd play a little bit but they wouldn't get a hard-on."
1 June 2019
Destiny Church leader Bishop Brian Tamaki apologised to the rainbow community during the Love is Greater Than Hate event. Media reported Tamaki as saying "It has never been my intent to cause hurt or harm." This may have been, in part, referencing his 2004 nationwide speaking tour which set out to expose "a government gone evil [and] a radical homosexual agenda", or possibly when he rallied against "gay power" in 2015, or when he reflected on earthquakes and other natural disasters in 2016, telling followers that the earth "convulses under the weight of certain human sin." Referring to the early 2000s and the anti-civil union march Enough is Enough, Tamaki rather ambiguously said that if he had another chance "we'd do some things differently."
Gareth Watkins curates PrideNZ, a community website exploring the voices and opinions of Aotearoa New Zealand's Rainbow communities through over 700 audio recordings of interviews and local LGBT+ events.
Photo | Amy Bock.