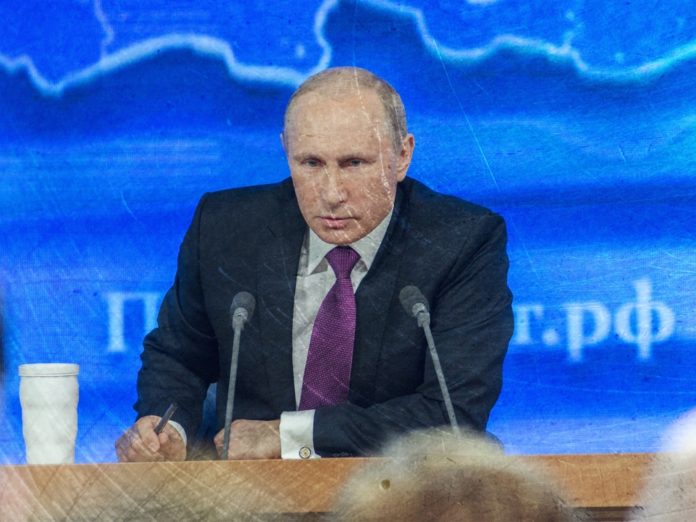 More news confirming homophobia is running rampant in Russia.
Russian President Vladimir Putin has mocked the American embassy in Moscow for flying a rainbow flag during global pride month.
Putin made the comments in response to a post on the embassy's official Instagram account which read "today we conclude the celebration of the Month of Pride — #PrideMonth, but we continue to protect the rights and fundamental freedoms of all people around the world. LGBT rights are human rights. Human rights are universal. It's that simple."
The Russian President responded by saying the American embassy's decision to fly the rainbow flag "revealed something about the people that work there."
"It's no big deal though," Putin said. "We have spoken about these many times, and our position is clear. Yes, we passed a law banning the propaganda of homosexuality among minors. So what? Let people grow up, become adults and then decide their own destinies."
Putin's ridiculing of the flag comes amid calls in Russia for the banning of an ice cream which uses rainbows on its packaging.
The Russian President was told by the head of Russia's official Union of Women that the packaging was promoting "propaganda" for gay and lesbian rights, in violation of a 2013 law which banned advertising or marketing which promoted "homosexual behaviour among minors."
"They're quietly promoting these nice rainbow colours, using nice words, they're advertising an ice cream called Rainbow," Yekaterina Lakhova told Mr Putin.
Ms Lakhova made the bizarre claim that these rainbow packaged ice creams had the potential to make Russian children more accepting of the rainbow flag used by the LGBT community.
Putin has claimed homosexuality is a western import to Russia, with the 2013 "gay propaganda" law based on that premise. The law has been used to arrest gay and lesbian activists and violently break up pride parades across Russia.