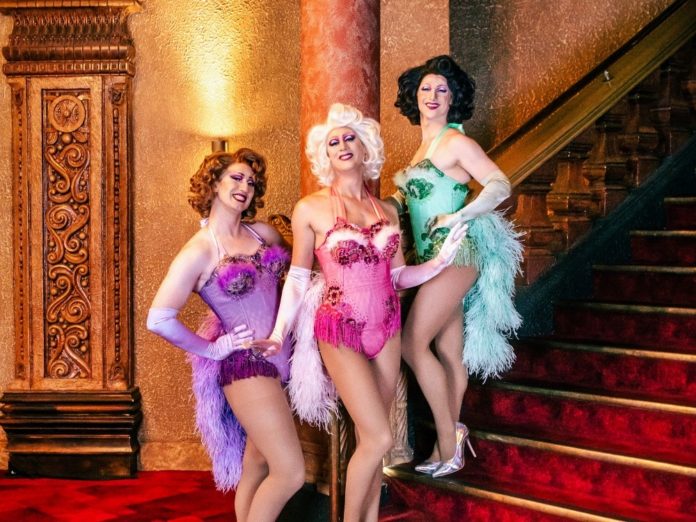 With Auckland Live sparing no sequin for Auckland Pride in 2021 with its Pride programme of provocative cabaret, drag shows, and the queerest party of the year – we chat to Drag queen trio Les Femme about their favourite girl-group power anthem, and discover their ultimate song to perform live!
"My absolute fave girl group number is 'Survivor' by Destiny's Child." Miss Givings explains.
"Why, you ask? because it is the bomb diggity. Fun fact- Queen Bee wrote the song herself after this radio dude compared DC to the reality TV show Survivor, commenting on their group members dropping like flies."
"She then turned that criticism into something positive (and fierce as hell) by writing the song."
"The unapologetic raw energy of the song, the girls in their camo outfits on a deserted island, it just does something to me. It's powerful shit."
"The song in our show that I love the most is 'Is You Is Or Is You Ain't'. The harmonies are plain dope. It's an old song by the Andrew's sisters, so hopefully, one we can introduce to some of the younger generations. Which makes me sound like an old as bitch."
Meanwhile, Miss Demeanour is a huge fan of 'Buttons' by The Pussy Cat Dolls.
"it's a sick workout track for the gym, great drinking song and all-around bop for feeling sexy and fierce."
"Everyone needs a playlist of songs that will really hype them up and Buttons is right up the top for me."
"In our show, my absolute favourite to perform is 'Lady Marmalade'! It's originally by The Labelles but we are including the Moulin Rouge version that everyone knows and loves. Getting to belt out Xtina's verse at the end of the song gives me so much life. I'm so here for it!"
Miss Manage on the other hand explains that her favourite girl group anthems is "Jump (For My Love), which might be why we have it in the opening number of our show!"
"I'm a huge fan of The Pointer Sisters and their energy – I can still remember bopping around to their music in the living room as a kid."
"Shout out to the Girls Aloud version in Love Actually though, 'cause Hugh Grant shaking his booty to that is a moment for sure. I promise our choreography is a lot better than his!"
"We have a Chiffons medley in the show in which I sing one of my favourite songs, One Fine Day. It's such a gorgeous tune and we do really cute doo-wop choreography for it which to me is the epitome of a classic girl group moment."
---
WHATS AUCKLAND LIVE GOT ON THIS PRIDE?
Dazzling lip syncs and sizzling drag will be on the bill when the resident stars of Dragon's Diva Den (5 – 6 Feb) sashay into The Wintergarden at The Civic for two nights of hot camp sass and sickening style. Returning after Auckland Live's sold-out season last November, you'll be wowed as the ladies transform celebrity guests including Chlöe Swarbrick with more to be announced, into drag divas live on stage. Expect OTT performances and more shade than a palm tree as these drag virgins are tucked, taped and taught how to walk into a room purse first. Werk!

Drag queen trio Les Femmes (12 – 13 Feb) will be serving fierce eleganza extravaganza when they make their Pride Festival debut at The Wintergarden in a self-titled cabaret show overflowing with girl power and song. Accompanied by a seven-piece band, songstresses Miss Manage, Miss Givings, and Miss Demeanor will cover the biggest girl group classics – everything from Diana Ross and The Supremes to the Spice Girls and more – in an intimate evening of seductive harmonies, hysterical high notes, and more realness than you can shake your cakes at.

Queer icons DJ HalfQueen and rap legend Randa will be joined by a gag-worthy line-up of hot queer acts, queens, and drag artists to celebrate the final weekend of Pride at the Auckland Pride Party in Aotea Square on Saturday 27 February. Hosted by Hugo Grrrl and Miss Geena and sprawled across two stages, the Pride Party is a free, all-ages, all-inclusive, and accessible event where absolutely everyone is welcome to party the night away in celebratory splendour. There'll be food trucks and plenty of kai on hand, plus drinks, snacks and other essentials at The Terrace Café and Hello Sailor bar in Aotea Square.
For more information head to aucklandlive.co.nz