With the COVID-19 pandemic still griping the globe, and many Pride events around the world being forced to cancel or postpone, NZ's humble Ending HIV Big Gay Out is poised to be the biggest Rainbow Community event across the globe.
New Zealand AIDS Foundation (NZAF) Chief Executive Dr Jason Myers says this is not a responsibility or privilege the foundation is taking lightly as organisers of the event.
"Thanks to a swift and strategic public health response in Aotearoa, we find ourselves in the unique position of being one of the few places in the world that can gather in these numbers to celebrate together with our communities.
"With this opportunity comes the huge responsibility of keeping these communities safe – we have worked hard to ensure the event will be as COVID-safe as possible."
Not taking any risks, organisers of the event say that COVID safety has been paramount in the planning of this year's event and the NZAF is asking all attendees to follow the safety procedures.
All attendees require a free digital ticket with their contact tracing details and will need to scan the event COVID Tracer QR code upon entry and enable Bluetooth. Sanitiser stations will be available, facilities and vendor stalls will be wiped down regularly, and masks will be required on chartered transport to the event.
The NZAF has also highlighted that the Ending HIV Big Gay Out, also raises awareness of another global pandemic, one that has not had the resources, global attention, and commitment that the COVID-19 response has seen.
"In a global context, HIV has still been one of the most devastating pandemics in history. Yet, as HIV has largely affected communities that were already marginalised and even criminalised, the global health response was not as rapid, focussed, or supportive as COVID-19's.
"While Aotearoa's early response to the HIV pandemic, like its COVID response, was world-leading, focus has since been lost in the HIV and wider sexual health space. Unfortunately, this is why we're still seeing HIV transmission and now soaring epidemics of STIs like syphilis and gonorrhoea still overwhelmingly affecting the communities we serve."
Myers hopes that, once again, the Big Gay Out gives NZAF a chance to make leaders sit up and take notice of the issues affecting these communities.
"This event has always been an opportunity for us to create a safe space for the Rainbow community, but it is also an opportunity to raise awareness of HIV, hold government to account and connect our communities to support and health messaging. An important learning from the COVID-19 pandemic, is that ongoing success requires ongoing focus, vigilance, and the removal of stigma around the condition – this is what we want to see for HIV and other STIs too."
---
ENDING HIV BIG GAY OUT EVENT INFO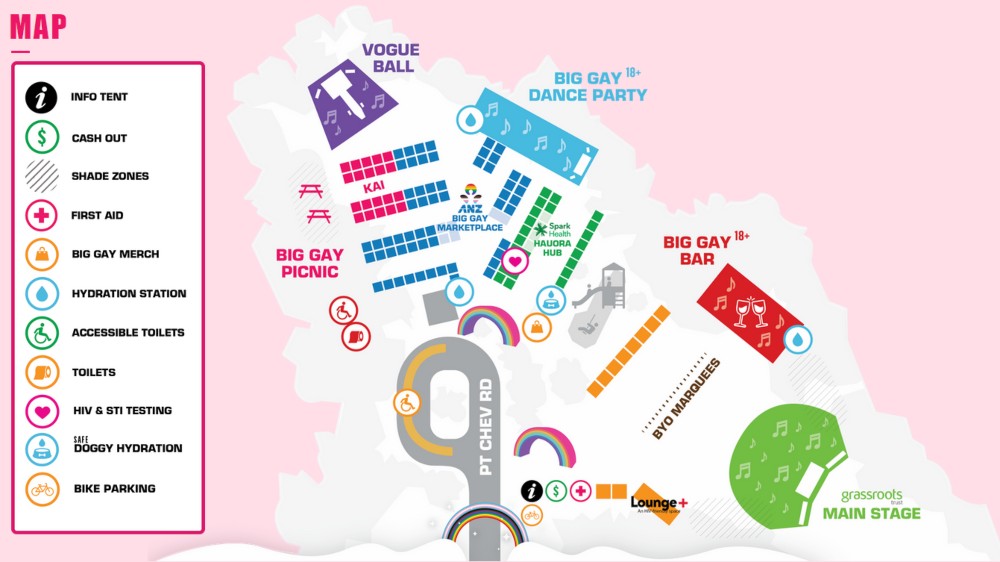 Sunday, February 14th
12pm – 7pm
This year's line-up features the most diverse range of community talent that Big Gay Out has ever had and NZAF is proud to be able to create a space for the talented performers in our communities.
To get your free entry ticket, purchase bus tickets, and keep up to date with line-up, schedules and event info head to – biggayout.co.nz.

Tickets are free and required for entry as a part of COVID contact tracing.
Big Gay Bus services depart from Karangahape Road and Britomart throughout the day and are a cashless service – pre-purchase your return tickets before the big day.