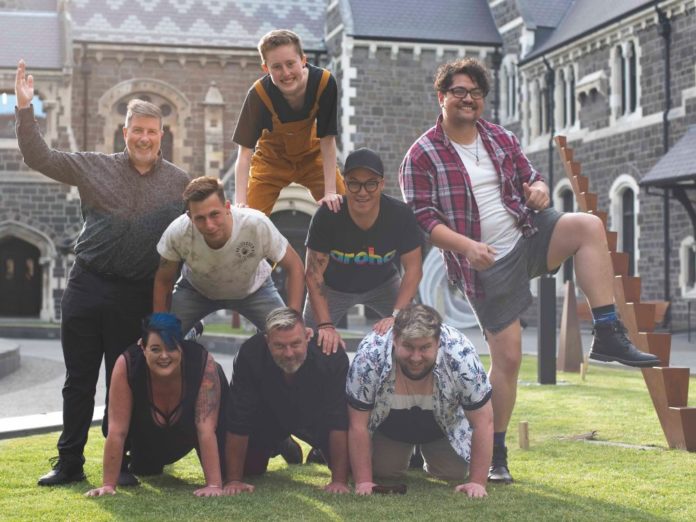 Express takes an exclusive look at biggest Pride festival Christchurch has ever hosted. Taking over the Garden City from 5 – 13 March. Here are a sprinkling of our picks from a must-see festival.
Friday 5
FriGay Drinks
Hosted by Christchurch LGBT Social at The Terrace from 5pm, this free event will be the perfect way to kick off Christchurch Pride.
Ray Shipley's Late Night Poetry Hour – Pride Edition
Join Ōtautahi Poetry Slam Champion and Billy T Nominee Ray Shipley as they celebrate poetry, pride, and staying up after bedtime! Featuring a line up of Ōtautahi's best queer poets, as well as an open mic of poets from the audience, from 9pm at Little Andromeda Theatre.
Saturday 6
Queens Telling Stories
Come along and hear stories read aloud by two of our favourite Queens, the Divine Joanne Neilson and Little Miss Cinnamon. There might even be a song or two and glitter and confetti galore for all the family, at Turanga Library from 1pm.
Diversity Picnic
Pack a picnic and head down to the Rolleston Community Centre for an afternoon of socialising and fun, celebrating the diversity and individuality of our community from 1pm.
Express presents The Christchurch Pride Leather & Lace Party
Join is for a party that promises to be anything but vanilla! With beats from DJ Gregor and dancer extraordinaire Adrian 'working the pole', dress to impress because all gender are welcome and wanted! From 9pm at is at A Rolling Stone (579 Colombo St) from 9pm.
Sunday 7
Christchurch Bears Car Rally
Join the city's furriest and friendliest for the most fun you can have on four wheels from 10am. Follow the clues to find quirky landmarks and those with the best scores and times will showered in prizes. Check out the ChCh Bears Facebook page for more info.
Monday 8
Air Force Museum's Peter Rule Exhibition
Squadron Leader Peter Rule had a distinguished career as a pilot in the RNZAF, yet he was pressured to leave the Air Force because he was gay. Learn Peter's story through this exhibition which acknowledges all those who suffered discrimination on the grounds of their sexual orientation. Running throughout the Pride Festival at Darfield Library.
Wednesday 10
No Lights No Lycra: Pride Edition
DJ Phil has put together an hour of music that's guaranteed to get you moving on the dance floor for No Lights No Lycra – an hour of dancing in the dark! From 8pm at Revolution Church.
Pride Bingo
This ever popular event wil be a sure sell-out. Join your favourite aunties Shirley St Albans and Aunty Pipi as they drop their balls for a naughty night of risqué hilarity and fabulous prizes! From 7pm at The Cashmere Club.
Thursday 11

QC Open-mic-night
Presented by student group QCanterbury. QC Open-mic-night is an intimate atmospheric night with an open mic. Expect poetry, short stories, singing, guitar, comedy, and more! From 6pm at Christchurch University Bar, Bentleys.
Pride at the Hot Pools
He Puna Taimoana hot water and salt pools hosts this unique pride party from 7pm. Expect a DJ spinning tunes all night, a swimsuit competition, bathing drag queens and warm soak!
Saturday 13
All That Glitters is Gold – Official Closing Party.
Grab your gold sequins, glitter and hot pants for the hottest night out to celebrate what will have been a truly fabulous Pride Week. With DJs Gregor and Jordan Eskra (Auckland) set to keep the dance floor filled at the glamorous Sixty6 on Peterborough venue from 9pm.
For information check out chchpride.co.nz and follow @chchpride on your favourite social channels.