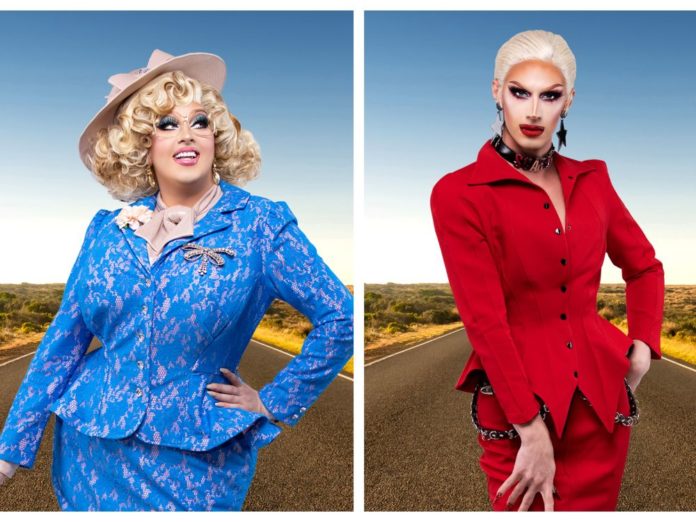 From golliwog tattoos to blackface performances, racially insensitive pasts leave question marks hanging over two of RuPaul's Australian queens.
Accusations of racism have been levelled against two contestants who will compete on the inaugural season of RuPaul's Drag Race Down under.
Anthony Price, who performs as Scarlet Adams has been accused of "making a mockery" of Aboriginal Australian culture.
A photograph from a 2012 Australia Day event shows Scarlet Adams dressed in blackface, with two blackened teeth wearing an Aboriginal flag t shirt.
Until recently, the picture was still on Price's Instagram page which has over 16,000 followers.
Price has subsequently apologised for the picture was he would "strive to be a better person" and that his past was something he was "not proud of."
"I have spent my career trying to right these wrongs from my teenage years," Price said.
"I was young and I was ignorant. I am no longer that person. The reaction from my employers, friends and audience finally forced me to open my eyes to people who have been discriminated against in our country since the arrival of white people and continue to be marginalised to this day."
The problems for Price don't end there though, with videos online also showing him wearing a traditional Chinese dress while singing Adele's Someone Like You in a Asian accent, and other performances where Price Is dressed as Bollywood star and also in a Burka.
Insiders from RuPaul's Drag Race Down under indicate that Price's past behaviour will be addressed at some stage during the show by RuPaul himself.
Meanwhile, another contestant Karen From Finance has been forced to address the issue of her golliwog tattoos and collection of golliwog dolls.
The performer says the tattoo was a homage to her collection. Taking to Instagram to explain the situation, she wrote that "Eleven years ago, I had a collection of golliwog dolls – a collection that began when I was two years old.
"And I made the uninformed, ignorant and regrettable decision to have one of these dolls tattooed.
"In the years following, and more notably after being interviewed by someone writing an opinion piece in a tattoo magazine, I realised how insensitive and hurtful this was."
"So I disposed of the dolls to landfill and had my tattoo covered," she wrote on Instagram.
RuPaul's Drag Race Down Under has wrapped up filming in Auckland and will show in TVNZ on demand later this year.