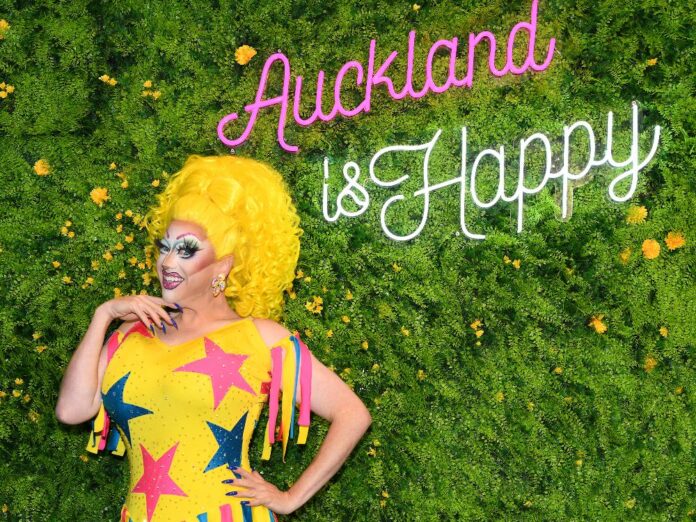 For several years we as a community (especially in Auckland) have been divided, both politically and ideologically. But for the past few months, Drag Race Down Under brought us back together, writes Steven Oates.
On Saturday night, Kita Mean was crowned the winner of the first season of Rupaul's Drag Race Down Under. You may have seen the viral video of Kita at home with friends watching the announcement as it was broadcast on TV. Yes, this really was the moment she found out she had won. The Drag Race formula is to film all finalists winning, then making them wait till the final episode is actually broadcast on television to reveal the winning queen. As Queens are not known for keeping secrets this is perhaps the only way to ensure no spoilers before the grand finale on TV.
Although Kita was at home watching the show surrounded by dozens of friends and family who erupted with euphoria when Rupaul uttered Kita's name, this was not where Kita had originally planned to watch the final episode. Stan, the Australian TV network, had planned to host all the finalists at a glamorous star-studded viewing party in Sydney. Kita, of course, was to attend and would have been announced the winner on Australian soil and in the presence of the other contestants. All very show biz and a PR person's social media dream.
On the Thursday before the event, I was lucky enough to fly to Sydney. The plan was that I and a small posse of friends and people connected to the show would accompany Kita to the viewing party, to tautoko her and to hopefully see history be made.
As is the times we live in, Covid reared its ugly head in Sydney's eastern suburbs, with a few community cases reported in the middle of that week. I took a chance and crossed all my fingers and toes and flew out anyway. Kita and the others were booked to fly on Saturday morning. As Saturday drew closer, the number of community cases in Sydney slowly grew. This was enough to give Kita and the crew the jitters. The prospect of the trans-Tasman bubble closing and people being stuck was frightening and everyone took the sensible decision to cancel their trip. With Cinderella cancelled, I was one ugly sister alone and no one to go to the ball with…
I decided that I wasn't going to be Nigella-no-mates and go to the event on my own. But I did want to watch the final episode in real-time though and with at least one Kiwi. A fairy godmother came to my rescue in the form of Wellingtonian, Felicity Frockaccino, who was hosting a viewing party at The Oxford Hotel. Felicity was the perfect hostess and looked after me perfectly. We were actually gripping each other's hands tight enough to cut off the blood circulation as the winner was announced.

It may be because there was no Sydney Queen in the final, but I can honestly say that in that room, the VAST majority of people quite clearly wanted Kita to win. Whenever Kita's name was mentioned throughout the episode, cheers and screams raised the rafters. The love was palpable. I felt so proud. They wanted a kiwi to win. They wanted my friend to win. I felt genuinely emotional.
For several years we as a community, especially in Auckland, have been divided, both politically and ideologically. But for the past few months, Drag Race actually brought us back together. Even non-Drag Race fans suddenly found themselves glued to the screen. Social media exploded in praise for our Kiwi Queens after every episode. Anita stole our hearts with her warmth and infectious positivity. Elektra won us over with her sheer tenacity and perseverance, proving her detractors wrong by going further than they expected. And Kita's journey was nothing but a delight to watch and galvanised us as a community.
New Zealand comes together in the final moments of huge sporting events, whether it be the Rugby or The Americas Cup. The Aotearoa LGBTQIA+ community came together for Drag Race. We suddenly remembered that we live on a small cluster of islands at the bottom of the world and that's exactly what makes us unique. The Australian Queens are slick and polished, but our Drag is special and now thanks to Kita the world now gets to see that.
Even though Kita was supposed to be in Sydney when she was crowned winner, perhaps the universe had a hand in the matter. After all, she is our Queen and a true Queen should be with her people. Especially when history is being made… now, can I get an amen up in here?!