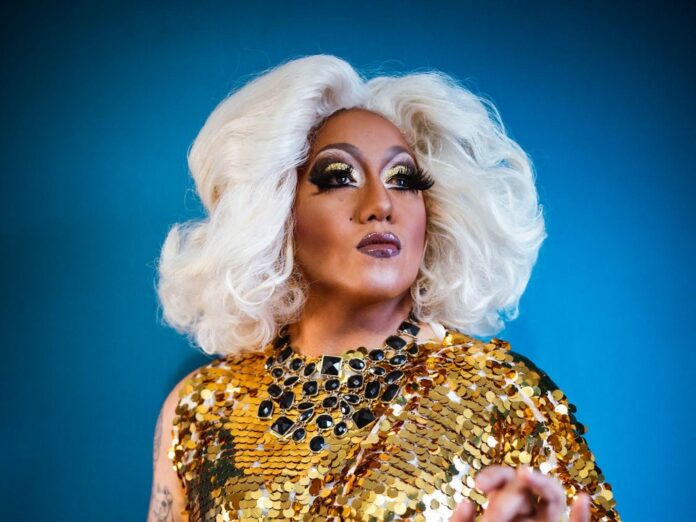 Akira Le Fevre (aka Little Miss Cinnamon) shares his story of moving past the shame he felt as a child hearing te reo and embracing the pride he feels speaking te reo now.
Growing up on the poorer east side of Ōtautahi Christchurch and the only wee Māori boy in my adopted Pākehā family, I had always felt embarrassed hearing te reo. Maybe it was because I grew up with the societal stereotype that Māori were lesser or maybe it was because I couldn't speak my own indigenous language and felt like a stranger within my own culture.
Now as an out and proud 40-year-old, hearing te reo Māori spoken so frequently and beautifully like poetry, warms my heart. We now live in a world where we see news presenters speak it confidently, musicians translating their songs into te reo and even our beloved drag divas teaching RuPaul and her global fan base how to say 'kia ora!'
Moonlighting as a part-time queen by night and a full-time Sexual Health Promoter by day, I find myself working in schools throughout Aotearoa witnessing teachers and young people alike embracing te reo daily. From incorporating karakia and waiata into their weekly interactions and hui, to young tamariki learning their pepeha.
We as a country have come a long way, but I am not blind to the fact we still have a long way to go and that there is still ignorant racist resistance around its use. When I was at school, the only thing I remember being taught about te reo was being told that an easy way to properly pronounce the word 'Māori' was to compare it to the word 'mouldy' which as a shy 10-year-old instilled a negative stigma around being Māori.
Now as part of the NZ curriculum young children are taught the importance of being proud of who you are and where you come from. As an adult, I am now proud to be able to recite my own pepeha, but with both my parents recently passing away, when I stand and say "Ko Murray Le Fevre tōku matua. Ko Jean Le Fevre tōku whāea," it makes it even more special that I can keep their wairua alive.
Earlier this year, I watched the groundbreaking New Zealand movie 'Rurangi' where one of the characters had started her own journey with te reo. One of the lines in 'Rurangi' that spoke to me was, "it used to be that we were supposed to feel shame for speaking Māori, now we're meant to feel shame for not speaking it. Who benefits from our shame?"
I no longer feel shame when hearing te reo, nor do I feel shame for not being able to speak it fluently. Instead, I am filled with aroha and whakahī (pride). I am proud of my journey with te reo and I look forward to navigating my waka through this awa.