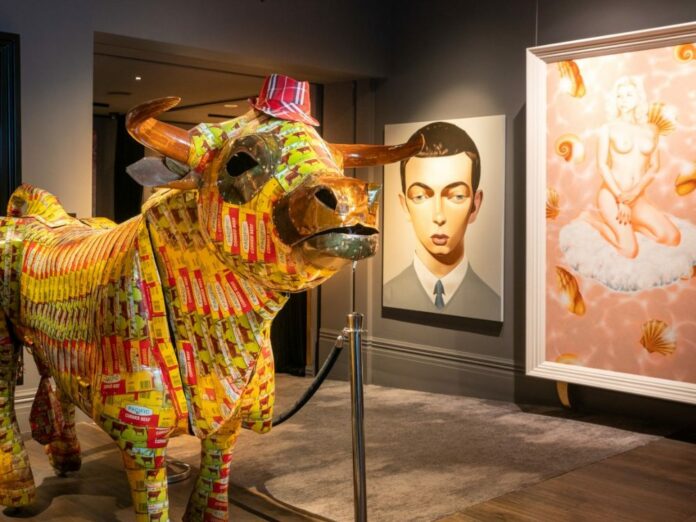 Wellington's QT Hotel offers art lovers unique inspiration for putting your collection at the centre of your home's interior design. Express soaks in the inventive individuality of this regal Wellington waterfront hotel.
Arriving at Wellington's QT Hotel, the dark atmospheric lobby is built around large signature statement artworks that are so attention-grabbing, you forget to join the check-in queue and start browsing like you would in a gallery.
The QT Hotel's unique curation of art into 'living' spaces, stands as an excellent example for art lovers trying to work out how best to incorporate their acquired pieces into their own home.
Food for thought is immediately bountiful when we notice that nestled between iconic offerings from Liz Maw and Peter Stitchbury, is Michael Tuffery's Le Povi Pusa Ma'ataua. A remarkable eye-catching sculpture of a bull made from corned beef cans. It is the ultimate centrepiece – a colourful and eccentric work that a room's interior must be built around. The QT cleverly ensures numerous clear pathways around the bull, because few can resist stopping to take the piece in and inevitably a selfie or two.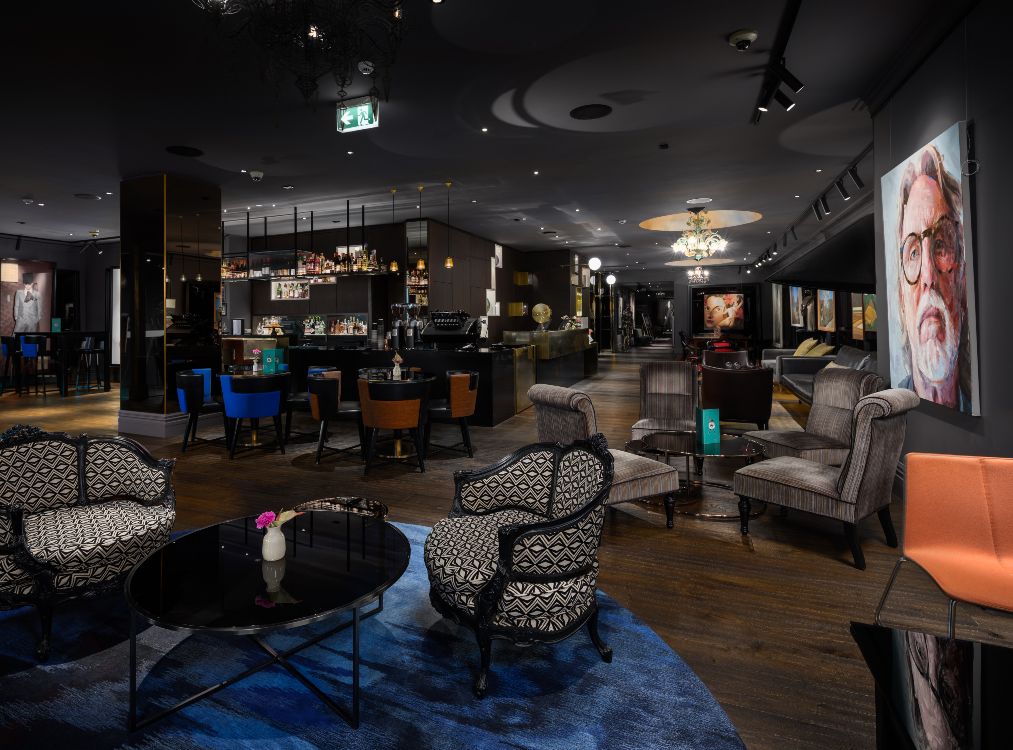 We check-in and head to the elevators, which highlight that the QT's sprawling lobby is completed by the Lobby Louge (cafe/bar) which features another dazzling conversation starter, Stephen Marty Welch's intimate Portrait of Dick Frizzell. Produced as part of The Sitting exhibition (and TVNZ series) this mesmerising work highlights the palpable respect the two artists has for each other. Portraits like this are a dream for incorporating into a living space because it doesn't matter where the QT place this piece, Frizzell's transfixing stare will always draw in the eye.
We have booked one of the QT's unique gallery rooms, where local artists have decorated the rooms with a personalised mural. It makes staying in the QT's gallery rooms feel luxurious and boutique and acts as a reminder in our own homes that not all your best art has to be displayed in shared spaces. If you have a piece you truly love waking up to – incorporate it onto your bedroom walls.
Here are two of express' favourite examples of the QT's gallery rooms:
In harbour view gallery room 440 DSIDE's detailed mural covers the walls inside and out, as it sprawl onto the balcony!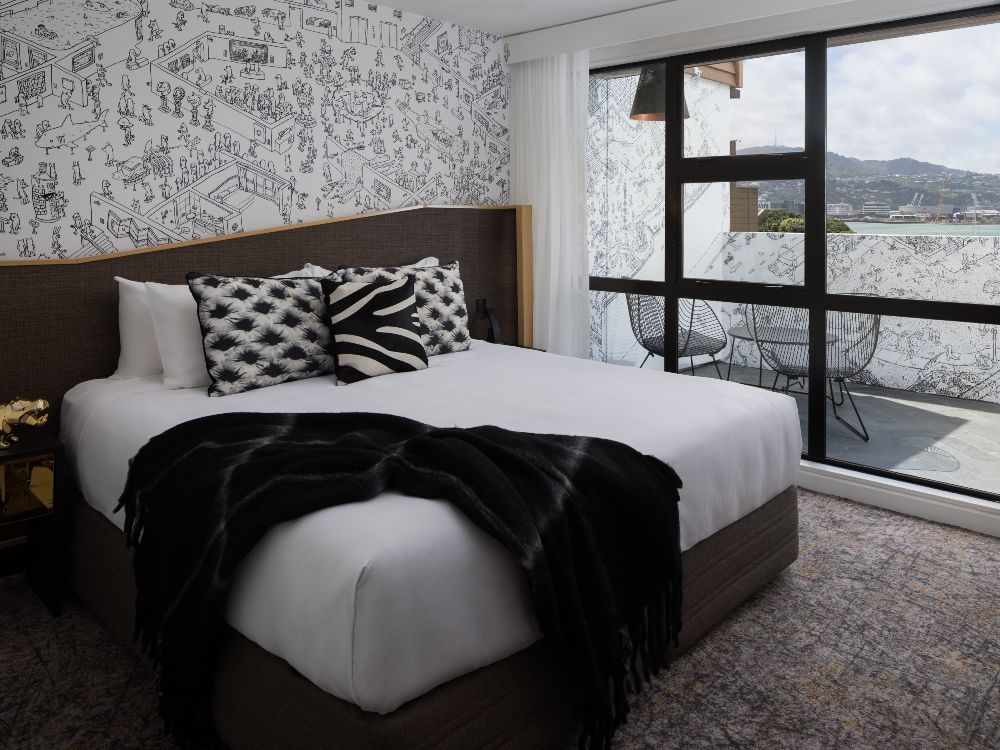 DSIDE is one of Wellington's most prolific street painters, now working solo after over a decade as one half of the duo BMD. He has consistently used his public position to create work that activates and discusses environmental and conservation issues.
On this mural DSIDE Displays his trademark humour and care for the environment, DSIDE expands on the concept of the museum (Te Papa sits just a stone's throw from the QT) and its multiple, diverse galleries, providing a dream of what a museum might present, and how.
Meanwhile Room 430 houses Johnson Witehira's Disrupted Symmetries.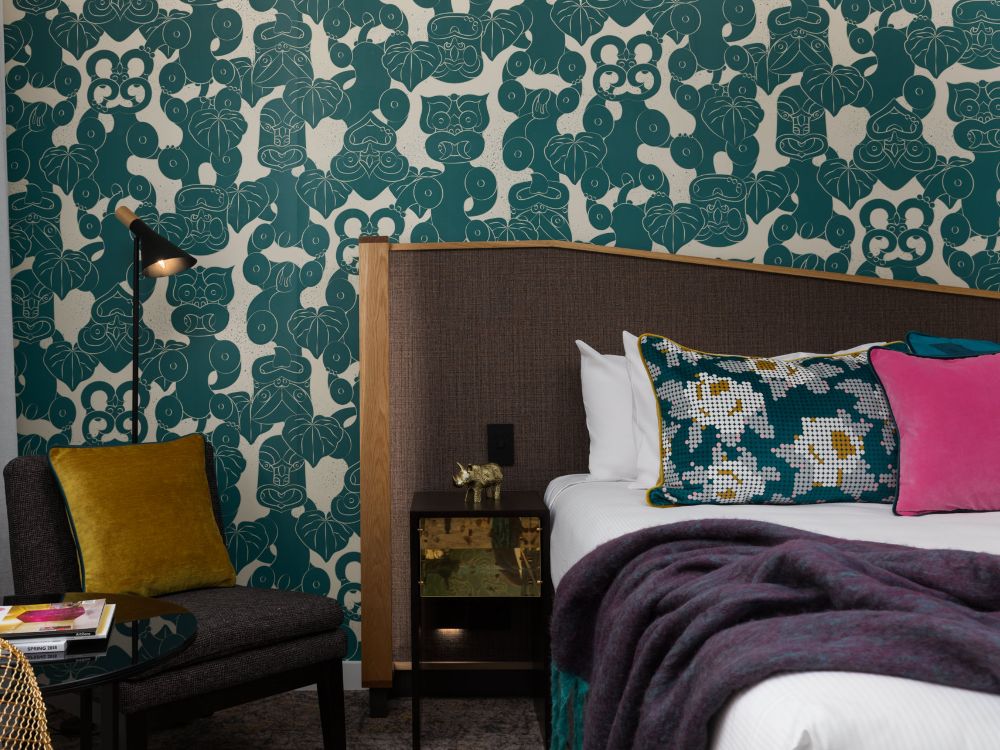 Dr. Johnson Witehira is a designer, artist and researcher of Ngāpuhi (Ngai-tū-te-auru), Tamahaki (Ngāti Hinekura), and Pākehā descent. His design projects look at how design can be used to change the monocultural landscape of Aotearoa New Zealand.
For his Disrupted Symmetries mural, Witehira has produced a unique wallpaper design combining Māori themes and aesthetics – acknowledging how decoration on the marae is fundamental to the bones of the built structure – with the inspiration of the British Arts and Crafts movement of the late 19th Century.
Check into the QT Hotel Wellington for a stay in the heart of our bustling capital, and soak in its unique ambience and decor for home and living inspiration. https://www.qthotels.com/wellington/