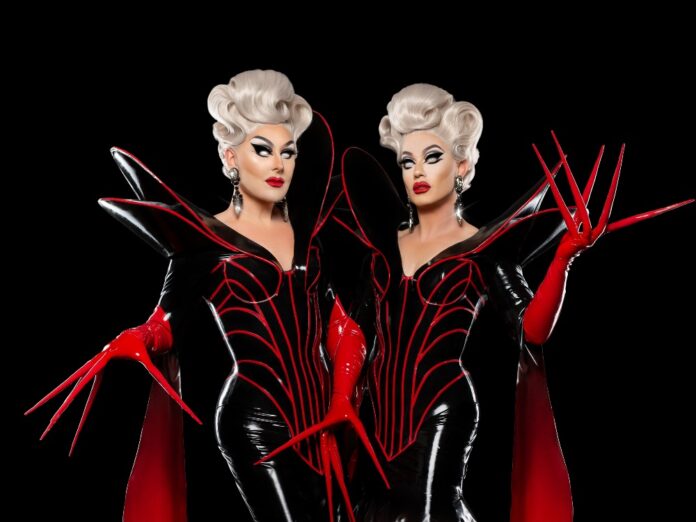 With its fourth season starting last night on horror streaming service Shudder, The Boulet Brothers' Dragula is a drag reality competition show with one hell of a difference! Hosted by legendary US party promoters The Boulet Brothers, the show includes eating challenges, high-adrenaline stunts and forces their diverse contestants (queens and kings from all corners of the gender spectrum) to face their fears! Dracmorda and Swanthula Boulet talk to express about making a drag show with a difference!
What inspired the two of you to create The Boulet Brothers' Dragula?
SWAN: It was definitely fate. Back when we first decided to do the show, we had our hands in a lot of different projects, and it felt like they were all organically starting to lean towards this one new endeavour. We write, we direct, we produce, we perform live, and we're also known for producing fairly massive live events and the TV show just seemed like the perfect culmination of all of those things.
Where did the idea of bringing Fear Factor-like eating challenges into a drag TV show come from and were you confident it would work for the show?
DRAC: It's all based in our celebration of (what we consider) punk style drag. The whole show is based on our experiences in drag and the way our drag was born and the way we performed it in the non-traditional spaces that we performed in. We would perform at fetish balls, and punk clubs, and events like Wasteland Weekend, so we were doing 5, 6, 7, 8 types of lip-synch shows at these places. We were doing things like piercing and tattoo demonstrations and having food fights on stage, and doing fire performances. We wanted to bring that sensibility to the show. We were just having fun and doing shocking things that seemed fun to us.
SWAN: Were we confident that people would want to watch drag queens have paintball fights and jump out of planes? 100% yes!
What must-see moments do you feel the show has created so far?
DRAC: I think Maddelynn Hatter's meltdown at the renaissance fair in season three is iconic. The piercing extermination from a season two episode is also pretty great. I think the Monsters of Rock episodes are always incredible too. Landon eating spiders… I mean, I could go on and on!
Will Season 4 be the best season yet?
SWAN: It really will be. We just had a lot more resources that allowed us to produce the show the way we've always wanted to do it.
DRAC: It also has the right amount of flavour from each of the previous seasons. Season one was very DIY and punk, season two was super campy, sassy and ridiculous, and season three was very horror-oriented, and I think this season is the perfect mix of all of those things.
What does it mean to you to have Dragula Season 4 screened on horror streamer Shudder?
DRAC: It feels correct. You never see us where you expect to see drag content and we're not really embraced by the mainstream queer media for some reason. You're not going to see us on the cover of Out Magazine but you will see us on the cover of Fangoria and Heavy Metal magazine, and I have never really understood it but that's why being on Shudder feels natural. It's weird, but we're happy to exist in our own lane and that makes us feel right at home with them.
Season 4 was the season that the budget and popularity of RuPaul's Drag Race grew significantly and became more mainstream – do you foresee Dragula following in Ru's footsteps and becoming as popular as RPDR?
DRAC: As an artist, I don't think it's wise or healthy to compare your journey to someone else's and we have that same attitude about the show. We are happy with the success the show has achieved, and every year it seems to get bigger and bigger, so we're hopeful that the fanbase will grow even larger this year. It does feel like it's going to be a big year, I can tell you that.
When did the two of you first get into drag and when did you know you wanted to create a career from it?
SWAN: It was never a conscious decision to make drag into a career, our careers just evolved that way. We used to perform in the theatrical stage shows that happened in night clubs and we started doing drag as characters in those shows. The club's host sort of retired, and so we had to start hosting our events ourselves and that's when we developed "The Boulet Brothers" as fully realized drag personas.
What inspired your 'Boulet Brothers' characters? Particularly the choice to present as brothers when in real life, you are lovers.
DRAC: Our drag characters were born out of a need to host our own events, and so we came up with the idea of these horror host identities that would also sound like characters who might host a circus-like club… As far as the brothers/lovers thing, it's not something we planned. As we mentioned, our drag identities and the name we chose was birthed out of necessity, and we never intended to talk about our relationship outside of that. People who become fans just wanted to know more about us and they just sort of dug around, and magazines started asking us about it and here we are!
SWAN: As far as the "brothers" part and presenting male or female, we have always had a sort of non-binary element to our drag. We used to come out in full-face but with our boy chests out or with moustaches glued on and breasts and corsets. Everyone dabbles in gender now, but back when we were doing it, very few people were doing drag that way.
How will you be celebrating Halloween this year?
DRAC: We are hosting Halloween in about ten or more different cities this year, so we will be spending the majority of the season either on stage ringing in the holiday or on the next plane getting to the next event. Halloween is back with a vengeance this year, and we are thrilled to be responsible for igniting the flame in as many cities as we can!
New episodes of The Boulet Brother's Dragula can be found on SHUDDER every Tuesday.