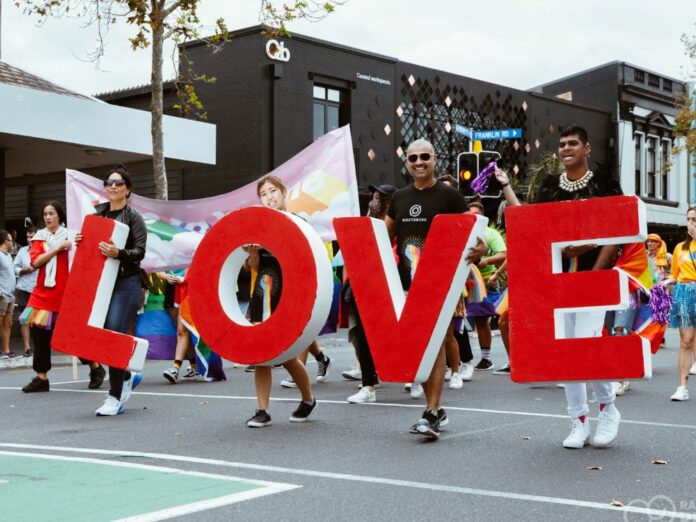 The Auckland Rainbow Parade Returns to Ponsonby Road at 7pm on Saturday 19 February, and this time – it's on wheels, with free registrations for community groups!
For the first time since its inception, the Auckland Rainbow Parade will feature motorised floats, calling back to the days of Auckland's Hero Parades and Pride Parades.
Guardian and Acting Co-Chair Trevor Easton says "We're absolutely thrilled to announce that for the first time since Rainbow Pride Auckland re-established the Parade for Auckland, we will welcome the addition of motorised (light vehicle) floats making this coming year the loudest and proudest to date."
Thanks to The Rainbow NZ Charitable Trust – community groups can also register for free.
"Ten rainbow groups can apply to Rainbow Pride Auckland for up to $300 to support any purchases towards the parade. Furthermore, we have an additional $2,500 which will support up to 5 of our rainbow whanau from outside of Auckland. From accommodation to petrol, if you're coming from out of town, to making your float visually sing with balloons, music and signage, the money is there to help," Event Manager Shaughan Woodcock tells express.
Woodcock tells us he is delighted with the number of registrations and enquiries coming through since the announcement that motor vehicles are back.
"It's been a massive effort to re-establish the parade as a key event within the rainbow community and we're proud and delighted with the support being received. While it's too early to discuss specific floats and groups we can confirm there'll be loads of dancing, chariots, tuk-tuks and for the first time a carbon-neutral entry!"