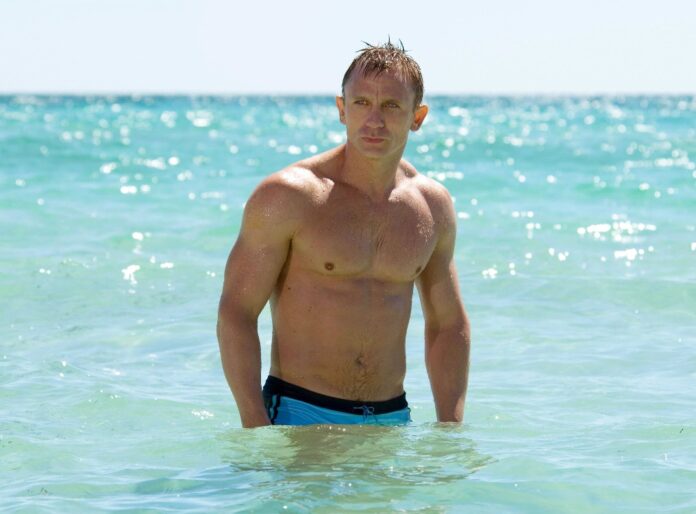 As Daniel Craig departs the franchise, Steven Oates ponders whether the movie world's most famous spy can be anything but a white heterosexual cis-male? His answer may leave you shaken, not stirred.
Aucklanders will be getting the chance to see the much-delayed latest James Bond film this month, as people are allowed back into cinemas which have sat empty due to covid restrictions. After 60 years on screen, Queer viewers will be delighted to see the franchise's first-ever out queer character in the 25th Bond film, No Time to Die.
Bond himself threw homophobes into a spin in a now-infamous scene in the 2021 film Skyfall. As cyberterrorist, Raoul Silva, had Bond tied to a chair, unbuttoned Bonds shirt and stroked his leg and chest while delivering the lines "You're trying to remember your training now, what's the regulation to cover this?… Well, there's a first time for everything." Bond responded in his trademark cool demeanour… "What makes you think this is my first time?"
As homoerotic as this may have been it pales in comparison to having an actual unapologetically gay lead character. In No Time to Die, Bond and sidekick Moneypenny show up at tech wiz Q's house unannounced to find Q preparing a romantic dinner for two. "He'll be here in 20 minutes," says Q, referring to his impending dinner date. Bond and Moneypenny don't bat an eyelid. Q's sexuality is treated with the same regard as any heterosexual character in the same scenario.
There's something satisfying in this treatment of the character's sexuality. Q is not an over-the-top stereotype and nor is he the comic relief just to get the laughs, he is an integral and beloved character. This realistic portrayal of a queer person in one of the world's biggest movies franchises gives us hope that we have turned a corner away from being tokenistic.
But what about Bond himself? Since Daniel Craig announced No Time to Die will be his last outing as the suave British agent there has been much conjecture as to who should be his replacement…
The films have come under heavy fire for quite some time for being misogynistic and a relic of sexual and racial times gone by. Only until recently, white women were simply there to be seduced by Bond to prove his virility and prowess. Thankfully the villainess's have often been strong women and given us some iconic characters, Pussy Galore, Octopussy, May Day, Fatima Blush et al.
There is no denying the more recent Bond outings have decidedly downplayed Bonds predatory sexual escapades and turned up the power dial on his female co-stars. Judi Dench played a formidable M and more recently Naomie Harris has completely reinvigorated the Moneypenny character. Once just a secretary besotted with Bond, Harris's Moneypenny is a kickass agent who by all intents and purposes is Bond's equal out in the field. Not to be overlooked is the fact that Moneypenny is also now a woman of colour. As the franchise moves into the 21st century it is evident movie execs are keen to see the brand move away from being stale, pale and male. So much so the latest film sees Black actress Lashana Lynch play a 007 agent alongside Craig. A huge step in the right direction for a brand that needs to stay relevant and attract a new younger audience in order to ensure ongoing success.
A person of colour as a sidekick is one thing but what about Bond himself? Could Bond be anything other than white? Since the announcement of Craig's imminent retirement from the role, many names have been bandied about as worthy successors for the coveted 007 part.
Idris Elba has been a front runner for the role since 2012 when Craig signalled his retirement. Elba has recently poured cold water the prospect of him asking for his martinis shaken not stirred. Other strong contenders are Regé-Jean Page, John Boyega and Daniel Kaluuya. A Hollywood Reporter poll showed 52% of respondents supported the idea of a Black James Bond. 28% opposed and 20% unsure.
What about a Gay Bond though? Only 28% of respondents supported the idea of a Gay Bond. 20% were unsure while a whopping 52% were opposed to a non-straight Bond. Perhaps this is unsurprising considering for decades Bond was seen as THE ladies' man. His straight virility and sexual conquests were intrinsically a part of the character.
As we move further into the 21st century and films become more representative of their audiences hopefully we can look forward to more major characters being Queer. For now, though let's celebrate any step in the right direction. Superman's Son recently came out as bisexual in the DC Universe. There is talk of a new Star Trek film in the works, Hikaru Sulu had a husband and child in the last film Star Trek film and STAR WARS director JJ Abrams has said future films will have gay characters, fuelling the rumours of a gay romance between John Boyega's Finn and Oscar Isaac's Poe.
It was not that long ago that even the mere idea of having a Gay Bond was just preposterous. Yet here we are with a woman of colour as a 007 character, a real possibility of the next Bond being Black and a Queer Q. If this is what the future looks like then I'm ready for it, pass me a martini!