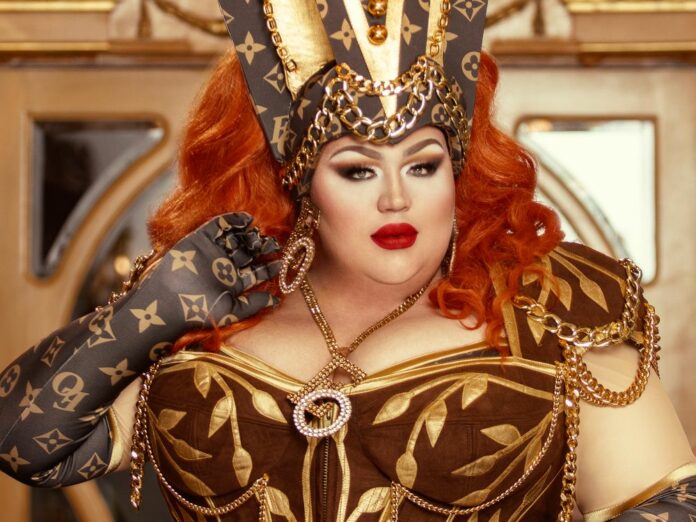 Is Eureka O'Hara RuPaul's Most Successful Drag Daughter? She talks to express about returning to the franchise three times and creating her own reality show We're Here.
Eureka O'Hara has competed on no-less than three seasons of RuPaul's Drag Race (9, 10 and All Stars 6) not to mention a Holi-slay Spectacular! The Tennessee native has become one of the shows biggest success stories, going to produce and co-star in her own reality series We're Here with fellow Drag Race alumni Shangela and Bob The Drag Queen.
Now streaming on NEON, We're Here follows the queens as they tour small US towns (often rural and Bible-belt) meeting members of the queer community, putting them in drag for the first time and performing with them for the neighbourhood. And Eureka tells us not all of those neighbourhoods are as welcoming as they might seem on camera.
Is it scary at times on We're Here being in places that aren't as accepting of the LGBTQ+ community?
"Yeah, I mean there are a few times I've been very nervous. I'm lucky because we're never anywhere in the town where there's not at least another ten or 15 people around us: sound people, camera people, co-hosts – so we're lucky in that sense. But there are some situations where we'd go off and venture to get food or something alone where it can get quite nerve-wracking. The good old boys be looking at you kind of crazy! You don't know what they're gonna say! A lot of the more negative things happen off-camera because when there's less of us in the towns, that's when you get the screamed F-word and things like that at us, more so than when there's a bunch of cameras around. Everyone acts differently around the cameras."
How do you react to having the F word screamed at you?
"Thank you! Yes queen, yes! I'm that girl. I give them a kick and dip. I mean the F-word doesn't hurt me anymore. It hurts them more than it hurts me because they had to use the energy to say it. 'Thanks!' I mean, you're not wrong… No lies were told in the making of this!"
Which celebrity would you most like to put in drag?
It would've been Evan Peters but I worked with him recently so I've seen what she looks like in drag. If I had to choose a female it'd be Drew Barrymore, Sandra Bullock or Queen Latifah."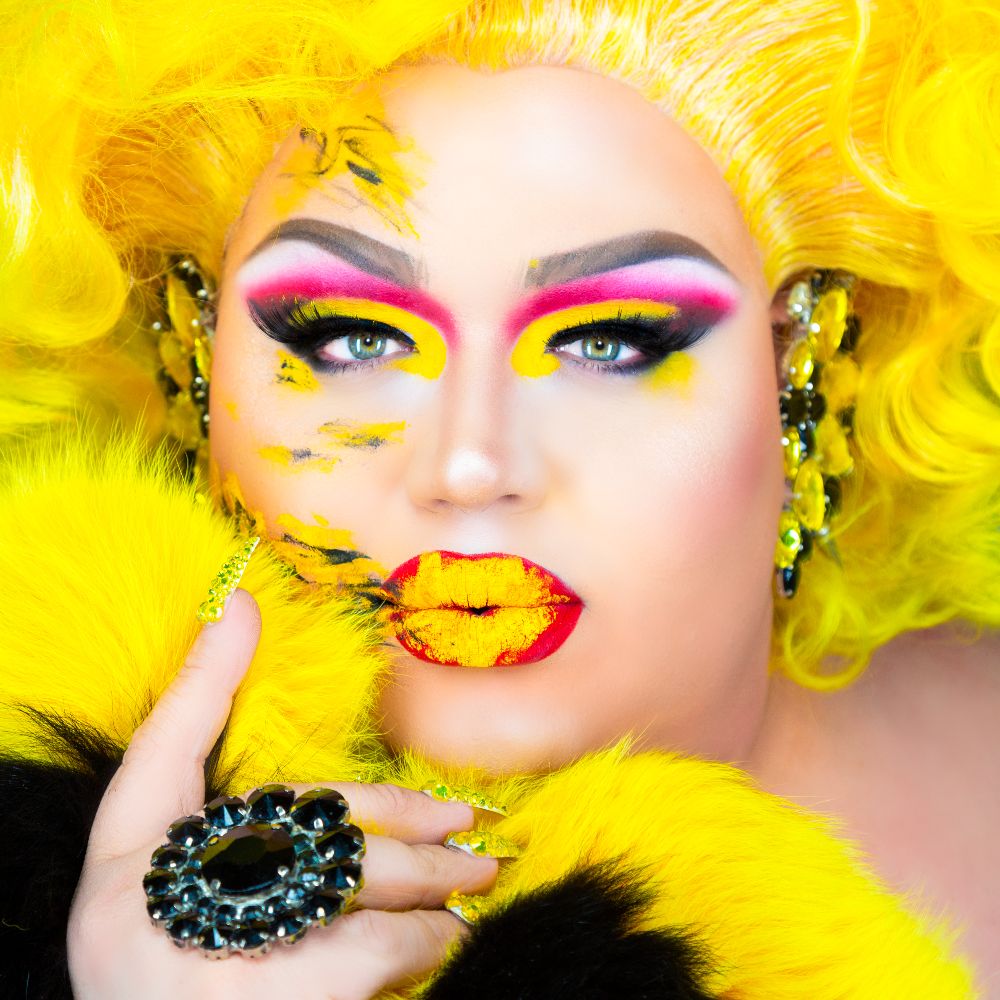 What's harder to film, We're Here or Drag Race?
"That's funny because honestly, Drag Race is probably stamina harder, like physically harder, I would say. It's so much in one day. You do a mini-challenge, then a full runway, then a maxi challenge in 15 hours then the next day come back and do it again. With We're Here, it's not as strenuous a schedule, but I think it's more emotionally taxing. But also a little bit more creatively taxing too because me, Bob and Shangela are producers on the show. We don't just show up and everything's fabulous, we produce everything, we're in charge of all of our teams, whether it's like makeup, design, hair – we're leading everything when it comes to these shows, designing the performances and everything, so it's a lot of work."
This summer on All Stars 6 you showed how evolved your drag had become, as well as you as a person. Was We're Here a big part of that?
"Yeah, for sure. Plus – time. But We're Here did have a huge impact on how I grew as an individual in that time. Girl, I experienced a lot of things, and building yourself on a professional basis, can really help you understand yourself more as a human being. When you start feeling like you have some security in your life, professionally. That's what We're Here gave me. There wasn't so much of a sense of desperation going into All Stars 6 of like, I desperately have to succeed or else I'm nothing, which is a really sad truth when it comes to Drag Race and competing. It's sometimes hard not to have that desperation to win or do well or you might not have a career. This time, I was able to go into it with ease because at the end of the day I was lucky to have the support of We're Here, where I knew we were going into season two after filming so I think there was some security where I could own myself and be myself. I also learned not to pretend and to be honest about who I am and not overexert and always need the spotlight. When you see yourself back on TV you're able to assess yourself in a different way, especially with reality television, because you're seeing who you really are in different lights and different situations, which has also helped me grow. And that was me watching myself back on We're Here but also watching myself back on season ten of Drag Race."
Like many fans, I was rooting for you to take the crown in All Stars 6!
"Thank you, I was happy, I'm happy for Kylie though, it was amazing to see her win. But I was excited to win! But I mean honestly, after getting sent home, I knew something was going down when they sent me home during the Drag Tots thing… and then coming back, I had a feeling I'd shot myself in the foot to win at that point. Just because I had left and come back. But I was able to wear all my clothes and I was in every episode, and that's a win. I'm always robbed, I feel like. Lord, leave my piggy bank alone!"
How do you think you'd have done if you hadn't injured your knee on Season Nine of Drag Race, forcing you to leave the competition early?
"You know, I just have to say, sorry Sasha Velour! (laughs) No, I don't know, it's hard to tell. She was definitely a different queen then but she definitely danced the house down when she didn't have any broken limbs!"
We're Here Seasons 1 & 2 are streaming now on NEON.