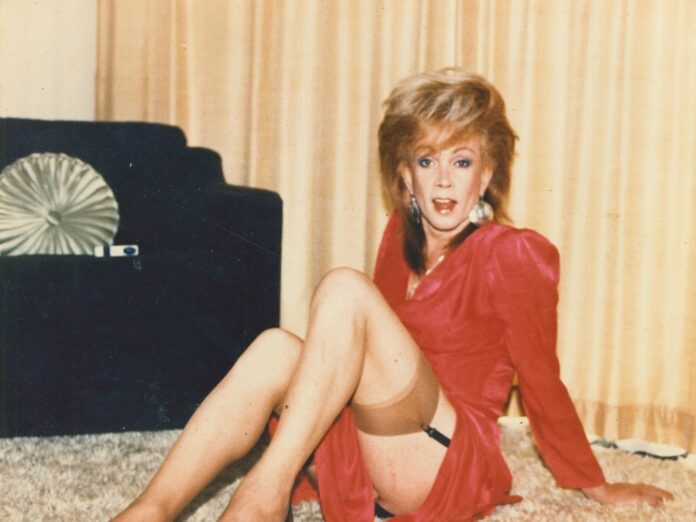 Alfie's was Auckland's most talked about nightclub in the '80s and a hub for the queer community, thanks, in part, to showgirl Niccole Duval's infamous Bloomers stage show. She takes Steven Oates for a trip down memory lane.
Throughout the 1980s there was one club in downtown Auckland that was synonymous with glitz, glamour and drag: Alfie's!
Located beneath the Century Arcade in High Street, Alfie's used to attract a wide cross section of revellers; from the city's movers and shakers to celebrities, queers and young people just looking for an outrageous, fun night out.
Opened in 1980 by Tony Katavich and Brett Sheppard, who also owned Out! Magazine, Out Bookshop, various saunas and New Zealand's only gay travel agency.
Alfie's quickly gained popularity and infamy largely due to the on-stage entertainment. In its heyday, Alfie's sold more alcohol than any other nightclub in NZ. "It was a really exciting club, we went from 9 o'clock at night right through to 8 o'clock the next morning," Niccole tells us.
Having recently returned from working in Hong Kong and Sydney as a showgirl, Niccole saw an opportunity to put her entertainment experience to good use…." I noticed there weren't any shows in Auckland, and most of my friends were doing nothing, so I got them together and said let's put a show!"
Bloomers was born! A lavish hour-long production show, fully costumed and choreographed. Although Drag shows were not new to Auckland (clubs like Mojos and Tiny Tina's had been staging them from the late 1960s) Alfie's brought the genre much closer to the mainstream.
"Alfie's was a legend, everyone in Auckland knew what Alfie's was!" says Niccole. "There were lots of feathers, lots of tits and lots of arse… and good-looking boy dancers too!"
"The shows were what they came for, and the atmosphere! A lot of work went into those shows. They use to queue up down the street every Friday and Saturday night. We did one at 10pm and one at 1am."
Prior to her esteemed career as a mayor and MP, Georgina Beyer was a regular performer at Alfie's.
"The glitterati of would be there… It was one of the longest-running shows in Auckland at the time. It would pack out and certainly wouldn't meet today's health and safety standards! People would get crushed around the stage and dance floor!" Georgina tells us.
A point of difference between Bloomers and drag shows of more recent eras is that the vast majority of the showgirls at Alfie's identified as Trans, unlike most (but not all) of showgirls of the 90s and 00s, who mostly identified as gay men who performed as drag queens.
"We were women on stage and off stage," says Niccole who became the producer, choreographer and hostess of the Bloomers show.
"We changed the show every four to six weeks, we'd make all-new costumes all-new productions, we would rehearse every day of the week for about three to four weeks… We made all our own costumes in those days, you couldn't get feathers, you couldn't even get 450 glue or anything like that, we had to get it all sent over from Sydney."
With such undeniable success and the Club lasting almost a decade, (no small feat in such a fickle industry) it's no wonder Alfie's has gone on to become a legend in the folklore of NZ's queer nightlife.
The club became a launching pad for many of the performers, and DJs like Bevan Keys, who learned their craft playing the 80's hits that kept Alfie's dance floor heaving.
Although now often thought of as a gay nightclub, with homosexuality still an illegal act when the club opened, Alfie's was not marketed as a gay nightclub. Most of the clientele was in fact 'straight' says Niccole: "There would be 70% straight and 30% gay. It was a straight club the gays came to. There were no hassles though, the bouncers sorted that!"
"It was a wonderful place where people could feel comfortable… The club would be packed like sardines. Air conditioning was basically non-existent and everyone was sweaty and off the shirts would come!" Georgina Beyer tells us, reminiscing.
With owner Brett Sheppard playing a pivotal role in Homosexual Law Reform, Alfie's did become a hotspot for the campaign, and the night the bill was passed in Parliament, Alfie's was the place to be!
"Brett was a wonderful host… The management looked after us girls very well, they paid us well….. The booze flowed and the money got spent," says Georgina.
Duval, however, does not believe a club like Alfie's could be replicated today.
"I think the era has changed. The fascination with trans people will always be there but I think that era has gone", says Niccole.
Niccole has recently started the Facebook page: The Official Site Of Alfie's Night Club By Niccole Duval.
"I've got so many photos of it all, I thought what's going to happen to it all when I'm gone? A big bonfire! I may as well put them out there!"
One can almost smell the hairspray and hear the music simply by looking at Niccole's photos!
"We always miss it, all of us miss it, it's something that's in you. Especially when you've done it all your life …. It was a nice era the 80s, not as good as the 60s but the 80s were good!" She says.