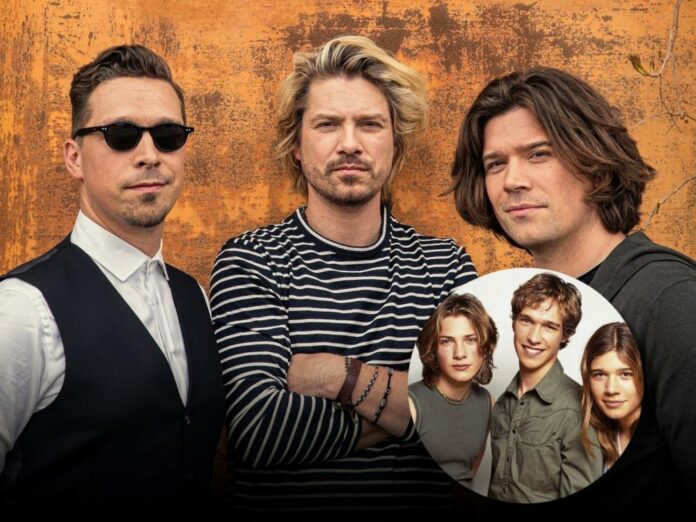 Celebrating 30 years of music, American pop trio HANSON has confirmed they will be heading back to the land of the long white cloud this November.
Known for their 1997 international smash hit 'MMMBop' HANSON – which consists of brothers Isaac Hanson (guitar, vocals, bass, piano), Taylor Hanson (keyboards, vocals, percussion), and Zac Hanson (drums, vocals, piano), as well as supporting members Dimitrius Collins (guitar) and Andrew Perusi (bass) will tour both Australia and New Zealand in support of their new album RED GREEN BLUE – out now!
"This tour is an exciting chance to reunite with our fans all over the world and celebrate three decades of music," Taylor Hanson explained.
"We can't wait to come together with fans across Australia and New Zealand and share music live on stage once again," he adds.
RED GREEN BLUE, HANSON's 11th studio album, is described as a unique combination of three solo-led projects, bringing together Isaac, Taylor and Zac's creative voices like never before, with each brother producing a third of the album.
The trio, who dominated the music scene in the late '90s following the release of their 5x ARIA Platinum and 4x RIAA Platinum debut studio album Middle of Nowhere (1997)w which reached #1 in Australia, the UK, Germany and Taiwan, #2 on the Billboard 200 and #4 in New Zealand, selling 10 million copies worldwide with hit singles 'MMMBop', 'Where's the Love', 'I Will Come to You', 'Weird' and 'Thinking of You'.
HANSON say the 2022 tour (which will be the first major tour since 2019's String Theory album and tour in 2019) will not only premiere the 15 songs from the new project but also celebrate 30 years of music in one great show, meaning fans can expect a career-spanning setlist of fan favourites, along with the songs off the new album.
---
Tickets go on sale Thursday 26 May at 12noon local time via frontiertouring.com/hanson