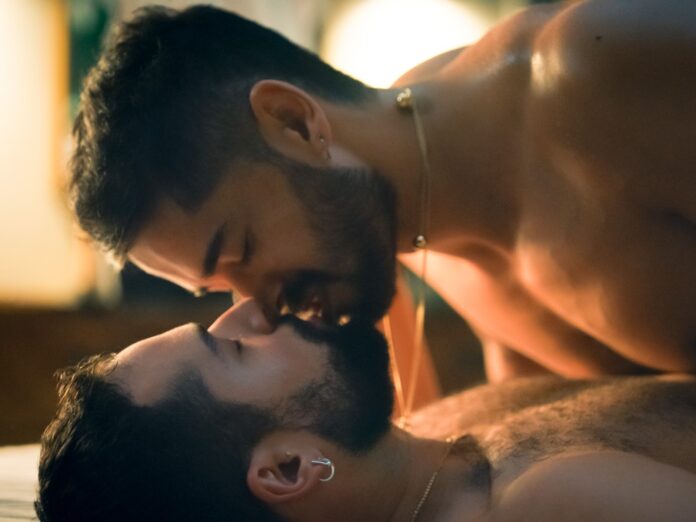 Queer As Folk returns! Oliver Hall chats with cast members Ryan O'Connell, Fin Argus, Devin Way and Johnny Sibilly, about steamy scenes, surviving trauma and seafood sex!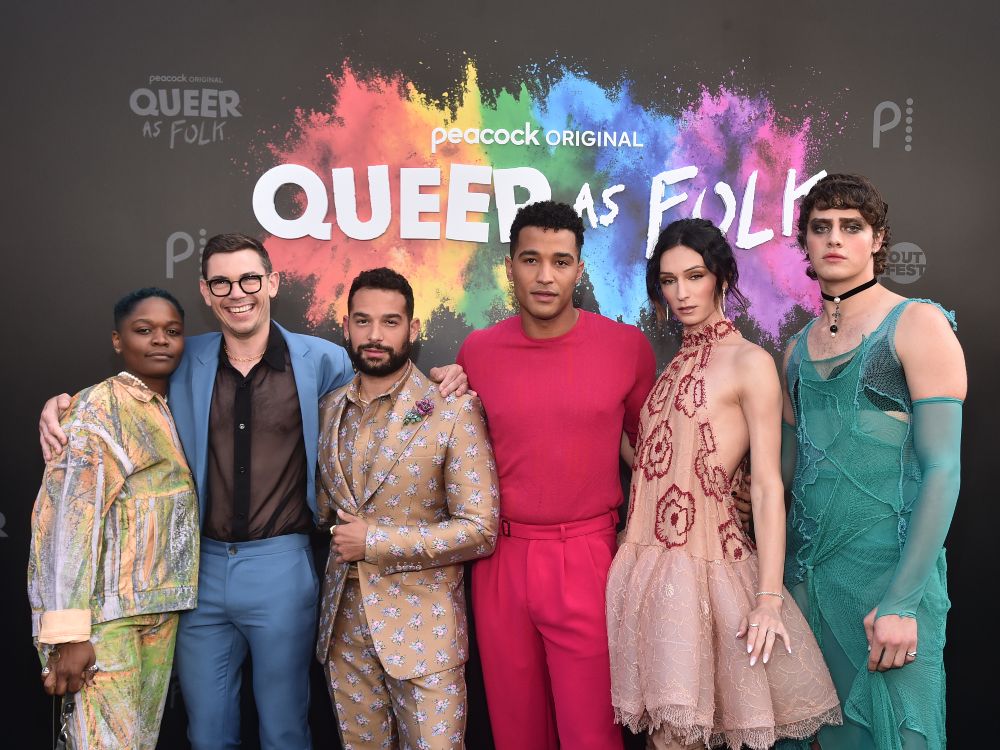 I remember Queer As Folk (QAF) debuting in 1999 like it was yesterday. I was 16, had come out to just a few of my closest friends and never even kissed a guy. Men having sex with men had never been shown on British television prior to QAF's debut, and at my rural school the next day, everyone was talking about it!
The show launched careers. Aidan Gillen and Charlie Hunnam would head to Hollywood, finding success in Game of Thrones and Sons of Anarchy respectively. Anthony Cotton became UK soap operas go-to-gay, and writer Russell T Davies would be put in charge of rebooting Dr Who and creating further groundbreaking LGBTQ+ content like It's A Sin.
In 2000, a US version of QAF debuted and extended the UK version's two-season run to five. 16 years on, with Russell T Davies back on board, filming for a QAF reboot began in August last year – written by independent film director Stephen Dunn, with Netflix's Special star Ryan O'Connell among the talent.
This reboot, screening now on TVNZ+, is a retelling of the original QAF story but updated to represent the diversity of our modern queer community as disabled, non-binary, trans and people of colour are positioned at the forefront of LGBTQ+ life in New Orleans.
I ask the cast about their first memories of seeing the original QAF and our cover star, comedian Ryan O'Connell (who plays Julian) immediately sets the tone of our interview.
"I think of my 12-year-old hard cock!" Ryan exclaims, seemingly to shock co-star Fin Argus (who plays Mingus), who nearly jumps out of their seat with surprise before rolling their eyes, muttering "God dammit!"
"Wow! Just kidding. Oh my god! That's so crazy. I just said that," chuckles Ryan, clearly keen to keep the tone playful.
"I didn't know what riming was until I watched it," I offer in the same spirit.
"Of course! No one did Honey. We still don't know. We're still on the frontlines of that war. We'll see if we win," retorts Ryan, before attempting to actually answer my original question.
"I rented it when I was 12," he says of the original QAF. "Fin was placenta so they don't remember. But it was my first sneak peek into what being gay was like. And it changed my 'L' forever!"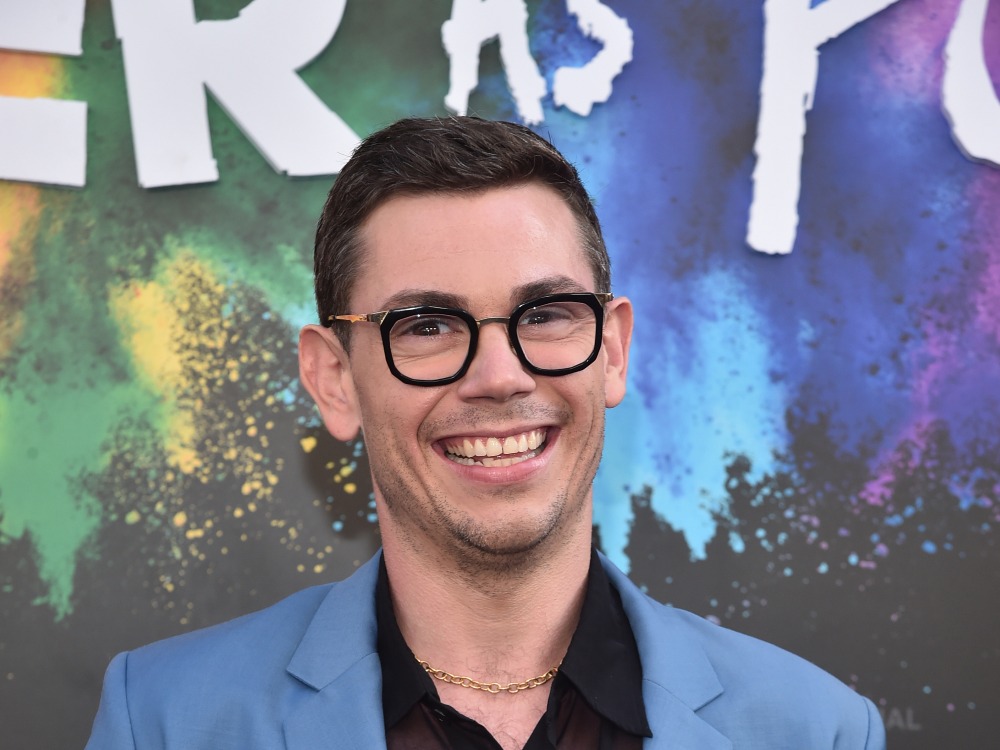 "Honey, it was a mixed bag. Because being disabled and queer… Obviously, in 1999 they weren't going to ask, 'where's the disabled representation?' I saw the show and loved it. But I also didn't quite see where I fit in [to the queer community]. I realised this is going to be a journey for little old gay disabled me!" He explains, assuring that this reboot is much more inclusive.
Hunky Latinx actor Johnny Sibilly (who plays Noah) says he was pretty young when he first saw QAF and suggests it was actually the moment he realised he was queer.
"I watched it in a dark room with my finger on the remote, ready to change it back to the Disney Channel if anyone walked in! I really shocking to me at that age to realise, 'I like what I'm watching,'" he tells us.
So much of QAF's original impact came from how groundbreaking it was to see gay storylines and sex, on TV. But with shows like The L Word, Looking, POSE and Tales of the City, having followed, it feels like a big ask for the new QAF to make a similar splash.
Johnny disagrees: "The stories that we're telling when it comes to gender identity, disabled characters, it's something that a lot of able-bodied people and folks that are not trans identifying have not had to confront or even think about, but our show really opens that up!"
"We have so much trans/non-binary representation and racial diversity," agrees Fin.
"In the way that the original was groundbreaking for just seeing gay men live their lives, we're having a similar moment, it's just a more diverse array of queerness, representative of where we're at in modern queerness."
The show also tackles other contemporary issues like American gun laws, with the first episode recreating a Pulse nightclub-esque shooting.
"You get to watch this community rebuild after a tragedy. That's the biggest hurdle for these characters dealing with that PTSD. It has this effect that really brings everyone together in an empathetic and tightly knit way. I think a lot of people will find it cathartic," says Fin, whose character Mingus is a high-school student who makes their drag debut the same night that a shooter invades their community nightclub.
While Fin is keen to focus on the show's poignant depth, Ryan is captivated by the more steamy content!
"I like the disabled sex!" he tells us before breaking into a rendition of Britney Spears' Gimme More.
Fin looks amused, so I ask them if their character gets equally raunchy?
"Mingus is busy," they confirm. "She's booked and busy!"
"Was that challenging for you to play that?" I literally have to ask. "Was that a stretch?"
This time even Ryan looks shocked!
"I'm a very modest girl," Fin assures. "So getting into that headspace was probably my toughest acting challenge yet! But luckily I had allies around. For example, Ryan!"
"I was there to teach them how to be a slut!" Assures Ryan.
"What that entailed was just playing the song Slut Pop by Kim Petras over and over again. It really gets in your noggin and it stays there!" Explains Fin.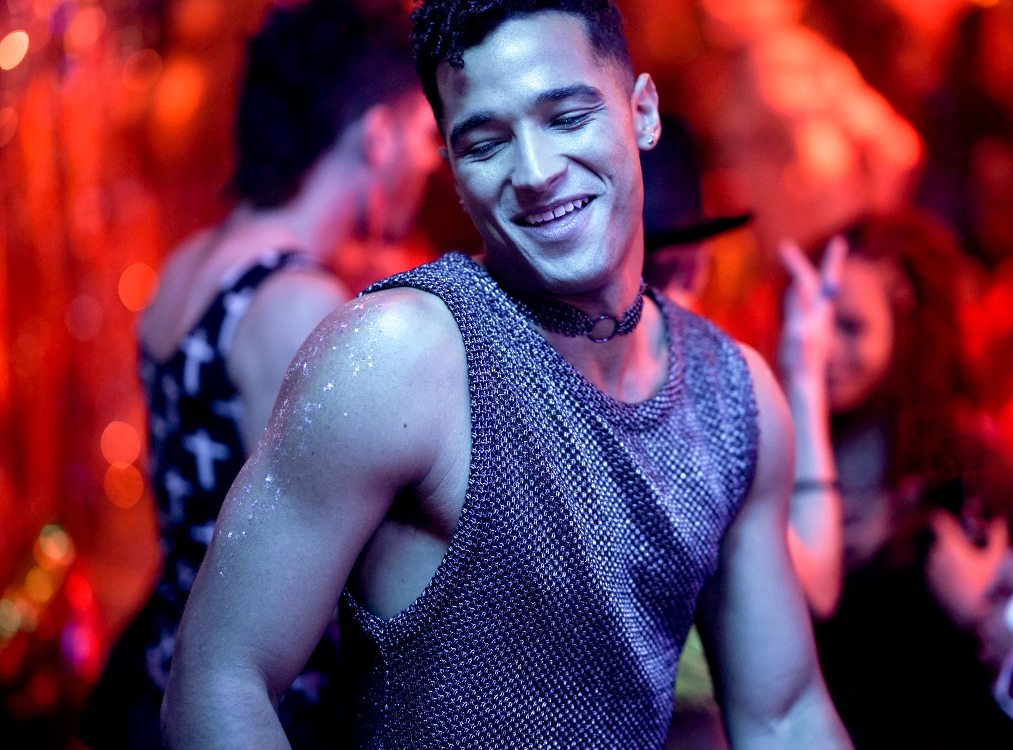 Some of the show's sexiest scenes involve Devin Way (who plays the show's handsome protagonist Brodie).
"The opening of the show is really the one that starts with a bang. Literally!" He laughs.
"Before we even shot it, it was so important for me that it looked like gay sex because I hate watching television shows where I'm like, 'that's not how we do it!' Adds Johnny.
"We would talk with intimacy coordinator, to be like, 'would we really use spit here?'"
It's clear the cast had a lot of filming both the show's serious and sexy scenes, and are proud of the diversity on display, so I try to conclude our interview with a thoughtful and worthy question that summarises our conversation.
I settle on: "If the first Queer As Folk taught me what riming was, what am I going to learn from your reboot?"
"Have a notebook and pencil handy, because it's a crash course," laughs Fin, but unsurprisingly it is Ryan who has the last word.
"In one episode, I eat a seafood tower and then get railed by two men afterwards. And personally, I didn't think that was possible. But you know… you can eat seafood… and still get rammed by two different guys." He tells us, before pausing to consider the moral of his story.
"You don't have to hold yourself back! Believe in yourself and your ability to bottom for multiple men after consuming a seafood tower!" He concludes.
The full season of Queer As Folk is available to stream now on TVNZ+.