Christchurch couple Jared and Jordon discuss building their home, their way, with G.J. Gardner.
Your home should be your oasis designed as a sanctuary for you to relax, unwind and enjoy. So ensuring you're home reflects yourself, both in practical needs and aesthetics is highly important. While you can do many things to alter and adjust a home to work for you, nothing gives you the opportunity to fully embrace your wants and needs like starting from scratch when you build a new home.
Jared and Jordan discovered this when they decided to build their home with GJ's Christchurch North team, "The reason we decided to build was we had a specific design in mind, and only building it would bring it to life."
With GJ's you have the ability to take one of their concept plans and customise it to meet your needs, or you can start completely from scratch and design a fully custom home. "We custom designed this home because we had a set idea of what we wanted to build" – Jared and Jordan.
Whether you start from scratch or use one of GJ's customisable concept plans you have the opportunity to make your home unique to you and your style. With an abundance of choices to be made, your home can reflect your personality throughout.
Kitchens – are the heart of the home and are a vital space, therefore it's important to have it designed to meet your needs. Do you cook often, or not at all? Maybe baking is your hobby, or fancy yourself a mixologist by night? When building your new home, you have the opportunity to design this space to meet both your functional and aesthetic needs. Popping the spice drawer next to the stove, or plates close to the dishwasher. Ensuring you get a bright and airy feeling kitchen with marble touches, or the opposite, a total moody blackout for a luxe feel. All easily achieved in a new build "Our favourite feature of our G.J. Gardner home is the kitchen design and the brass mosaic splashback" – Jared and Jordan.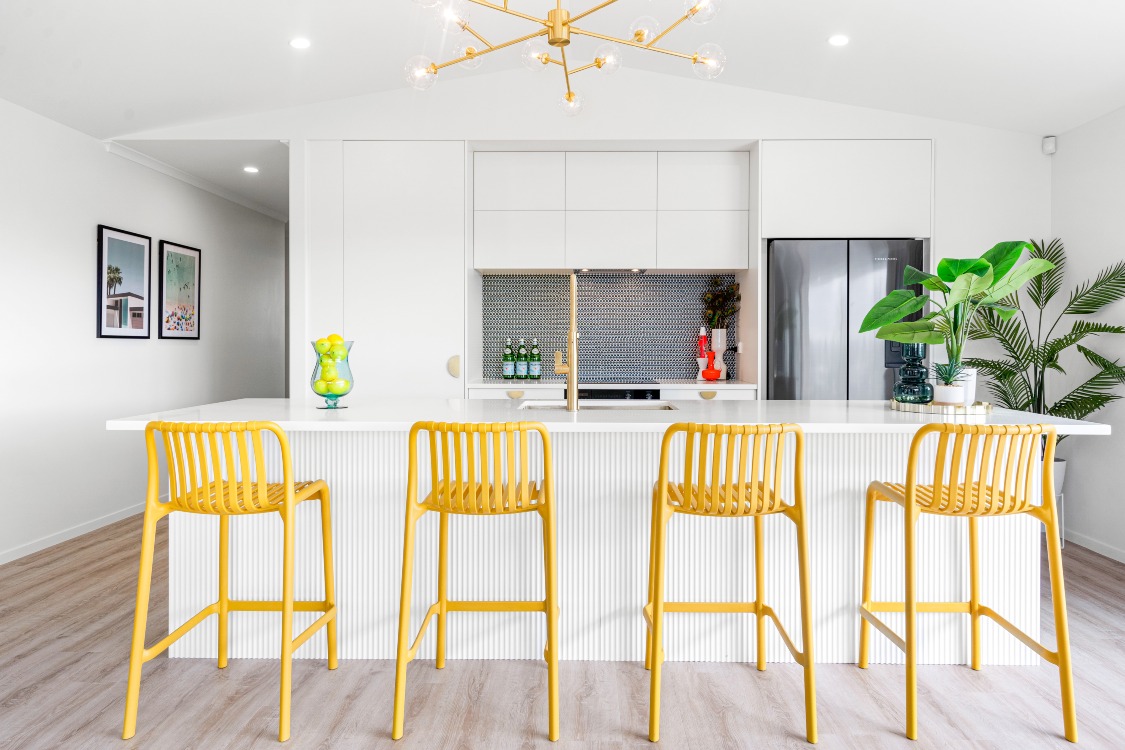 Bathrooms – are another space that can easily transform your personality into the present. With a huge range of tile choices, vanities, and tapware the options are endless. Are you wanting a bright spa-like oasis with soft tones throughout, or a darker moody stone feel. Or is bright and bold on your list, colour is also a popular choice to add a vibrant touch to your bathroom from pops of blue or pink, to patterned tiles and terrazzo styles to add a unique flair.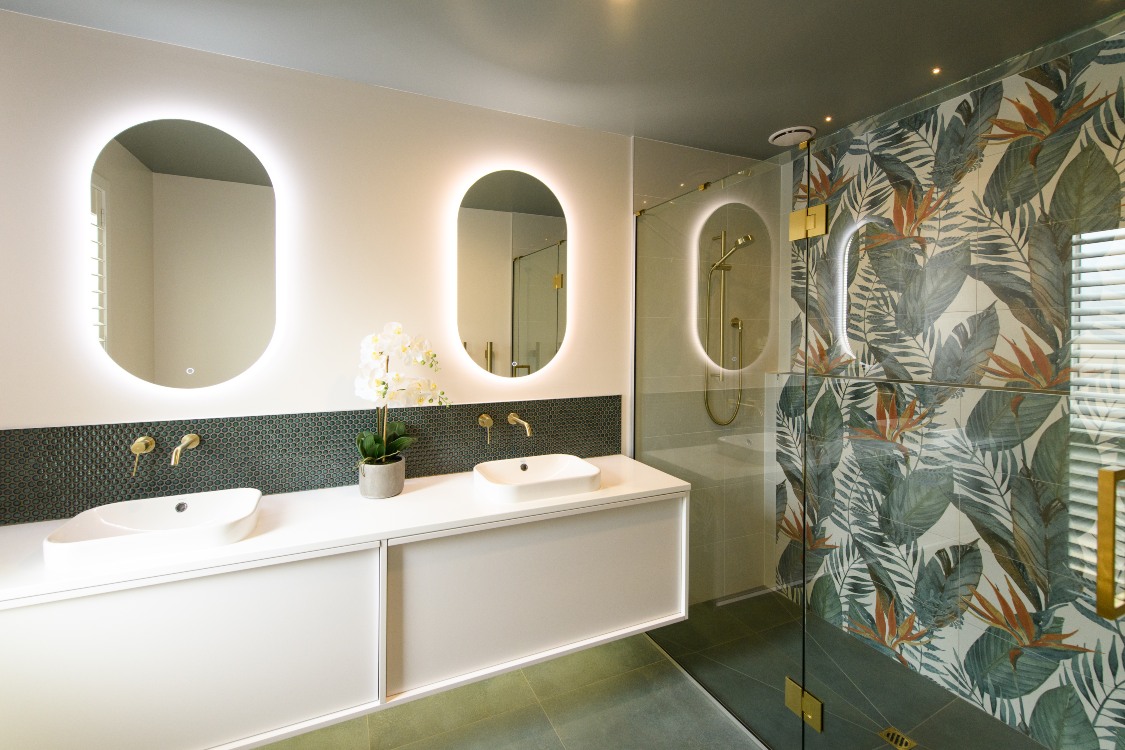 Bedrooms – are an important spot to let your style shine. There are many options, ranging from subtle to standout, that can help you achieve your ultimate bedroom goals. Pops of colour, especially blues and greens are popular for creating a relaxing environment to sleep.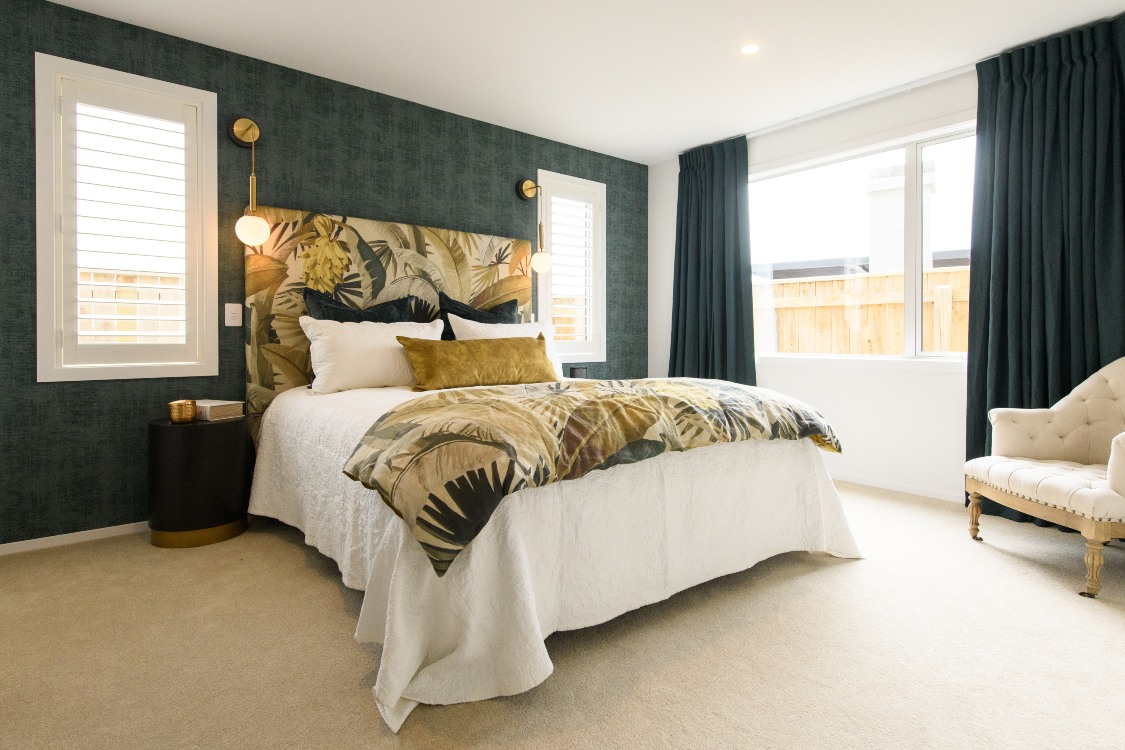 While wallpapers can offer patterns and texture or consider the popular option of a panelled look.
Building new truly offers you the opportunity to create a space tailored to you and your needs. So, whether you're looking for a modern family home, townhouse, or country estate, GJ's extensive range of home plans is designed to suit all sorts of lifestyles and households.
And the GJ's team is there to help you every step of the way, they can help you find a section, create a design to suit your needs and manage the building the home. Simply bring them your wishlist, photos or ideas and they will work with you to design a home that works for your wants, needs and budget.
With GJ's you truly get to have full creative control to create a home that suits you and your style, so to begin designing your new home, reach out to your local GJ's team.