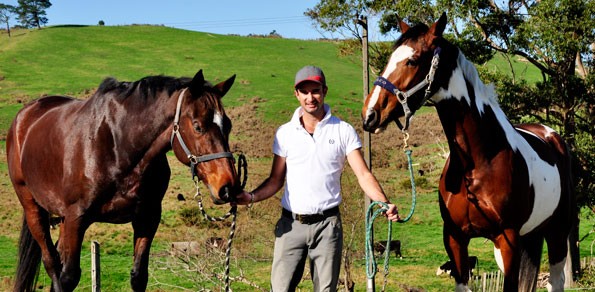 On a beautiful mid-Winters day contributing editor Paul Rose and photographer Tux Hika headed for the countryside.
We catch up with horse obsessed Show Jumper, David Collett.
David Collett
What are your animals called?
The two horses are Lingo (brown) and Ontario (coloured). The poodle is called Black and the hunterways are Bella and Britney.
Can you remember your first pet?
A Welsh Mountain Pony called Lisa. She was black, about 12 hands high, and very naughty! Haha.
Have you always been a pet person?
I got my first pony when I was three years old. Growing up I was horse obsessed and used to drive my parents crazy talking about them all the time! Horses have always been my passion. My partner Craig and I own three horses together. We live thirty minutes north of Auckland. I am very lucky I get to do what I love doing – show jumping.
What are the advantages of owning horses?
They keep you fit. You get to see a lot of the country going away to Show Jumping Competitions in Summer and they can be very therapeutic!
Are there disadvantages?
They cost a lot of money! Feeding, covering, shoeing, vets, saddles and the list in endless! LOL.
Any advice for budding horse owners?
Don't, unless you are very committed to put in your time , not to mention any spare cash you have! Also, when buying a horse always take someone with experience who knows what's right for you.
 Article | Paul Rose. Photos | Tux Hika